Benjamin EB17 & EB22 – heirloom pellet pistols
by B.B. Pelletier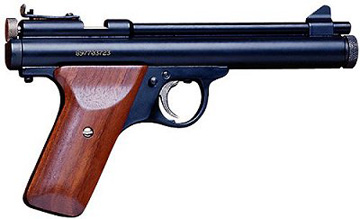 Made as well today as its ancestor 65 years ago, Benjamin's EB17 and EB22 are heirloom airguns.
The Benjamin EB17 and EB22 are two American pellet pistols that are as close to the guns from the 1930s and 40s as you'll find. They're powered by CO2, which is as reliable as light bulbs due to great strides made in gas technology over the last 65 years,.
Benjamin missed the boat!
The EB-series pistols were first offered in 1992, but they were related to Benjamin's earliest CO2 pistols – the models 250, 252 and 257 (you decode the calibers from the model numbers) that were sold from 1952 until 1956.
Those early gas guns used the conventional 8-gram soda siphon cartridge that was so easy to find at the time. When Crosman brought out the 12-gram powerlet in 1954, it battled for market supremacy for just a few years before pushing the smaller 8-gram cartridge from dealers' shelves. Shooters wanted the extra shots those additional four grams provided.
Stubborn resistance
But Benjamin did not manufacture its own CO2 cartridge, nor did they convert to Crosman's standard 12-gram size, so their gas guns suffered in sales. Even though they were made at least as well as Crosman gas guns, Benjamin gas pistols took a back seat to better marketing. It wasn't until Benjamin bought the Sheridan company in the late 1970s that they began thinking about the popular 12-gram size. Sheridan also didn't make gas cartridges; but, when they brought out their first gas guns in the late 1970s, the choice to use 12-gram powerlets was obvious and unavoidable. I would love to know the conversations that must have taken place on this subject at Benjamin in the late 1950s and the '60s! You can almost smell the stubborn resistance to a standard created by their fiercest competitor!
Choice of caliber – both are good!
The EB-series guns look a lot like their ancestors, and they're made from the same brass and walnut materials. The finish is a more durable paint that will last longer than the fragile "black nickel" over silver nickel of the past. Both calibers offer power and accuracy, so your choice is between two solid models. Pick the caliber you want to shoot, because that's the only real difference between the two guns.
CO2 – the guns of summer!
By now you should know that CO2 performance is highly affected by temperature. The guns do not perform well below 50 degrees F, nor do they do well when fired many times in rapid succession. That's why there are no full-auto CO2 guns without burst limits. They freeze up! But, in warm weather, these guns really come into their own. As powerful as they are, these two can handle medium-weight pellets (up to 9 grains in .177 and up to 15 grains in .22). Don't forget to buy some Crosman Pellgunoil to keep them running right for a long time.
Heirlooms
You can't call all pellet guns heirlooms, but these two pistols certainly qualify. Everyone who holds them immediately recognizes that fact. If you're in the market for a powerful, accurate pellet pistol at the right price, you've got to consider one of these!
Tom Gaylord is known as The Godfather of Airguns™ and has been an airgunner for over a half-century, but it was the 
Beeman
 company in the 1970s that awoke a serious interest in airguns. Until then, all he knew were the inexpensive American airguns. Through the pages of the Beeman catalog, he learned about adult airguns for the first time. In 1994, Tom started
The Airgun Letter
 with his wife, Edith. This monthly newsletter was designed to bring serious reports about airguns to the American public. The newsletter and
Airgun Revue
, a sister magazine about collectible airguns, was published from 1994 until 2002, when Tom started
Airgun Illustrated
-- the first American newsstand magazine about airguns. Tom worked for three years as technical director at
AirForce Airguns
, the makers of the 
Talon, Condor, and Escape
 precharged air rifles. Today, he writes about airguns and firearms for various publications and websites. He also makes videos, and you'll find short clips embedded in some of his artices on Pyramyd Air's website. Tom is a consultant to Pyramyd Air and writes under the name of B.B. Pelletier.