by B.B. Pelletier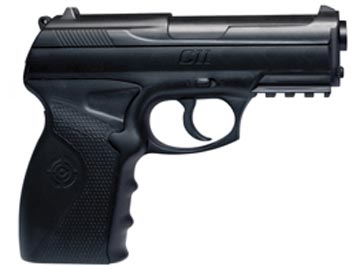 The new Crosman C11 BB pistol is a powerful new air pistol with exciting looks!
I was at Crosman recently and had a chance to test the new C11 BB pistol. This review is for a reader who learned about the gun before the rest of us and asked to see it a month ago.
A LOT of confusion!
There are two Crosman pistols that have the model designation C11. The first is a 6mm airsoft pistol (Crosman's term is "soft air") that uses CO2 to power the plastic ball. Now, most of you know that Asians call 6mm balls BBs, so this gun is called a BB gun. But, it doesn't shoot real steel BBs. When Crosman came out with a real CO2 BB gun this month, also called the C11, confusion began! The customer reps at Pyramyd are getting phone calls from customers who are mixing up the specifications of the two different pistols.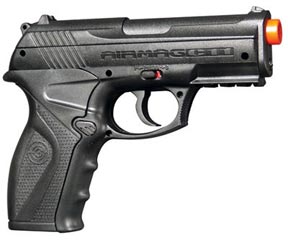 The airsoft C11 looks a lot like the BB gun except for the orange muzzle tip.
Here are the differences
The airsoft model has the federal-mandated orange muzzle. According to Pyramyd's site, its muzzle velocity is 350 f.p.s. And its full model name is the Air Magnum C11. The CO2-powered BB gun (the one that shoots real steel BBs) is all black, has a muzzle velocity of 480 f.p.s. and is called just the C11. As far as I know, neither pistol copies any firearm exactly. Except for the orange muzzle on the airsoft pistol, these guns look remarkably alike.
The BB pistol
The C11 BB pistol is very powerful. With a muzzle velocity of 480 f.p.s., it really pumps out the steel! Although my test was less formal than usual, if memory serves, I got about three magazines from one powerlet. Since each mag holds 15 BBs, that's about 45 powerful shots.
The pistol feels very smooth and ergonomic in my hand. The grip is substantial but not overly large. I shot it only double-action, and I can't remember if it also shoots single-action. Double-action shooting is more difficult, of course, and I found I was pulling all my shots to the left. Once that became apparent from an enlarging hole to the left of the bullseye, I was able to compensate and do better. My impression is that the sights were right on for targets at 25-33 feet.
Get more magazines!
One nice thing about Crosman's shooting range is that there are boxes of loaded magazines, powerlets and AirSource cylinders behind the line, so I didn't have to do any work to reload. But, you'll want to have at least two spare mags loaded up because this pistol shoots fast! You keep on pulling the trigger and hitting targets. Before you know it, you've shot all 15 BBs.
Easily replaced powerlet
The grips slide back to gain access to the CO2 powerlet. You will note that no hint of the powerlet mechanism appears on the outside of the pistol. Crosman knows that buyers dislike any external cues to how a pistol is powered, and they've taken measures to conceal it in all their new pistols.
Remember safety!
This gun shoots steel BBs that can ricochet with force, so don't shoot at hard targets and always wear safety glasses when you shoot. Several years ago, I was shooting an Anics pistol of similar power when my lip was split by a BB that rebounded 33 feet from a steel trap. Crosman's model 850 BB trap is a great one for stopping BBs!
The biggest selling point is the price, of course. For what you get…power, accuracy and good balance…the C11 is quite inexpensive.