by B.B. Pelletier
Before we begin, I have an announcement. The Crosman 2200 I was testing for you is not performing consistently enough for an accuracy test, so I'm sending it off to be overhauled. Until I get it back, that final report will have to wait.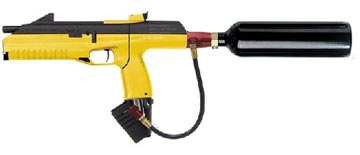 Pyramyd's bulk-fill Drozd is a full-auto airgunner's dream.
There's a lot of interest in BB machine guns these days, and the Drozd is the most available and affordable of the few that are on the market. I reviewed it for you on August 22, 2005, but that was the basic gun. Today I'll start a long look at the model Pyramyd Air has converted to bulk-fill.
Bulk fill
Three things keep the Drozd shooting – BBs, CO2 and six AA batteries. The BBs fit in a removable stick magazine that holds 30 at a time. The batteries last a long time, so the only other thing to worry about is the CO2. Because the Drozd is both powerful and fast-firing, you'll go through a 12-gram cartridge pretty quick. With Pyramyd Air's bulk-fill conversion, you'll have more shots than you know what to do with. And, they'll be cheaper, because bulk gas runs less than CO2 cartridges.