by B.B. Pelletier
Wow! The response to this subject has been strong. I guess many people just wanted to know something about these traps before spending the money.
So, we're having this discussion about silent pellet traps and you still wonder whether they're worth the money. Believe me, I have tried to find an alternative to duct seal. Modeling clay has less than half the resistance and cannot be depended on when the guns go over 20 foot-pounds. But what about plumber's putty? It looks something like duct seal and it's a lot cheaper.
Yes, and it also has less than half the stopping power. You're better off with wet newspaper. Also, plumber's putty dries out when in contact with air and soon becomes a crumbling mess! If there is a better material than duct seal, no one has discovered it yet.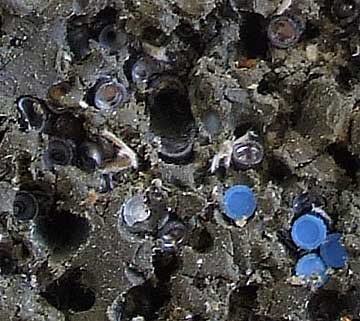 This close-up of the center area of my trap shows the latest pellets on the surface. Those deep holes are where pellets from a 20 foot-pound (or better) airgun have recently impacted. Under each of them there are hundreds of pellets that have gone before – thus preventing new pellets from over-penetrating. The blue colors are synthetic pellets I've recently tested. Here you can also see the thousands of tiny fragments of lead the sticky material has trapped.
Are they worth the price?
I don't care where you buy them, silent traps cost a lot of money. Even if you build your own, as I did, the materials are not cheap. Duct seal, which goes by the name ballistic putty and Impact putty costs $2.50-3.00 per pound everywhere. And I used nine pounds for my trap, so there's $27, alone.
But, yes, silent traps are worth the money – in the same way that chronographs are worth the money. You hate shelling out the cash initially for something that you can't shoot, but these are the tools that will make you a better airgunner. Like it or not – they are essential. A silent trap has these advantages.
1. It's silent. With a quiet airgun, you can shoot anywhere without detection.
2. This is one of the only traps that works with steel BBs.
3. This trap also works with plastic airsoft BBs.
4. A well-seasoned trap like mine can take a hit from a very powerful air rifle without danger.
5. You can test airguns safely indoors with a good silent trap.
You can make up your own mind on this issue, but for me – testing hundreds of airguns every year – there is no question about the value of silent pellet traps. In fact, I don't just own one; I now have two – my homemade one and now a commercial model! I cannot do what I do without them.