by B.B. Pelletier
Before we begin, I have an announcement of a price reduction that may interest several of you. As you know, Webley no longer makes its air rifles in England. They have moved the production to Turkey. But there are a handful of British-made Webley Tomahawk .177 caliber rifles remaining, and Pyramyd AIR has just reduced the price to blow them out. You will now save $130 on this spring-piston breakbarrel that will never be manufactured again. When Webley decided to move its production, Pyramyd AIR bought all the remaining British-made guns, and has been selling them for the past two years. The .22 caliber Tomahawk is now Turkish-made and reflects the higher price that Webley now charges.
No on to today's topic. My first comment is, where do they get these crazy names for guns? The actual Beretta CX-4 Storm firearm is a "sporting or personal defense firearm with a particularly captivating appearance and simplicity of use." That is the description from Beretta. The gun comes in 9X19 mm, .40 S&W and .45 ACP. From the looks of it, someone in the company watched the movie Starship Troopers and saw the gun they would be making in the 25th century. They must have wanted to get a head start on the design.
Umarex copied the design faithfully, making their second lookalike air rifle and only the third air rifle that have ever made. The 1894 lever action is the other lookalike and the Hammerli 850 AirMagnum is the other rifle.
First surprise!
Surprise number one is the fact that this moderately-priced air rifle comes in a custom hard case! Compare that to a Feinwerkbau P700 Olympic target rifle costing nearly 12 times as much that is shipped in a flimsy styrofoam container inside an equally flimsy cardboard sleeve. Presentation means a lot, and I have never seen a hard case that fit a gun as well as this one! It has fitted forms that hold the rifle rigid. And space has wisely been made available for a small scope or red dot sight that will not have to come off when the rifle is cased.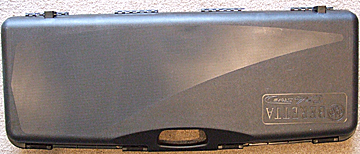 Rifle comes in a nice hard case.

Case is fitted to rifle.
Surprise two!
I was equally surprised that there is not even one AirSource bottle shipped with the gun. That will disappoint anyone who receives a CX-4 as a present, because you are dead without one. And there is a compartment inside the case that could easily accommodate a fresh tank – indeed, it looks made for it. So if this is to be a gift, be sure to buy a couple of 88-gram AirSource tanks to go with it. I do understand the reasoning for not including CO2. Although the U.S. DOT permits the shipment of CO2 canisters, the popular carriers like UPS and Fed Ex do not. So to expidite shipments by air, Umarex leaves all CO2 out.
The magazine
This rifle has the most unique magazine you will see. It is a captive belt (the owner's manual calls it a chain) containing 30 chambers for .177-caliber pellets. It appears similar to the magazine used in the Anics A-3000, except that was not a belt. It was 28 loose pellet holders running on an enclosed track.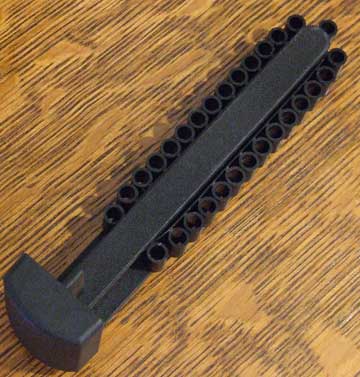 Magazine is unique. Holds 30 pellets.
Sights
Together, both front and rear sights are fully adjustable. The rear peep sight is adjustable for windage on the right side and a small Allen wrench is supplied for this. The front post sight adjusts for elevation via a slotted screw on the right side and you must remember to move the post in the OPPOSITE direction that you want the strike of the round to go (i.e move it down to move the pellet up). There are directions for sight adjustment on both sights.
Outside the gun
The outside of the CX-4 is all plastic – an exoskeleton similar in concept to Crosman NightStalker. That's the rifle to which this one will be compared. But in this instance, the airgun is following a firearm design, about which Beretta points out the rounded edges and snag-free design so the gun won't hang up on clothing. The CX-4 firearm looks very military, though it is strictly a semiautomatic, so I doubt whether many are actually used by law enforcement or the military. But it does fit into the modern AUG-type of bullpup weapons styling. The airgun weighs 5.25 lbs. and the specifications say the trigger pull is 11.5 lbs. I hope that's not the case, but we shall see.
I will be back to this rifle soon, but there are some other things I want to do in the meantime, so it won't be tomorrow.