by B.B. Pelletier
Before I begin today's topic, I have a question. Pyramyd Air is getting several product reviews in which the writer says he's having trouble with his gun AFTER he mounts a scope. Before the scope, the gun shoots great. After the scope, it is inaccurate. One writer even said his gun was inaccurate until several friends tried it and got good groups. Then he decided he needed to learn how to shoot with a scope.
These comments tell me many shooters don't really know how a scope sight works. They mount it on their rifle – often improperly – then assume the gun will hit whatever they place the crosshairs on. I'm not kidding!
Also, Pyramyd sales reps tell me they have certain customers who return scope after scope, claiming each one has a problem or problems. I wouldn't tell you that no scope has a problem, but when as many as three fail in the same person's hands, it's unlikely that there's a problem with all those scopes and more likely the shooter is doing something wrong or failing to do something necessary.
This is my question – would people having problems like this be likely to read this blog or is that ridiculous? Are they the least likely to ever read a blog about better shooting and so perpetuate the problems they're having?
The last thing I want to do is to lecture readers who are already actively trying to improve their shooting skills with a bunch of remedial tips and pointers. So I'm asking whether you readers would like something like this – a tutorial on scope mounting that also includes how to shoot a scoped air rifle. I even foresee this tutorial being converted into a small booklet. Anyway, that's what's on my mind. Please let me know what you think.
The main event
Okay, today we start our look at the newest RWS underlever spring air rifle – the Diana 460 Magnum. Because of the number, 460, I had thought this was to be a newer version of the RWS Diana 46 underlever, but instead it's a brand new rifle. It operates more like the sidelever guns, though there are some departures in design, too.
This is a big air rifle, make no mistake, but it isn't the largest I've ever seen. At 8.7 lbs., it's lighter than a TX200, and the stock is proportioned slimmer than what's normal for a large air rifle. It's much like the 350 Magnum, which is to say, very rifle-like. I equate it to holding an M1903 Springfield rifle. It just feels right. You have power without bulk, which is rare for a spring-piston rifle.
It's 44″ long, which doesn't make it the largest spring rifle, but it's definitely on the big side of average. A thick, black, ventilated recoil pad adds to the length and helps make the pull length 14″.
Overall rifle
This is a large air rifle, despite my earlier comments. The exterior surface is nearly all deeply blued metal. The logos and model information on top of the spring tube are all in flawless silver. The wood stock is figured beech and sports the sharpest laser-cut checkering Diana has ever put on a rifle. I remember the days when their checkering was flat and slippery, but this stock is very nice. Both the pistol grip and forearm sport checkered panels.
The front sight is a ramp with post and the rear is an adjustable model similar to the sight on the 34 Panther, but without the fiberoptics. I like this one, except they put the wrong rear notch in the sight. Instead of a square notch to compliment the front post, they put a U-shaped notch suitable for a front bead. Someone at Diana needs to rethink that.
When the rifle is cocked, I noticed something else new. The beartrap release button on the right side of the sliding compression chamber slides with the chamber as the rifle is cocked. The stock has been relieved to allow the button to slide and is so thin at that point that you can feel it flex under finger pressure. So, protect this area when you handle the airgun.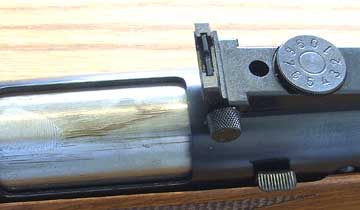 Rear sight has crisp detents on both adjustments. You can see the long stock notch that accomodates the new sliding beartrap button.
Heavy cocking
The RWS Diana specifications say the cocking effort is only 36 lbs., but when I tested it on a bathroom scale, it measured 47 lbs. Some of that may go away as the rifle breaks in, but I doubt it will ever cock with less than about 43 lbs. This is a rare departure for Diana, who normally quotes cocking efforts right on the money.
Tomorrow, I'll continue our look at the gun, and maybe we'll get in some shooting.