by B.B. Pelletier
Someone asked if the Beeman dual-caliber RS1000H is a variation of the AR 1000 and I'm beginning to think that it is. It shoots remarkably like the Tech Force Contender 89 I tested, which is another AR 1000. Only this one comes with interchangeable barrels.
Mounting the scope
Beeman supplied their 2-piece 5030M scope rings, which mounted easily. The rifle has a scope stop built in so all you need to do is slide the rear ring against it and you're set. The mounts come with a vertical stop pin, but there's no need for one with this rifle.
Parallax problems!
The 3-9×32 scope Beeman packs with the rifle is parallax-adjusted farther out than 20 yards, so I was unable to see the targets clearly. I dropped the power back to 6x, but it was still fuzzy. There was still a lot of parallax in the scope, so I tried to get the same spot weld for every shot. I'm sure that caused some group dispersion, but since all pellets were tested the same way, it should cancel out. This scope is not what you want for this rifle, so plan on replacing it as soon as possible.
The first shot at 10 feet was a 10 and nearly a pinwheel. I've never had a first shot like that, and I took it as a sign the rifle was going to shoot good. Of course, the elevation had to be lowered a lot to get on target at the 21 yards from which I was firing.
Beeman Trophy
Beeman Trophys were first, and they seemed to do okay, but not earth-shattering. The first group measured 0.941″ which is poor, but four of the five went into 0.482″, which is okay. I'll come back to this pellet to verify accuracy or eliminate it.
The other pellets were poor to lousy
You may recall I tested Beeman Ram Jets, Beeman Kodiaks and Crosman Premier 7.9-grain pellets. They all grouped over an inch with this rifle, with the Kodiaks going two inches. Because of the bad image from the scope, I was ready to quit…but there was one more pellet to try.
JSB Exact
The first group of JSB Exact 8.4-grain pellets measured 0.691″, so I thought I would give them several more tries. As it turned out, that was the largest group they shot – by far. The best group was 0.415″, and there were several that measured under a half-inch. The pellet wants to shoot in this rifle! And the rifle wants to shoot! It just needs a better scope to extract the last bit of accuracy it has to give.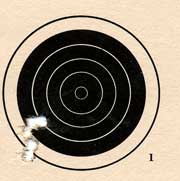 This is a nice, tight 21-yard group of JSB Exacts, considering the scope was out of focus and had a lot of parallax.
I did try the Beeman Trophys a couple more times, but the groups got worse rather than better. So, in this rifle in .177, it's JSB Exacts.
Firing behavior
This rifle fires smoothly and without a lot of recoil, putting me in mind of the AR 1000. The trigger has a big creep in the second stage, but it is consistent, so I could plan on it. Like most breakbarrels, it's hold-sensitive, but not overly so. It also has a ball-bearing detent to lock the barrel, just like the AR 1000.
The barrel remained tight through this shooting session, as well as the velocity test, so that's about 150 shots on it so far without any adverse effects. I believe it'll be fine until I intentionally remove the barrel.
I think I'll upgrade the scope and retest in .177. I would like to know if it can shoot any better when the target is clear. I'm sure you'd like to know, too.