by Tom Gaylord
Today, I'll start showing you pictures from the SHOT Show. Now that I'm back on my big computer, I can process photos much easier, plus I'm no longer constrained by slow RV park wireless connections. Thanks to the analysis done by BobC, I was able to correct Monday's photos so more of you can see them.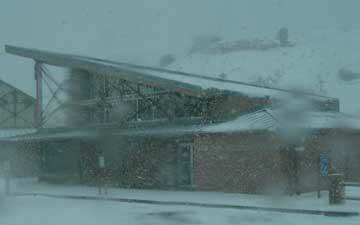 On the way to Las Vegas. Just outside Flagstaff, Arizona, we encountered a winter blizzard and had to pull our RV off the road at this rest stop. As it turned out, we were in a canyon and within five miles the snow stopped.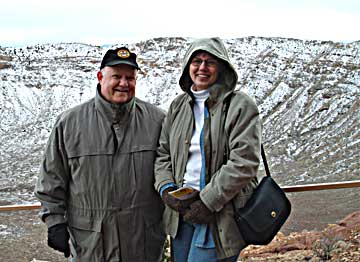 My wife, Edith, and me standing on the observation platform at the rim of Meteor Crater – the most perfectly preserved meteor crater on earth. It's about one mile to the far side of the crater. The next morning the temperature was a balmy 7 degrees F (-14 C).
After bragging to my wife that Las Vegas is always warm in the winter, we ran smack into one of the coldest winters they had in a long time. The days struggled to make it up into the 50s, and, while those of you in Minnesota and Idaho think that's warm, I was prepared for temperatures in the 70s and 80s during the day and dropping to the 40s at night! It was butt-cold in our drafty Class A RV, and we had the heater running most of the time. In the afternoon, however, that hot desert sun sent inside temperatures soaring up to 81 degrees, so regulating our living space proved to be a major challenge at this year's show. I think I'll go back to hotel rooms, thank you very much!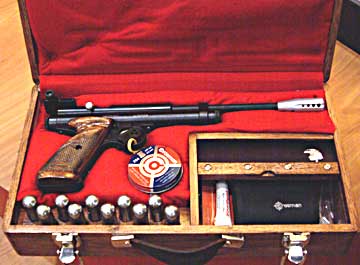 This classy cased pistol came from Crosman's Custom Shop. It's based on the 2300-series pistols, but you can change nearly everything to suit your tastes. The box comes with the gun.
Crosman
Remember the rumor that Crosman was going to charge $1,000 for their wood-stocked custom 2250? I saw one in their booth at the show, and of course the rumor was wrong. For a handsome skeleton-stocked carbine, the price is in the mid-$200s.
Of course, the Benjamin Discovery was the big news at Crosman this year. From the feedback they received throughout the show, they know they have a hit on their hands. I shot a TV interview about the rifle for one of the cable sportsman's shows, so some of you may see that soon. I don't have any details about when or where.
Another big announcement from Crosman is their new archery division. They showed some serious hunting crossbows in their booth, and they tell me they're getting into archery in a big way this year.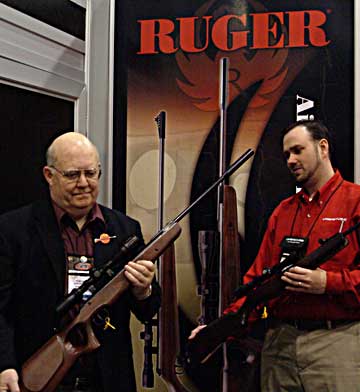 Justin Biddle (right) of Umarex shows me Ruger's two new offerings. From appearances and a shockingly low price, I know there'll be some heat on these two.
Umarex USA
I spent a lot of time in the Umarex USA booth – primarily because of all the exciting new models they're bringing out. I've already told you about the Walther Falcon Hunter Edition that'll be available in .25 caliber and the Walther Talon Magnum that's an inexpensive 1,200 f.p.s. .177 breakbarrel. The two new Ruger rifles (Air Hawk and Air Hawk Elite) are two more shockers. See that thumbhole I'm holding? That's the Air Hawk Elite that sells, with scope, for under $180! The rifle JB holds sells for $110!
In this case, the Ruger name won't be as important as the price. These should be big sellers!

Air Arms biathlon rifle shoots 5-shot clips that are stored in the right side of the forearm.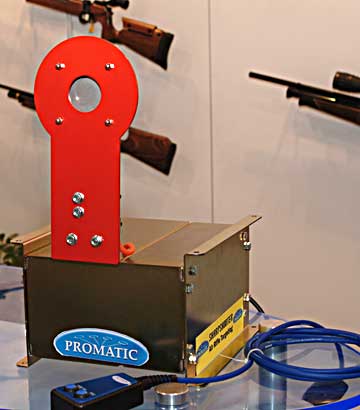 Promatic electronic target can be timed and reset remotely. Shooters can compete in timed-fire exercises or first one to hit, wins. Air Arms uses them to demonstrate field target to the public.

Air Arms always has interesting targets in their booth. This spinner set looks very inviting for long-range plinkers.
Air Arms
The Air Arms booth was active with growth plans for airgunning here in the U.S. They're considering offering a challenge to U.S. field target shooters for a field target match at Camp Perry during our national firearms matches. This would be a mirror image of the Irish team challenge that was settled at Creedmore range in the 1870s and gave us our first American long-range rifle team.
That's it for now. More pictures are on the way!