by B.B. Pelletier
Before I start, an update on the Beeman SS1000H dual-caliber rifle. You may recall that I stopped the test back in December 11, when the .22 rifle suddenly developed lower power. At the SHOT Show, I spoke to Beeman's service manager, Don Walker, and he told me to check the breech seal, which might have fallen out. Well, I checked and the seal is still there, so I will send the rifle to Beeman for Walker to check. He promised to tell me what the problem was.
I've wanted to write this report about the Theoben Fenman for a long time, and several readers have asked for it as well, so today I'll begin.

Theoben's Fenman was a compact carbine with a large muzzlebrake. U.S. versions of the gun had no silencing technology inside the brake. The stock is a gorgeous honey-blonde, which contrasts with deep mirror-polished black metal.
My first encounter with this rifle was at an outdoor airgun silhouette match. I showed up just to cover the match, I thought, but someone thrust a .22 caliber Fenman in my hands and I shot it for the rest of the day. Offhand at 45 yards, that little rifle was deadly on the rams. I had to have one!
The opportunity to buy a .177 Fenman arose sometime later. The seller was somewhat reluctant to say much about his rifle, so I sent my money and took a gamble. When the rifle arrived it looked similar to the one I'd shot, but it sure didn't act the same! Instead of cocking with 40 lbs. of effort, my new rifle needed over 60 lbs. – way over 60! That's completely out of profile for this model. Also, the muzzle energy was around 14.85 foot-pounds – also out of profile for what is supposed to be a UK 12 foot-pound airgun.
This was my second Theoben rifle, but the first that wasn't from Beeman. At the time, Davis Schwesinger of Air Rifle Specialists was servicing them, so I called him to find out what the problem was. Dave told me there had been a few FAC (higher-power) Fenmans built, but that my gun was probably an over-pressurized 12 foot-pound gun. He told me the gun would quickly destroy itself if I left it as it was, so I shipped it to him for a complete rebuild.
Sure enough, I had a 12 foot-pound Fenman that some American shop had grossly over-pressurized to get higher velocity. I'd shot the gun only a few times, and Dave told me the gun wasn't damaged in any permanent way, but the piston seal was partially vaporized from the excessive pressure. The piston moving faster than designed created excess heat that caused the synthetic piston seal to melt a little with each shot. That melting, in turn, caused a larger volume in the compression chamber, which the owner then "fixed" by adding even more air pressure to the gas spring to bring the velocity back up. It's a self-defeating cycle that ends up with a destroyed rifle. It's also the reason Theoben stopped letting owners adjust the pressure in their rifles, and make no mistake about it – the British owners were just as bad as the Americans when it came to this abuse.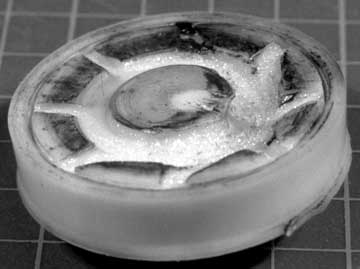 The Fenman piston seal (Theoben calls it a crown) has been partially vaporized by too-high heat. If this continues, eventually the seal will be gone and the steel piston will slam into the compression chamber wall, destroying the rifle.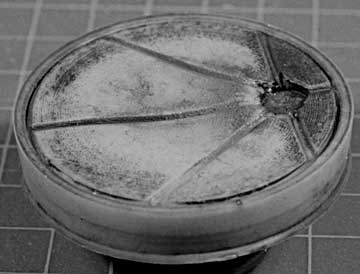 This Theoben seal was in service in an Eliminator for 8 hard years and an estimated 50,000 shots. It has almost no wear. Compare that to the Fenman seal above that was melted within a few hundred shots.
When the rifle came back, the velocity with 7.9-grain Crosman Premiers was around 825 f.p.s. – right at 12 foot-pounds. Ben Taylor (the Ben of Theoben) was surprised to learn of the rifle's mistreatment, so he sent the new piston seal, the other gas spring seals and a new Schrader valve at no charge, which I though was a nice gesture. Cocking was now back down around 42 lbs., and I was finally able to evaluate the rifle the way it was designed to perform.
Next time, I'll give you some specs and tell you how it feels to shoot a Fenman.