Running target
by B.B. Pelletier
Before we start, I'm getting lots of questions about shimming breech seals for breakbarrels. One of you should write a guest blog about it.
There's also a
new article on the Pyramyd Air website
.
I promised this post to Derrick several months ago. Today's the day!
History – Running Stag, Running Deer
Running Stag dates back at least to the mid-19th century, when the target was a wooden stag (a male chamois) with a target attached in the place where the stag's heart would normally be. The stag was mounted on wheels and pulled along a track.
The setting was outdoors, and the track was positioned between two dense bushes. The stag was pulled along the track as fast as a normal stag might run and the goal was to put a bullet in the animal's heart as he passed in view. The standards for this sport seem variable, but there was a special venue in Munich, where it was practiced in the 1860s, so at least the course of fire was always the same.
In England, the sport was called Running Deer, and it was practiced with pretty much the same rules at the same time. The sport was still a local or possibly regional one at this time.
History – Running Boar
Running Boar came much later, probably from Prussia, and the target was a two-headed boar that had a set of scoring rings printed over a colorful lithographed paper or painted wooden target. The target was shot as it passed by in both directions – left to right and right to left. The target went both slow and fast. Men got 30 shots (15 in each direction) at the slow target and 30 at the fast target, for a total of 60 shots. Women got 20 slow and 20 fast.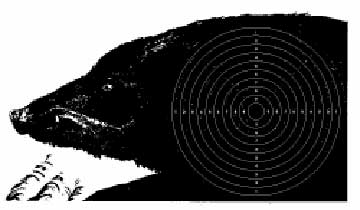 This is half of a Running Boar target. This would be the half you shoot at when the target crosses from right to left. This is a modern American target printed on target paper. The vintage Running Boar targets were boars on brightly lithographed colored cardboard game scenes or brightly painted wooden targets.
Running Boar has been shot with centerfire rifles as well as with .22 rimfires. The trend in modern times is toward the rimfires because the required range facilities are smaller and the range safety fan is reduced. I believe there was even a scaled-down running boar target for air rifles, but there's an even better event now: running target!

Thie full-sized Running Boar target looks like this
Running Boar has been shot with centerfire rifles as well as .22 rimfires. The trend in modern times is toward the rimfires because the required range facilities are smaller and the range safety fan is reduced. I believe there was even a scaled-down Running Boar target for air rifles, but there is an even better event now – Running Target!
Running Boar requires a range setup that is fairly permanent, so if a facility has invested in one, they tend to leave it up and running. As a result, the sport tends to weather long periods of low popularity. Similarly the rifles are specialized equipment and are not well-suited to other sports or general use. So if one owns a Running Bore rifle and has access to a working raqnge, one tends to stay with the sport.
Running Target
Running Target is strictly an air rifle sport. It made it into the 1992 Olympic Games, but was dropped after 2004. It's still a World Cup event. Without the Olympics as a goal, the luster is off the sport. There is a world championship title, however.
The target is just that – a normal bullseye target. Two bullseyes are printed on a page with an aimpoint between them. This allows passes in both directions. The old sport of shooting at a moving target didn't change, but the target did, and now there's a specific aimpoint. The number of shots and the fast and slow presentations remain the same as for Running Boar: 60 shots for men, 40 for women.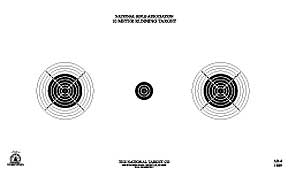 The AR-6 Running Target looks like this. It's two 10-meter bulls with an aimpoint in the middle. The target passes just like the Running Boar.
The Running Target carrier is still a mechanical system that presets the target across a two-meter gap at 10 meters. It runs in both directions at two different speeds. The target is visible for 5 or 2.5 seconds, respectively. The mechanism is very expensive, so not many clubs or individuals will buy them. This has limited the sport to some extent.
Want to try it?
The Gamo MTS 1000 Moving Target System lets you shoot at moving targets with airguns. The deer target has two heads that reset appropriately, depending on the direction the deer is moving. The system is made from light-gauge metal, so it's most appropriate for airguns of lower velocity – not unlike 10-meter target guns. A Daisy 953 would be ideal with this target. It wouldn't be exactly like Running Target because there's no scoring target, but you would get the same kind of training.
Tom Gaylord is known as The Godfather of Airguns™ and has been an airgunner for over a half-century, but it was the 
Beeman
 company in the 1970s that awoke a serious interest in airguns. Until then, all he knew were the inexpensive American airguns. Through the pages of the Beeman catalog, he learned about adult airguns for the first time. In 1994, Tom started
The Airgun Letter
 with his wife, Edith. This monthly newsletter was designed to bring serious reports about airguns to the American public. The newsletter and
Airgun Revue
, a sister magazine about collectible airguns, was published from 1994 until 2002, when Tom started
Airgun Illustrated
-- the first American newsstand magazine about airguns. Tom worked for three years as technical director at
AirForce Airguns
, the makers of the 
Talon, Condor, and Escape
 precharged air rifles. Today, he writes about airguns and firearms for various publications and websites. He also makes videos, and you'll find short clips embedded in some of his artices on Pyramyd Air's website. Tom is a consultant to Pyramyd Air and writes under the name of B.B. Pelletier.