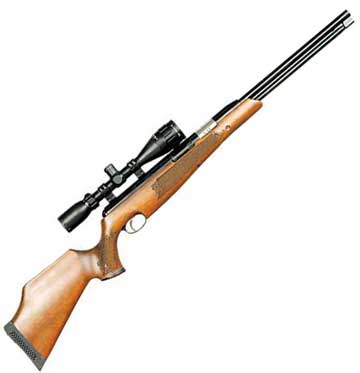 A TX200 Mark III underlever spring-piston air rifle is a treasure to be enjoyed for many generations.
Guest Blogger
Gino is a recent and satisfied owner of not one but two TX200 Mark III spring rifles. I've tested this rifle for you already, but this report comes from a new owner and a reader perspective. I thought it was an important viewpoint. Gino originally posted this as a comment, but it was so complete that I asked him if I could make it into a guest blog.
If you'd like to write a post for this blog, please email me at blogger@pyramydair.com.
Bloggers must be proficient in the simple html that Blogger software uses, know how to take clear photos and size them for the internet (if their post requires them), and they must use proper English. We will edit each submission, but we won't work on any submission that contains gross misspellings and/or grammatical errors.
Special announcement: please don't use the Guest Blogger email for anything else
Just a reminder, I don't answer questions addressed to Guest Blogger or to tomgaylord@pyramydair.com. If you have a question, please post it as a comment to any post in this blog.
A reader looks at the TX200 Mark III in .177 and .22
by Gino
It's been awhile since I posted. I've been so busy practicing in my garage and cannot put the TX200s down. I still owe you a report on my rifles, so here you go.
Let me start with the .22 cal TX200 Mark III. It's just as good as the .177. The only thing I see that's different is that the .22 kills prey on the spot and the .177 needs better shot placement to execute the quick kill. The differences are very minimal, but I wind up picking up the .177 cal. 9 times out of 10 when I want to shoot farther, due to its greater velocity. But, the .22 cal. hits the mark with more accuracy on windy days.
Each caliber has unique traits. The .177 kicks a little harder than the .22, and I noticed that the .177 is a tad louder. Both will put pellets into the same hole as many times as you shoot, as long as you religiously keep the same stance/grip technique. I'm referring to the artillery hold–wink, wink.
The TX200 is so forgiving and simple to reload, and it's never tiring like the breakbarrels. There are no seals that fall out, etc. [Matt61, are you listening?]
The trigger
The trigger on the TX200 Mark III is so adjustable that I've gone through all the adjustments and set it the way I wanted. The trigger can be as light and dangerous as you want, but everyone's preference is different. My .177 is set at 1/4″ first-stage travel and 16 oz. of pull on the release. Basically the trigger is set where my entire technique allows me to shoot with the most accuracy.

The .22 trigger is set to the same first-stage travel of 1/4," but has a little more tension than the .177 trigger. It just seems to shoot better/hit targets with a less sensitive trigger pull. Trigger adjustments are endless/infinite on the TX200 Mark III.
It gets better
New owners will be surprised when they shoot over 3,000 pellets and notice the rifle performs way better than when brand new out of the box. Everything gets better the more you shoot. The trigger smooths out, cocking gets even better and the overall feel just makes you smile each time you pull the trigger.
The overall weight is not bothering me, as it makes for a more stable rifle. By comparison, my friend's Gamo CFX is a bit jumpy and springy against my cheekbones.
Scopes
I scoped both rifles with Leapers SWAT scopes, with the .177 having Leapers Accushot 8-32x56AO with illuminated reticle and the .22 mounting the 4-16x56AO (also illuminated). Both perform great and are dead accurate. The ease of zeroing at any distance is a breeze with no tools needed. Be sure to get a solid mount; it works well.
My conclusion on both calibers is that you need both if you have the extra money. The .177 will the do the job just as good as the .22 when hunting, as long as your shot placement is good. The .22 always kills the prey on the spot. I currently have both calibers and have no regrets. I sold all my PCP rifles as of last month, and I'm keeping these. Field target events were never so much fun before the TX200's arrived. Just looking at these rifles is rewarding enough, to say nothing of shooting them.
Which caliber is my favorite? The .177 is an all-around rifle but I always hunt with the 22 cal. I take them both if I can.
Here is a TX200 anecdote I'll never forget. The day was calm (70 deg. F.) with no wind at all, so I took the rifles to the firing range with my buddies. A few onlookers challenged me saying, "Who takes an airgun to a firing range?"
I said, "Let's see who can group better on a 50-yard target." That's my TX200 MK3 rifles against their rifles. Guess who won? Yep, they couldn't even group inside 2″ but blamed their lack of accuracy on the fact that I had Leapers SWAT scopes against their fixed scopes.
Then, they shot my rifles and everyone complained when their turns were over. They finally admitted defeat as they looked on their spotting scopes to see 10 rounds so close that even I was amazed.
Both my friends and these strangers now have a different perspective on the airguns of today. In the end, I mentioned the artillery hold and told them that you can shoot an airgun at home for free anytime in small areas that can't accommodate a rimfire or centerfire gun. I gave them all the Pyramyd AIR URL, so they may comment if they see my comments.
My take on that experience is that to each his own and so be it if the toys/rifles/guns happen to be non-powder driven. They all shoot projectiles and give us joy and relaxation as hobbies.