by B.B. Pelletier
Lots of interest in this show, so I'll do a multi-part report and a long video, to boot. Give me a few days for the video, because that's a whole different editing process.
The first thing I want to say about this show was that it was both the best show ever and a huge disappointment. It just depends on who you listen to. This time I listened to many of the attendees talk about the show in progress, and I could hear whether they were going to make a good report or not. I guess this is human nature at work; and since I'm a positive person, I'm warning you right now that I think this was the best show ever.
A good show is one where you sell most of what you want to sell and find interesting things to buy. I did both. Since my interests are not necessarily universal, I'll describe everything I saw.
For starters, this is the largest airgun show in the U.S.–and probably the world. There were over 100 tables of airguns. If you're a collector, you can find pretty much anything. The setup began before 7 a.m. on opening day and lasted until noon, though most tables were set up by 9:30. Then the dealers, who are the biggest buyers of expensive guns, began making the rounds. In many cases, guns that were priced very low were purchased and relocated to other tables with an appropriate markup. For example, an FWB 300 Universal sold for $425 and landed on another table at $650. That's the way things go at shows. A couple of my guns wound up that way on other tables.
The doors opened at noon and the public came in, but not in the numbers I've seen in recent years. Attendance was off a bit from last year. The buyers who had money seemed less willing to part with it this year, but the dealers had bargains galore. Both things seem based on the perception that the economy is in trouble, though I find it difficult to follow how a man who drives a 2008 Ford F-350 truck and pulls a 28′ fifth-wheel trailer can think the economy is bad! He ought to be dancing in the streets if he can afford the gas for a 10 mpg rig like that!
Honored airgunner
At each show, an airgunner who has done a lot for the hobby is honored before the show opens. This time the recipient was Fred Liady, the host of the Roanoke show. Dennis Quackenbush puts this award together and makes the presentation every year.
Dennis Quackenbust, left, presents the Honored Airgunner award to show host Fred Liady.
First buy
I had already made some prearranged deals before the show opened, but the first buy AT the show was a Diana 27. I talked to Richard Schmidt, from whom I'd bought my other Diana 27 at my first International Airgun Expo 1993 (in Winston-Salem, NC), and told him I was on the lookout for some nice 27s. He came over to my table a minute later with this rifle. It was made in March 1967 and is in slightly better condition than my other one. This one is a .177, which gives me one of each. Since there's so much interest in this rifle, I thought I might tune it here in the blog and give you guys a look at a vintage gun's guts. I'll also learn how healthy it is. That was such a major buy for me that it could have made the show by itself. But there was much more!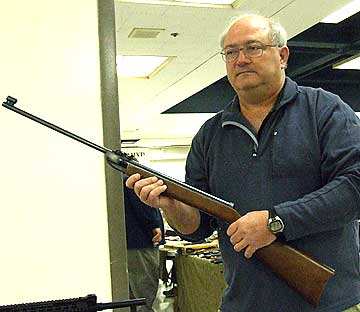 Reader Randy in VA holds the Diana 27, which was my first buy at the show.
First reader
The first reader to introduce himself was Randy in VA. He came right up to the table and shook my hand. For the rest of the show, he was often at my table, where I'm sure he got to see the show from a different perspective than most attendees. I was so glad to meet him and to introduce him to the other readers who stopped by. There was Lloyd and Fred and JDK from New York and several others whose names, unfortunately, escape me. It was a real pleasure meeting all you guys.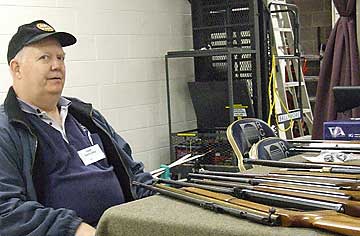 There's old B.B., waiting for the next good deal.
Buy the pound!
Crosman collector Ted Summers had a unique twist at his table. He sold Crosman 140 and 1400 pneumatic rifles by the pound! There was a scale on his table where you weighed your treasures for checkout. It was a clever idea that had a lot of people talking.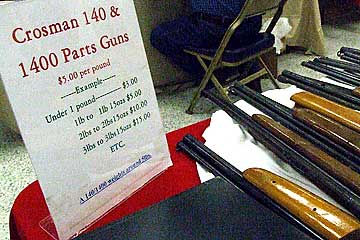 Airguns by the pound! A great way to stimulate a slow economy (and a sluggish show).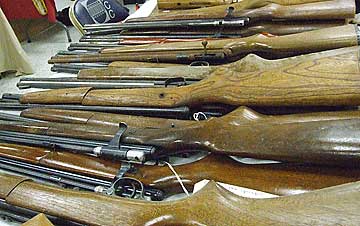 And here are the guns he's selling by the pound.
The theme of the show
Every airgun show has one or more themes, and this one was no different. For starters, this was the Hammerli show. I mean the real Hammerli airguns made in Switzerland. They were everywhere–rifles and pistols. If you were in the market for a nice one, this was the show to get it.
What was different at this show was a lack of bargains on FWB 124s. There were plenty of excellent and nice 124s present, but nothing was priced under $300. I think airgunners are now fully aware of the 124 and are driving the price up.

This 124 Deluxe is in nice shape, but it needs a piston seal and lacks a front sight. At $395, I felt it was a little pricey. I misread the tag and thought it was selling for $325, which would be about right. I was ready to buy, but the seller wanted at least $350.
Next big buy
My next big buy was a really large one for me. It was an electric air compressor from an M551 Sheridan Armored Reconnaissance Airborn Assault Vehicle. You might call it a tank, but it really isn't one. However, the point is that if this compressor can survive in a Sheridan, it will last for decades in a shop like mine. I used the compressor that AirForce has that came from a B25 bomber, and it's lasted for a decade of hard use so far.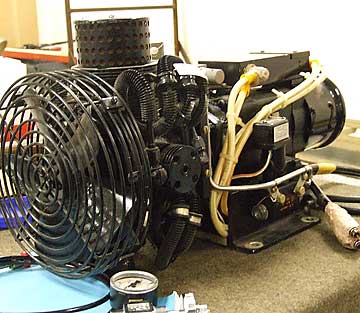 A mil-spec compressor for $1600 is a real bargain.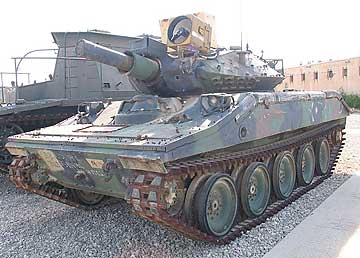 The compressor lived in this little tank.
The reason I'm telling you this is because this compressor cost $1,600. That seems like a lot of money, but compare it to the Swedish model that sells for $1900. The ruggedness of this one will prolong the life cycle many times longer.
There's a lot more show to come, and a video, but that'll have to wait.