by B.B. Pelletier
The next deal I got at the show was earth-shattering! It was a once-in-a-lifetime kind of thing that seems to happen to me more and more the older I get. I was admiring some airguns at a table and a fellow walked up with a strange airgun in his hands. He wanted me to examine it. On the rubber recoil pad it says it's a Benyamin, but on the receiver, it says Benjamin. This maker is listed in the Blue Book of Airguns, right after the Benjamin listings. I won't get into the specifics now, because I'm going to do a separate report on the gun for you, but listen to what Robert Beeman says about the price.
"Extreme rarity precludes accurate pricing on this model."
Now that's music to any collector's ears! However, my Benyamin is a different model than the one Beeman owns, so what does that say about rarity? Almost nothing is known about these multi-pump pneumatics, so I am going to do a report in my Shotgun News column to try to publicize it. If anyone has another gun like this, they may see that article or this blog and the learning will begin.
The seller was very motivated to sell the rifle, even though we showed him the passage about the value, so I could not refuse the deal. I'll show you the rifle tomorrow.
Another rare air rifle
At the table behind the one where the Benyamin came into my life, there lay a Parker-Hale Dragon single-stroke pneumatic sporting rifle. I didn't get a still photo of it, but you will see it in the first part of the video. For most of the show, I thought it was a Daystate Sportsman Mark II, and so did Davis Schwesinger, the owner of Air Rifle Specialists. However, while we were both examining it at the end of day one, we asked the seller what it was and he told us. You will remember that I made a special report on the Dragon from the 2008 Little Rock airgun show. Well, you don't often see a rifle like this for sale (only about 100 were made) and for only $750, to boot! I told you the dealers were making sweet deals at this show.
Field targets
Dick Otten had several tables for his field targets and action targets. He has a new tree mount that works sideways. Field target clubs will want to get several. Dick also showed a challenge-type target that pits one shooter against another in a timed match. And his standard field targets are now the tops in the industry.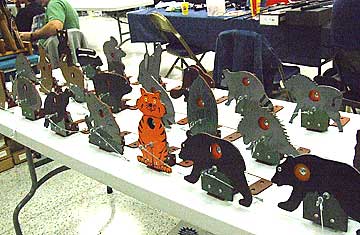 After Hours field targets by Dick Otten of Florida.
BB guns
If there's one thing Roanoke is famous for it's collectible BB guns. This is the show where they all come out of the woodwork. It's also the show where more than one first model Daisy wire-stock gun has walked in the door, though I don't think that happened this year. If you like cast iron and tinplate BB guns, you really should attend this show.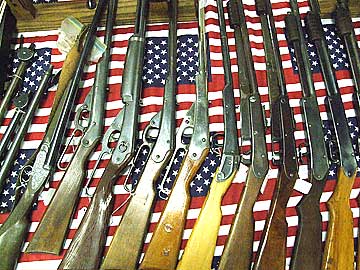 One of many tables of collectible Daisys.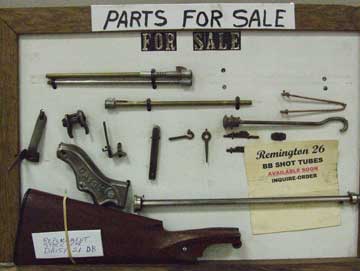 Roanoke is one of the few places where you can find specialty parts for antique and vintage BB guns. You won't find these things anywhere else.
Custom guns
One of our readers walked up to my table and showed me a Sheridan he had modified for easier pumping. He extended the pump handle backward for better leverage, so he could run a large scope on his blue Streak and still be able to pump the gun.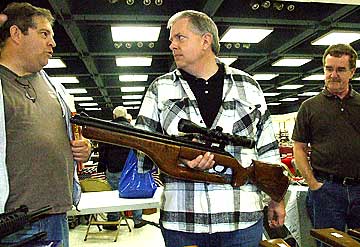 Look at the pump handle on this Sheridan Blue Streak. It comes all the way back to the triggerguard, so the gun can be held at the wrist while pumping. The owner is a blog reader, as is Lloyd, to his right.
Scarce modern guns
There are some very modern collectibles, too. The Kalashnikov BB gun is one example. BATF has stopped importation into the U.S., so the handful that made it through the first time are all there are. Though the gun is still being manufactured, it's very hard to find one for sale in the U.S.
This blog reader was thrilled to find this rare Kalashnikov BB gun at the show.
Back when the war in Vietnam was still going on, the Defense Department was hot on instinct shooting. Daisy supplied the guns to the Army, but Crosman was invited to bid on the contract. They converted a few of their V350 guns for instinct shooting and there was one at the show. It's just the second example I have seen.

Crosman made up a handful of these special V350s to compete on the Army's Instinct Shooting contract.
The auction
At the end of the day on Friday, the show held an auction. Dealers may enter guns for auction and they split the proceeds with the show. You might think that the only guns they sell are junk, but that's not the case. Knowing that this crowd has money, dealers will auction off some very nice specimens.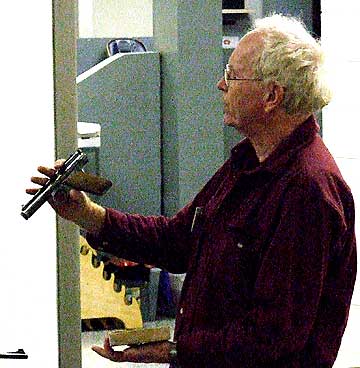 Show host Fred Liady ran the auction. This looks like a 250-series Benjamin pistol – which is definitely not junk!
Day two
On day two the locals come out in droves. They're mostly interested in new and modern airguns, so this is the day those things sell well. The attendees often bring in guns of their own to sell.
Day two is also the day the gun show opened upstairs. Show dealers are admitted free, so I ran up there and bought some reloading supplies and some World War II-vintage magazines for my M1 Carbine. I ALMOST bought an 8-bore (about .90 caliber) muzzleloader that stood about 74″ tall. It would have been a bragging rights gun, because at just 17 lbs. the thing would have kicked my head off. I was also severely tempted to buy a TM Dowell hunting knife. Ted Dowell was a contemporary of Lovelace, but his knives have not risen in value as fast. You can still buy one for under $500 if you shop, while a Lovelace goes for over $5,000.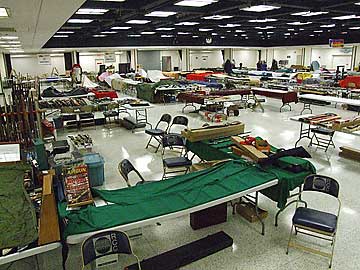 Day two, before the show opened at 9. This is the day the local public comes in force.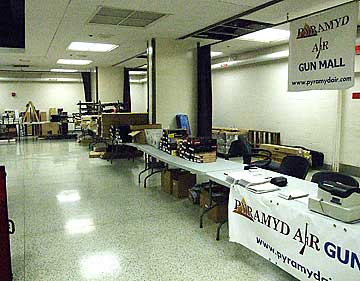 Want to buy new guns? Pyramyd Air had them in pallet loads!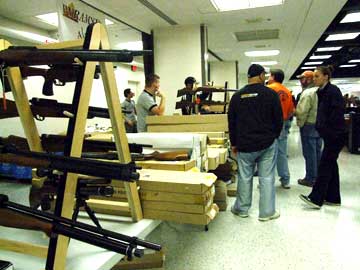 Once the show opened on day two, the Pyramyd booth filled up fast. And, yes, their 4 tins of pellets for the price of 3 was available, but the tins were prepackaged in sets.
For those looking for tunes on their spring guns, Paul Watts had several tables and was selling guns he'd already tuned. Watch the video to see more on this. I'll have it up pretty soon.
So – whadda ya think?
As much as I've told you, there is still more to this show. I thought it was the best show ever, but I managed to sell a lot and to find some really super deals. I guess if you didn't do the same, you might not have felt the same about the show. This year I had deals already made; so when I arrived, the show was already a success. But the deals I made while the show was open were as sweet as the ones I'd arranged. I know it's difficult for some of you to make an airgun show, but if you can only make one, this is probably the one to attend.
Many who flew in had arranged to FedEx their buys back home before they left, so travel didn't prove to be a problem. Maybe you'll want to pencil in this time next year for the biggest and best airgun show in the world.