by B.B. Pelletier
The Wildlife Ranch puts you up for a night, so there are no room rents but you're on your own for food. Fortunately, the town of Mason has several nice restaurants, as well as a small grocery store. We were in town during the height of deer season, which runs all November and December, and everywhere we went we ran into other hunting parties hunting on different ranches. The signs in every building in town told us that hunting is the principal industry in this central Texas community.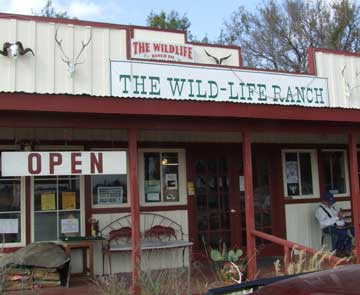 Texas Wildlife Ranch in Mason, Texas was the headquarters for our two hunts.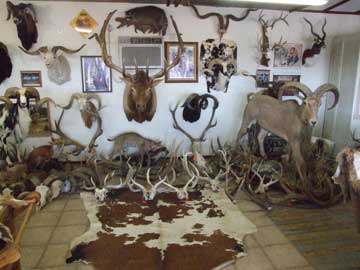 Inside the store, a wide variety of game animals are displayed. The full-body mount on the right is an aoudad ram–our first quarry.
The morning of the hunt dawned with the threat of a thunderstorm. By the time we arrived at the ranch to pick up our guide, it was 6:45 and the heavens finally opened, delaying our start for an hour. Not that we might melt in the rain, but a Texas thunderstorm is not weather in which you want to be walking outside. So, it was about 8 a.m. when we finally reached the hunting grounds.
Eric ran his gas-powered compressor to fill a pony bottle to 4500 psi, which gave him three refills of air for the hunt. We would be hunting several miles from the trucks, so this is like carrying extra cartridges for a firearm.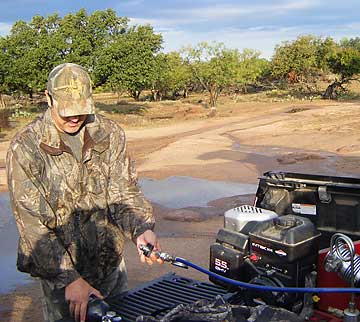 Henderson fills a pony bottle before setting out.
We initially stalked a herd of Sitka deer, but after more than an hour and a couple failed stalks, they ran into a huge open field where we lost all chance of getting close.
Going through the country, we came upon several places where coyotes had finished an animal and left the remains to be picked clean.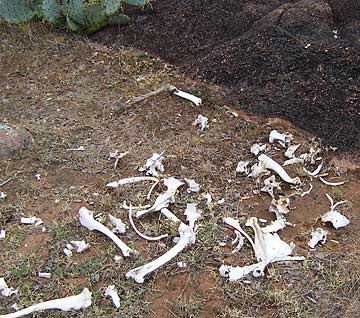 Coyotes hunt in packs to bring down the weak and the young. You see bone piles like this everywhere. I found a complete aoudad skull with horns in the rocks during the stalk.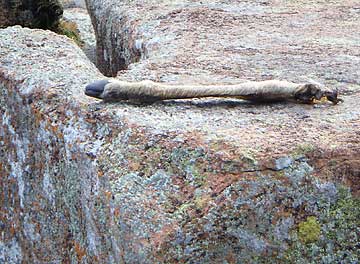 Talk about Jurrasic Park!
Eric decided to finally go after the aoudad ram he's been wanting. Also known as the Barbary sheep, the aoudad is the most elusive animal at the Texas Wildlife Ranch. They live in the high rocks that offer them good visibility of any approach, and they spook easily. Getting to within airgun range or under 100 yards was going to be an ordeal.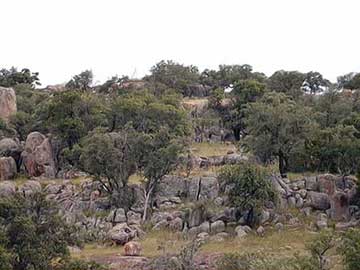 The rocky terrain preferred by the aoudad will get your heart pumping after a few minutes!
Why a hundred yards, when I already told you Eric had bagged a goat two days before at 147 yards? Well, the aoudad is several times the size of the goats Eric bagged. They can weigh 225 to 300+ lbs. and are tough as nails. It takes not only great power to drop one but a perfect shot in the boiler room, which is the heart-lung area. Eric's Quackenbush .308 is simply not enough gun for this game. It can drop a whitetail deer, but not an aoudad.
So, he was hunting with a Quackenbush Outlaw .457 Long Action, a 550 foot-pound rifle. He scaled back to a light 300-grain bullet to get a flatter trajectory, but that was as far as he dared to go. And that combination gave him a 100-yard rifle. However, with some careful movement through the high rocks that are this sheep's natural habitat, he was able to get closer.
Three times he stalked the animal, and three times the game bolted before he could take the shot. Our team of four plus the guide probably walked two miles through the high rocks before a good shot was possible. But when it came down to business, one was all it took!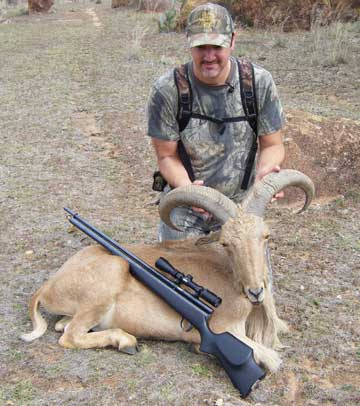 Henderson took this trophy aoudad buck with one .45-caliber bullet from his Quackenbush .457 Long Action.
We broke for lunch after Eric's successful hunt. A drive into Mason landed us at the local pit beef barbecue place for our maximum daily ration of cholesterol. Then, back to the ranch to meet Richard, our guide for the second hunt.
This time, Paul Capello was the hunter and Eric armed him with the Quackenbush .457 Destroyer. He chose .457 Hornady round balls because Paul's intended animal was a Merino sheep–a little smaller and less secretive than the aoudad.
When we unloaded in the hunt tract, we immediately saw small herds of different exotics roaming in the field. We were on a tract in which the animals would cost either $185 or $300, depending on the size and horn development. The Merino sheep is widely regarded as having the finest and softest wool in the world, as many sweaters and high-grade mattress pads can attest. They're pure white, though in the wild they get covered with dirt and look dingy gray.
We walked about a quarter-mile into the tract before spotting a pair of Merinos that looked interesting to Paul. It took two stalks in the 85-degree heat of the Texas sun before he got to a good spot, but all was not well with the sheep. The two males were standing side by side, and one shot would have taken them both, so Paul had to wait for them to separate. It took several minutes before the larger of the pair decided to walk off on his own, giving Paul a good shot at about 40 yards. Remember, he was shooting with open sights.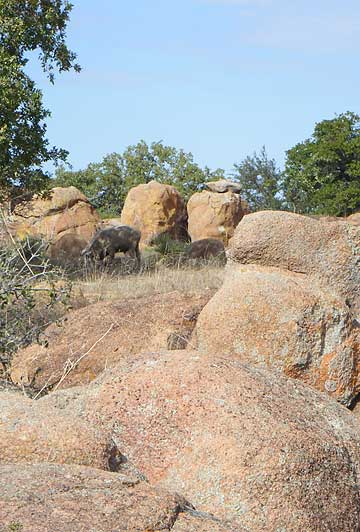 Not one but two sheep are standing side-by-side just left of center at 40 yards (enlarged for definition). We had to wait for them to separate.
His first shot was right through the boiler room, as we learned later, but the animal didn't fall. This is characteristic of hunting with a big bore and it's very similar to bow hunting. After waiting several seconds, the animal became wobbly, so Paul put a second ball through him within two inches of the first one. That knocked him over, and it was quiet shortly thereafter. Both balls completely penetrated the sheep and were lost, but a fragment of one was embedded behind a rib, where it had become lodged on its way out.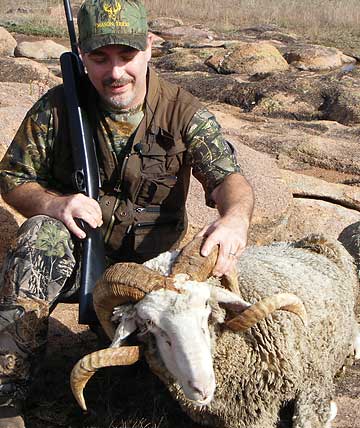 Paul's Merino was a good one, dropped with two good shots. The pelt will clean to pure white.
Eric's aoudad is a $3,500 trophy–highly sought-after by hunters around the world. Paul's Merino was $300. Prices at the Wildlife Ranch start at $185 for smaller animals and go up to $4,000 for a trophy bison. A whitetail deer trophy runs a flat $1,500. Compare that to paying a minimum of $2,500 a year for a deer lease, which brings additional expenses and no guarantee of success. Texas has almost no public land on which to hunt, so these are the best options for most hunters. Having lived in Washington state, Maryland, Kentucky and Ohio, where public hunting is free and plentiful, I know how absurd that sounds. After living in Texas for five years, I also know it's the truth.
For those of you who don't live in Texas, exotic game ranches are a huge boon, because you can fly in, hunt and fly back home. The trophy and any taxidermy can be shipped to you later, and the meat can be frozen for shipment, as well. Many hunters choose to let the meat be donated to one of several local food kitchens, so nothing goes to waste.
Remember, this was a blog about hunting game with a big bore airgun. No state has yet enacted legislation to allow big bore hunting, so this is one very viable option. When you buy that Career Dragon Slayer, you can start dreaming of your own big bore hunt.