by B.B. Pelletier
Last Saturday, I attended the 2008 LASSO shoot on the Boyd Farm in Lavon, Texas. They have 1,000 acres of grazing land and generously allow Eric Henderson to host the shoot on one of the lower pastures. This shoot is for big bore airguns.
The targets are half-sized steel silhouettes of rams placed roughly at 100, 150, 200, 250 and 300 yards. This year I believe they ranged between 107 and 300 yards because several shooters measured them with laser rangefinders. The two closest targets that were 107 and 170 yards have round steel plates that fall out when hit. A shooter can aim to knock these plates out of the target and get extra points.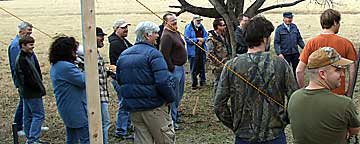 Before the shoot, Dennis Quackenbush (dark blue on the top right) makes several announcements to the shooters.
The winds was ferocious! Gusts were hitting 40 m.p.h. and the average wind from 9 o'clock was 20 m.p.h. While those big bullets weigh more than smallbore pellets, they can't buck that kind of wind out to 300 yards, so allowances had to be made.
Speaking of smallbores, some local shooters showed up with some smallbore PCPs and set up a range of their own off to the side. They were there to see what the big bores were all about, but they had some impressive guns of their own–including a BSA Super 10 that was so quiet all I heard was the hammer dropping. It shot 10.5-grain Premiers at 940 f.p.s. and could hold a reasonable group out to 50 yards despite the wind.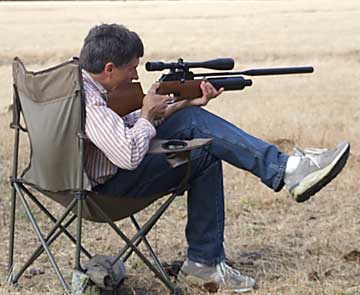 Wayne–here's a guy who shoots like you. No recliner, though.
Every year I try to notice the theme of the shoot, and this year it was advancement. Instead of just buying guns and shooting them, I saw shooters who were taking the technology into their own hands and developing things not seen before. One of these was a sidelever that took only a few ounces of effort to open and close. It was so smooth that it used a magnet to hold the handle in the closed position to prevent it from opening under its own weight.
This clever sidelever needs almost no effort to open.
One pair of shooting buddies arrived with all the creature comforts, including an ATV to ferry them around the grounds. There was a rack for rifles built into the bed, and it was clear these guys took their hobby most seriously.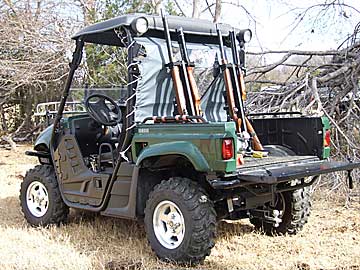 These guys know how to live!
Another shooter had a Buntline pistol that got two shots at an identical 660 f.p.s. That's pretty fast when you consider he's shooting a 500-grain slug! An air pistol that generates 484 foot-pounds of energy at the muzzle is a big deal! I will show it shooting in the video I'm compiling.
David enjoys his .308 pistol so much that he bought a companion at the LASSO meet. He shoots with open sights.
Other shooters had variations of Quackenbush big bores they had taken to new heights. There weren't as many Korean guns there this year, but several key shooters who normally use them failed to attend for various reasons.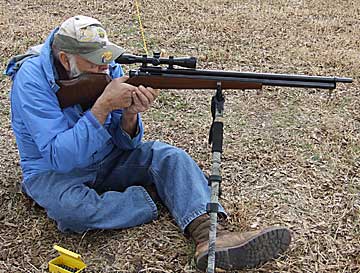 This man sights-in his new Quackenbush .50 ball shooter after purchasing it from another shooter at LASSO.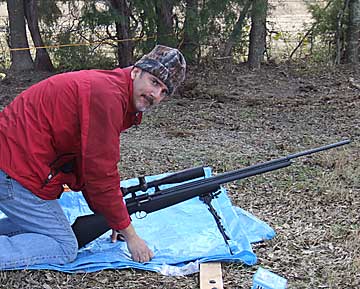 LASSO host Eric Hernderson gets into a prone position to shoot his Quackenbush .308.
You can't shoot these guns without air. Since they get 2 to 4 shots per fill, that means a LOT of air. Eric had his compressor, and everyone was filling their carbon fiber tanks throughout the match. A typical rifle may get 40-60 shots per tank, so a compressor is a good thing to have. Eric's unit was busy most of the time filling many carbon-fiber tanks to 4500 psi.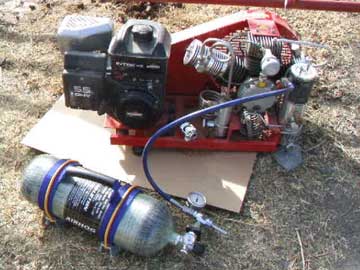 Eric's compressor supplied all the air the shooters needed.
As the day progressed, the wind increased in force to the point that the competitors had something major to contend with come contest time. I had to leave before the match was finished, unfortunately, because my kidney stones were acting up. But there will be a LASSO again next year and several airgun shows before it to acquire that big bore. Is 2009 the year you want to get in on the fun?
I'll also be writing an article and making a video soon, so this isn't the last you have seen of this event.