by B.B. Pelletier
Hello, everyone. The filming trip last week was successful and we now have several show episodes in the can. I got to see Arkville Productions' Camp Stogie and the Air Lodge and actually got to to work in them for several days. Paul has the ideal airgun testing setup on that property. I'll show you a little of it today.
Before I do, I want to thank everyone who stepped in to answer blog questions for me. Edith sent me only those comments I absolutely had to see, but I peeked in on the blog in the evenings and saw that the readers were well cared for.
Camp Stogie is on a piece of property Paul's brother bought across the road from his house. The location is 2000 feet high in the Catskills in Arkville, N.Y., and you couldn't wish for a more picturesque place to shoot airguns–at an altitude at which springers still work fine.
The studio and one editing suite are housed in an historic farmhouse on the property. For an old house, it has a surprising amount of electricity, as any film studio must have.
Somebody asked to see Paul's Air Lodge, so I'll show that now. The lodge is a quonset hut made of tough fabric over a metal frame. It's insulated so well that, when it was 35 degrees and snowing outside, we were sweating inside from just the heat of the lights.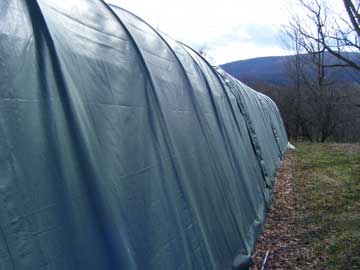 The Air Lodge is 80 feet long, with end panels that roll up to allow unlimited distance. It's insulated, so it's always comfortable inside. A great place for testing airguns!
There's also a small pond on the property stocked with three kinds of trout! The pond is fed from a year-round stream on the property, and the fish have grown to 12-18 inches! Paul's brother catches them and has special recipes for the barbecue.
We filmed for 3.5 days at the studio in Arkville before driving up to see the Crosman plant. We then spent two days looking into every aspect of their operation. They opened the entire plant to us, and we filmed things that no airgunner has ever seen. The show episode that features this visit will be pretty informative! I will tell you about a few of those things here. When the episode comes out, you'll get to see the plant in operation and hear the machines as they do their work.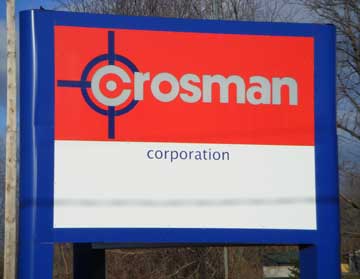 Crosman's sign on Routes 5 and 20 is impossible to miss.

The Crosman campus is large, green and beautiful. The plant is huge and houses up to 350 employees, depending on the season.
We also got lots of footage that won't make it into the half-hour show, so I'm sure the website will run some of that as additional interest items. Of course, we have to give Paul and his editors some time to massage everything we did, so it'll take a while before things start showing up. Please be patient.
I won't show pictures from inside the plant, because you'll see them in the plant visit–either on television or on the American Airgunner website. I will, however, answer several questions I've been asked about Crosman over the years.
Barrels?
Yes, Crosman does make their own barrels. They rifle them right there in the plant on a conventional button-rifling machine. In fact, they must have more than one because they use so many hundreds of thousands of barrels for their guns.
We saw the 88-gram AirSource cartridges being made. They went from raw steel plate to fully formed, plated cylinders that were filled and welded shut. That should make it to the episode for you to watch.
We saw something very few airgunners have ever seen–how Crosman solders the barrels to the pump guns! They were running a batch of 392/397s while we were there. It's an interesting semi-automated process that requires one worker on the station.
History?
I was told Crosman got rid of all their old guns in the 1990s, but Paul and I stood inside the Crosman morgue. You won't believe what we saw! Hundrerds of airguns from the 1700s up to today.
The model shop
We were shown the model shop where a lot of prototyping is done. For most other airgun manufacturers, it would be large enough to be the machine shop, but at Crosman that place is ten times larger.
They do test 'em!
We saw the quality control test shop where airguns go to be tested to death or for several hundreds of thousands of cycles–whichever comes first. The test robots exercise the guns day and night–sometimes for months on end. When you see the program, you'll see what I mean. I will never look at a 760 the same way again!
We were also let in on a couple projects that are a secret right now but will be coming to market very soon. Because the episode will air after they have gone on sale we were allowed to see and film them! I can't wait to share what's coming.
We saw and filmed for the first time ever the making of pellets and BBs. Crosman has always been protective of how they do this, but they allowed us to film the processes, so you can see how they're made. I can tell you that just making BBs requires millions of dollars of equipment and a huge space, so it's not like they will be threatened by a little guy. But they must think of the big guys, too, and some of them may not have figured everything out yet. The BB line runs around the clock and pumps out 4 million BBs every day!
After those six days I was a worn-out dishrag! Naturally the return flight was the one during which the Atlanta airport shut down and diverted flights all over the southeast. It took a lot longer to return than anticipated, and my home office sure looked good again! The cats knew I was coming home. About 5 minutes before I pulled into the driveway, one of the cats woke up Edith and then sat in the living room and stared at the front door. It was 3:30 a.m. It was great to have a welcoming committee of cats and wife!
There are several more trips planned, and the TV show looks like it will be a first-class program. The hunting and fishing shows had better move over, because we're going to blow their socks off!