by B.B. Pelletier
First, the letters about the wire-stocked Daisy first model guns are going out this week. The Friends of the Museum will probably buy up all thousand guns, so if you didn't join when I told you, you probably missed out on a great opportunity to buy a collectible that will appreciate overnight.
Okay, round two of the show. I told you yesterday that I saw several strange things at this show. How about an adjustable rear sight made from scrap parts? Roger Yost showed me this strange item. A man made it many decades ago, and Roger was lucky enough to acquire it through his airgun repair connections. A bottle cap is the adjustment knob for windage, and the unit looks like something comedian Red Green might have made on his show.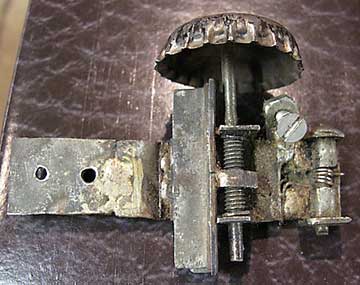 We don't know the name of the man who made this rear sight, but he was an airgunner for sure. This is a top-down view. The thin notch is in the center of the blade.
In the past, several of you have asked about the vintage Crosman AIR 17 multi-pump pneumatic rifle. They're uncommon, but this was the show where they came out in spades. I saw no less than 4 of them, where most shows don't have even one.
There were also a couple HW 55 rifles in the room, including one Tyrolean! And there was another HW rifle that's even rarer—an EL-54, which is an HW 35 with an ether injector on the side. Made to get a .22 pellet up to 1,000 f.p.s., the EL-54 was never very popular, and examples are now quite collectible. The Baracuda pellet was created for the rifle because it blew the ends off lesser pellets with the pressure generated by the exploding ether gas. Until it was available, the rifle shot round lead balls.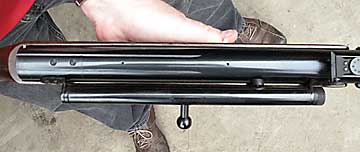 I'm holding a Weihrauch EL-54 ether-injected air rifle. Except for the ether tube on the right side of the compression tube, this is an HW 35 breakbarrel. A glass ampule of medical ether was crushed in the tube and injected into the compression chamber just before each shot.
The big bore crowd gathered around Dennis Quackenbush and Big Bore Bob Dean. This year there were many cast lead bullets available for the first time. Also, there were examples of the big bores Pyramyd AIR sells, as well.
One shooter managed to get his Dragon Slayer up over 400 foot-pounds without making major modifications to the rifle. He also had a pistol with a 12-inch barrel that he said was making well over 300 foot-pounds. I don't have any chronograph results to report, but I watched a couple people shoot it and the recoil was quite significant.
Lots of big bore bullets to buy this year.
Dennis Quackenbush was delivering rifles to buyers at the show–and I was among those taking delivery of a new .308. I'll be testing it for you later this year, and I plan on testing it for the television show as well. You'll be amazed at the nice figured wood Dennis had to call standard on my gun because it had a repaired crack.
Quackenbush also had six pistols laying on his table, and a single buyer bought four of them in one pop. The big bore pistols are not as powerful as the rifles, but some of the larger calibers develop 100 foot-pounds, which is more than enough for medium-sized game.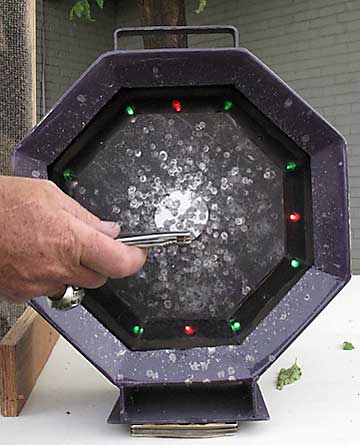 This new action target works for air pistols and rifles, alike. The developer is seeking industry support.
Another curiosity at this show was the new electronic action targets brought and shown by Rocky Mraz. The target is computer-controlled and it scores the shot as well as times the shooter. Three targets took on all airguns during both days and never suffered a bit. We will probably be seeing more of this target at the club level in the future if the right competitions can be developed for it.
The show broke up early–just after noon on Saturday. The inclement weather no doubt had a lot to do with that. But from my perspective, this was still one of the great airgun shows. The unusual and desirable airguns were present; there were bargains for everyone and just meeting old friends made it worthwhile. I hope to see more of you there next year.