by B.B. Pelletier
It was a smaller show this year, as several dealers we expected to show had either gone to the Pennsylvania show instead or they just didn't go to any show. The scheduling error of two airgun shows on the same weekend was not intentional, and next year the two shows will coordinate to avoid a repeat.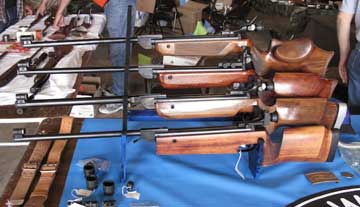 Collector Tom Strayhorn always displays a nice stand of fine vintage air rifles. These Walthers are beauties!
Small or not, though, this show was still a good one. I met several blog readers there, and each person I met was kind enough to introduce himself to me.
What made it a good show for me and for most people were the guns that were there. I made a video to show more of this to you (in a few days). For today, I'll just rely on words and a few pictures. Let's begin with desirable airguns.
The FWB 124 is always asked for, and this show had several. One of them was in a gorgeous Maccari Tyrolean stock and sported a nice target aperture rear sight. There was also a deluxe model that appeared to be stock.
Sheridan Blue and Silver Streaks are always in demand, and this show was loaded with them. Some of the prices were very reasonable–much better than what you see on the internet classified ads.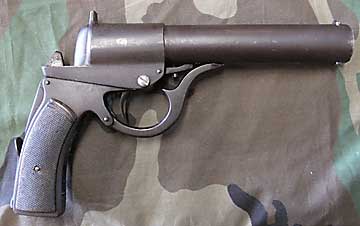 Westley Richards Highest Possible spring-piston pistols are very desirable. This model, though, is nearly unheard-of. About 100 may exist.
One model I almost never see for sale is a Beeman C1.Well, there was a beautiful .22 cal. C1 present, and it had been broken in completely, which means it was a delight to shoot. My buddy, Mac, got it in a big trade, and I traded it out of him before he headed home. It didn't come cheap, though! I will report on it in a future blog, of course.
I also bought a Haenel breakbarrel target rifle that looks very much like a 311 without the bolt. It has the same target sights and the same general look and feel, but the trigger is more of a sporter and less of a target unit like the one on the 311.

The carnival gun! This Shooting Star Pneumatic Gun is the one that shot out the red star on the midway. People who are not on the internet haven't a clue where to get them, but there were at least three at this show.
I was disappointed that there were no BSF S55 rifles at this show. Imagine how I felt when I discovered that there was a beautiful one that reader David Enoch had scored from under me! Actually, I'd already spent 2X my budget by the time he showed it to me. If he hadn't bought and it had still been for sale, l would have had to walk away from it, as I did the BSF S70 last year!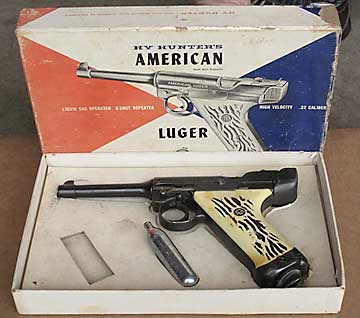 Big Bore Bob Dean had this boxed American Luger on his table. That's about as unexpected as it gets, as he usually doesn't have anything under about .357 caliber. You could make the down payment on a fine used car with what this rarity is worth.
Saturday brought a Noah-level rainstorm, which probably kept the locals home, so there were fewer bluebirds than I usually see, but a fine Diana model 6 pistol did walk in as did several other nice sporting rifles.
The best deal at the show was the Webley Tempest that sold for $50. The buyer has to feel good about that one.
Tomorrow, I'll show you some really strange things I saw, so please bear with me. This was a really great show that was well worth the trip, in my book.