by B.B.Pelletier
Part 1
Part 2
Part 3
Part 4
Part 5
Part 6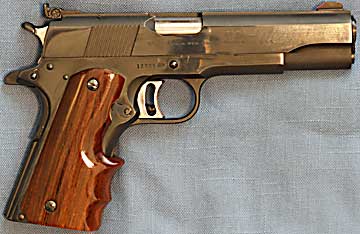 I acquired this old Colt National Match .45, which I set up for factory loads for my wife. She likes the grip and heavier trigger, and she wants to use it for defense. Unfortunately, it hasn't proven to be reliable yet.
Shadow Express Dude has been after me to make good on my promise to report on the Colt National Match pistol I acquired recently, so today I thought I would fulfill that obligation. I also linked to the earlier reports on the PT1911 to maintain some continuity with this report.
Ever since discovering that I liked the 1911-type pistols very much, I have admired the National Match guns made from Colt parts. The first guns were assembled (gunsmithed, really), by Army armorers before World War II. They were for Army marksmanship programs, including the National Matches.
In time, the Army contracted for special parts to be supplied to the armorers, and these were known as National Match parts. After that, a gun could either be a made-up special project gun that contained National Match parts or it could be an actual Army-made National Match pistol.
Colt also produced a National Match model frrom 1933 to 1941. This is a rare model that today commands quite a high price.
The gun I'm reviewing for you was made in 1957. Colt called the model a National Match Gold Cup but didn't add Gold Cup to the slide until 1970. I had an opportunity to shoot a Gold Cup-marked pistol a few years ago, and it impressed me. That Gold Cup was as smooth and probably just as accurate as my Wilson Combat CQB, so I figured the earlier Colt National Match would be even nicer, because I thought they paid more attention to the fitting of the action in earlier times.
Well, guess again! The Colt National Match I have is not as nice as a standard 1911 pistol made today and nowhere near as nice as the Wilson. Finding that out was an eye-opener to me. I will describe the gun to you and let you decide.
The finish on the metal is as flawless as gun finishes ever get. Because Colt used very light stampings for all logos and words on the slide, you can spot a refinish instantly. An original finish is stunning when you see it in person. Although the color is not as dark as that found on a Colt Python, it is so even that in some light it's impossible to distinguish whether it is dark blue or silver.
The gun has an adjustable rear sight and a ramp front that is inappropriate for a target pistol. The front sight should be an undercut Patridge to eliminate any reflections, and that's what all the references say it has, but the gun I have has a sporting ramp with tacky orange paint!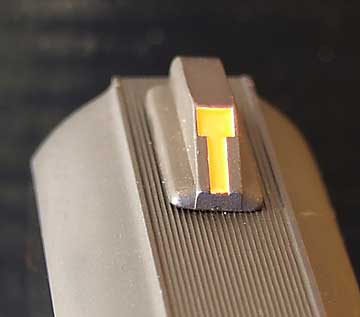 This is certainly NOT a target front sight!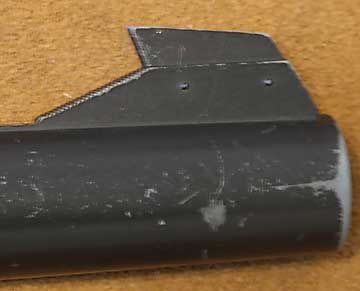 This undercut Patridge front sight is what should be on a target pistol.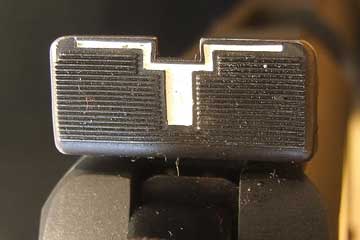 Whoever decided on this rear sight for the Colt was not a bullseye shooter.
The action is rough in comparison to my Wilson and even compared to my budget Taurus PT 1911. It is as if gunsmiths in 1957 didn't know how to properly fit a 1911. When you rack the slide, you can feel the roughness, while the Wilson is glass-smooth and even the Taurus is noticeably better than that Colt. I was really surprised–especially after reading the glowing reports of "carefully hand-fitted parts." Don't believe it! Those handmade examples from Army armorers might fit that description, but the Colt-made National Match–the gun made before Gold Cup was stamped on the slide–is not a smooth piece.
This is a target gun; so, before I started shooting hardball ammo in it, I swapped out the 12-lb. recoil spring for an 18.5-lb. spring, which is the standard rating for a hardball gun. Maybe with midrange target ammo and that 12-lb. spring the pistol exhibits a different nature; but lacking target ammo. I had to upgrade the spring to prevent the slide from getting hammered.
The trigger-pull is a heavy 6 lbs.! I absolutely hate it! It's heavier than a service gun trigger! But Edith likes it. She has always felt that the Wilson has a too-light trigger for her, and she welcomes the stiff resistance this one gives. I have offered to lighten it for her, but she is satisfied with it the way it is.
As you can see from the photos, I swapped out the original checkered grips for a set of smooth walnut grips that are fuller and come with finger grooves. Edith prefers them because they make the gun ride correctly in her hand. The other grips made the gun ride too low.
We hope a new extractor will fix the reliability so the gun can be trusted. Would you have thought that a gun called a National Match would perform like this? I sure didn't.