Gamo Lady Recon – Part 1
by B.B. Pelletier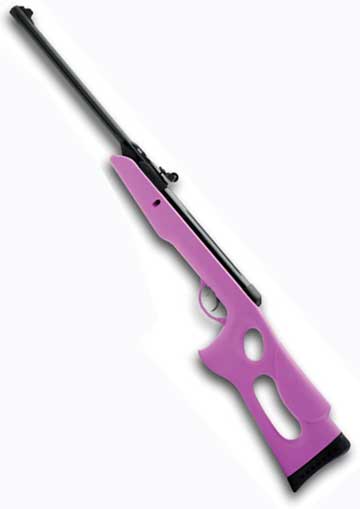 The .177 Lady Recon looks pretty in pink!
If you've read this blog for a long time, you know I'm constantly on the lookout for kids' guns. They have to be sized small, lightweight, easy to cock or operate, and accurate. I prefer them to have open sights because I think all kids should learn to use them before moving to optics.
Today's air rifle, the Gamo Lady Recon, has the small size, light weight and open sights I like to see. It barely squeaks by with a cocking effort of 18 lbs.–the maximum I want in a youth model. Yes, I read the specs on the PA website that say 19 lbs., but I also tested the test rifle. Accuracy we'll have to test later.
The rifle is short, at just over 37 inches overall and light at 4.63 lbs. That makes it a delight to hold for long periods. Not only do children enjoy that but a large percentage of oldsters do, as well. Gamo rates the trigger-pull at 3.3 lbs. That would be about 3 lbs., 6 oz., or so. The trigger on the test rifle breaks at 4 lbs., even, which is not too far off the spec.
It's pink!
But being the Lady Recon, this rifle has a pink stock. And not just a pink stock–according to my wife, it's mauve, which she tells me is a purpleish-pink, but I believe the makers were going after a shocking pink stock! To me, it looks right, but I'm red-green colorblind. Anyhow, the stock is colored for the pleasure of distaff shooters.
I remember at a SHOT Show several years ago seeing a pink Crosman 760 Pumpmaster and my wife remarking how good it looked. Since then, I've seen firearms follow suit and now this airgun. It'll be a hard sell to a young boy, but perfect for a girl who enjoys the color! I note on the Pyramyd Air website that the black Recon has 8 reviews while the Lady Recon has none as of this writing. Perhaps this coming holiday season will change that.
In case you are wondering, I did a 3-part review of the Gamo Recon in 2008. So, there are targets and velocities to check against. No, I don't think the pink stock will have any affect on the gun's performance, but as it so happens that other Recon was underpowered. So we'll have a second look at the powerplant with this one. The first Recon's trigger broke at 2 lbs., 9 ozs., so maybe this one will break-in over time.
The safety is manual, a feature that I must applaud. Automatic safeties are no safer than manual safeties–it all depends on the responsible habits of the shooter.
As it turns out, the Lady Recon has one thing the regular Recon doesn't have–open sights! And no fiberoptics means these are sights that can really be used for precision shooting! While the rear sight can be easily removed, the front is cast into the barrel casing and cannot come off without cutting.
The ambidextrous synthetic stock does not sound hollow except at the pistol grip. You can see that by looking up the pistol grip that is open on the bottom. Being fully ambidextrous and a breakbarrel, the rifle favors neither right- nor left-hand use. The length of pull is 12-3/4″, the same as the black stock.
The barrel is the same thin steel unit as the black Recon. It's encased in an attractive, synthetic, fluted barrel that looks rather sharp.
The powerplant has the same buzz I noted in the earlier review. It's not excessive, but I'm not used to Gamo guns buzzing anymore.
This will be a quick little test and comparison to the other Recon. I just want to be able to refer back to it this coming Christmas.
Tom Gaylord is known as The Godfather of Airguns™ and has been an airgunner for over a half-century, but it was the 
Beeman
 company in the 1970s that awoke a serious interest in airguns. Until then, all he knew were the inexpensive American airguns. Through the pages of the Beeman catalog, he learned about adult airguns for the first time. In 1994, Tom started
The Airgun Letter
 with his wife, Edith. This monthly newsletter was designed to bring serious reports about airguns to the American public. The newsletter and
Airgun Revue
, a sister magazine about collectible airguns, was published from 1994 until 2002, when Tom started
Airgun Illustrated
-- the first American newsstand magazine about airguns. Tom worked for three years as technical director at
AirForce Airguns
, the makers of the 
Talon, Condor, and Escape
 precharged air rifles. Today, he writes about airguns and firearms for various publications and websites. He also makes videos, and you'll find short clips embedded in some of his artices on Pyramyd Air's website. Tom is a consultant to Pyramyd Air and writes under the name of B.B. Pelletier.