by B.B. Pelletier
Before we begin today, I'd like to ask you readers if there are any products you have evaluated that you think might be worth your review. There are already over 14,000 customer reviews on the Pyramyd AIR website and more are added every day. Customer reviews are a great way for shooters to read unbiased reports from those who have tried the products before them.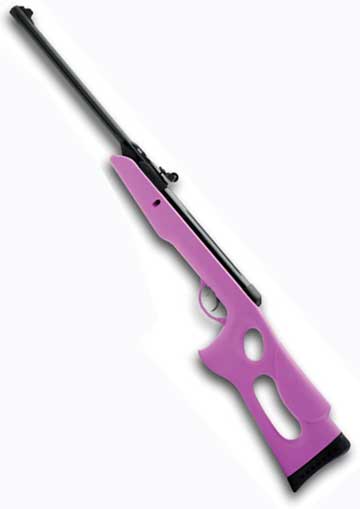 The Lady can shoot!
Gamo's Lady Recon has open sights, so I tested them first as part of the accuracy test. I'll test the rifle with a scope, too, and I think it'll be interesting to see how it performs between open sights and the scope.
I tested velocity of the rifle with Gamo Match, Crosman Premier 7.9-grain pellets and RWS Diabolo Basic pellets, but I don't think they will necessarily be the best as far as accuracy goes. I'll test it with the Gamo Match, the Crosman Premier 7.9-grain hollowpoint pellets and the RWS Meisterkugeln 7-grain pellets. That should give us a pretty fair idea of the potential accuracy of the rifle.
Focus on some design features
Before I begin shooting, though, I'd like to point out a couple design features that are worth considering. First, let's look at the open sights. Gamo put a nice set of adjustable sights on the Lady Recon, and they aren't fiberoptic. That's a plus for those shooters who use open sights and want precision. Fiberoptics are great for rapid target acquisition, but they lack the precision needed to shoot tight groups, because you're aligning such large sight elements–the green and red dots. Without them, you're aligning the edges of the front post with the rear notch–both formed correctly on the sights of the Lady Recon.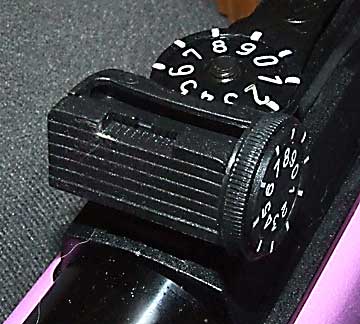 Rear sight adjusts in both directions and doesn't have fiberoptics!
Another curious feature is an articulated cocking link–the link that connects the barrel to the piston and pushes it back when the barrel is broken down. Back in the 1970s, before we knew much about the design of spring-piston powerplants, the articulated cocking link allowed for a shorter cocking slot in the forearm, which helped reduce the buzz of vibration when the gun fired. The Lady Recon forearm has a short slot, and no doubt it does help control vibration in this rifle.

Cocking link is articulated.
The barrel is sheathed with plastic that's formed into a fluted design–reminiscent of the barrels on fine vintage and modern target rifles. It looks great and helps your hand hold the barrel during cocking, but some may object to plastic on the outside of an airgun. Gamo uses the same sheathing on many of their more upscale rifles, such as the Big Cat and the Whisper, so Lady Recon owners shouldn't be put out by it.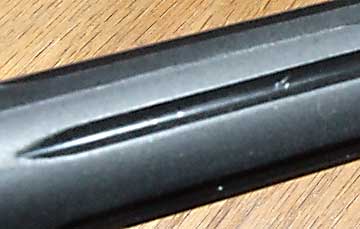 Fluted barrel is distinctive and easier to grip.
Accuracy testing
Because I'm not running at 100 percent, I cut the number of shots per group back to 10. It still seems to give a good indication of accuracy, and I think I'll continue to use it in future tests, except for special tests I want to run.
The shooting was done at 25 yards with the open sights that come on the gun. I did not wear prescription glasses. The rifle was bag-rested with the artillery hold. I used the backs of my fingers because the Lady Recon is so light it doesn't hurt to hold it that way. My fingers were touching the triggerguard.
Gamo Match
This time I used the new heavier 7.71-grain Gamo Match wadcutter pellet. No special reason for that. I just wanted to try it. The group was not centered on the bull, but as you can see, the rifle gave up a 10-shot group measuring 1.15″, center-to-center.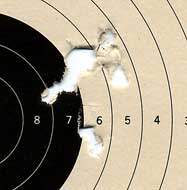 Ten heavy Gamo Match pellets went into this group at 25 yards. They measure 1.15″ c-t-c.
Crosman Premier hollowpoints
Things started out well, so I put up a new target and switched to Crosman Premier Hollowpoints. This 7.9-grain pellet is available over-the-counter at discount stores, yet offers almost identical accuracy to the boxed Premier 7.9 grain pellet. However, in the Lady Recon, it turned in the worst result–a 10-shot group measuring 1.856″ c-t-c. I had adjusted the rear sight, but as luck would have it, I adjusted it the wrong way, so the group is even farther out to the right. The Gamo rear sight has very tiny icons that are supposed to show you how to adjust the sight, but they're too small for me to see clearly without a magnifying hood, plus I was in a room too dark to see them anyway.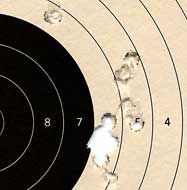 Ten Crosman Premier hollowpoints measured 1.856″ c-t-c.
RWS Meisterkugeln
Next, I tried 10 of the lightweight 7-grain RWS Meisterkugeln pellets. They surprised me with a tight 1.018″ 10-shot group, which was the best of the test. That's probably as good as I can shoot with this rifle with open sights at 25 yards, so I'm impressed. This time, I adjusted the sights the correct way, but I went too far and wound up on the left side of the bull.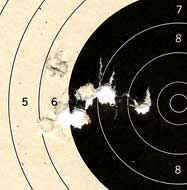 Ten RWS lightweight Meisterkugelns measured 1.018″ c-t-c.
RWS R10
The last pellet I tried was the RWS R10 target wadcutter. In a target rifle these will usually surge ahead of everything else, or sometimes equal what H&N Finale Match pellets can do. This time, though, they were slightly behind the Meisterkugeln, so I would save some money and go with the cheaper Meisters.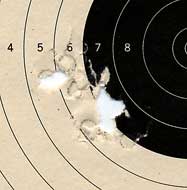 Ten RWS R10s were just slightly larger than ten Meisterkugeln, measuring 1.029″ c-t-c.
The result of this test is my observation that the Lady Recon is a very accurate youth spring rifle. Next, we'll see what it can do with a scope.