by B.B. Pelletier
https://www.facebook.com/profile.php?id=1357401265 Facebook
Before we get started, you need to know about Pyramyd Air's new Weekly Specials. These are special markdowns on products. The sale lasts for only one week (or until the product us sold out). Check back every Monday to see what's on sale that week.
This is the story of how Pyramyd Air began. It is written by the company's owner and founder, Joshua Ungier.
If you'd like to write a guest post for this blog, please email me.
Bloggers must be proficient in the simple html that Blogger software uses, know how to take clear photos and size them for the internet (if their post requires them), and they must use proper English. We'll edit each submission, but we won't work on any submission that contains gross misspellings and/or grammatical errors.
How and when PA got started – Part 3
by Joshua Ungier
This story picks up at the point where I left you in Part 2 in October 2009.
In Part 2, my team had visited several Russian quarries and wood producers and had taken samples of their finds. At the end of Part 2, where we pick up the story today, we were ready to fly back to Moscow.
When we returned to Moscow, we hunkered down in the deep winter and tried to stay warm. The samples we collected were sent to our customer in Japan. About 10 days later, we heard back from the customer.
A telegram from Yoshi was delivered to my hotel room early in the morning. He was not happy. The samples of marble we sent him did not pan out. Although it was beautiful marble with good density, the Russian mining technique of using explosives created hairline cracks. Although it is a tough stone, marble cannot take the stress caused by blasting. In many cases, the fractures would prove impossible to work with. Core samples sent from other Russian quarries that used the same mining method were also not received well. Yoshi asked me to keep looking–but this time for granite, too. So, off we went again, this time to Tashkent, Uzbekistan.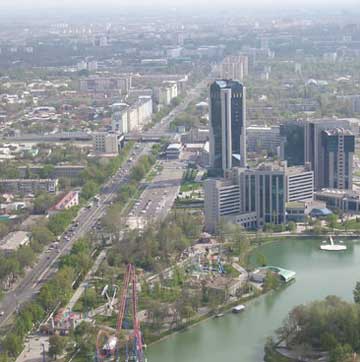 Tashkent is a blend of modern and ancient culture.
Tashkent is a beautiful capital city with a mix of modern and ancient architecture and culture. Almost 2,000 miles from Moscow and further south, it was also much warmer this time of year.
My first impression after the plane door opened was the warm drizzle and incredible aroma of flowers. The airport is surrounded by flowering trees and the most aromatic flowering bushes.
One of the ever-present Lada taxis offered us a ride to the hotel located not far from the center of town. There, we were greeted by the mining officials and by their "security." After we settled into our rooms, we were invited to come downstairs. The most delicious breakfast was waiting for us. On a huge marble table, a pile of locally grown vegetables and fruits and still-hot flat bread were overflowing. Accompanying them were mind-boggling varieties of teas and cheeses, grapes and raisins, and melons of every color and aroma. There were also varieties of fruit I had never seen or eaten, and to this day I have no idea what they were–but they were very delicious.
By the time we finished, it was past noon. Our meeting with the geology expert was suppose to happen later that day, so we had a few hours to explore Tashkent. Jethro decided to stay and sleep in.
Our assigned taxi driver spoke fluent English and, being a lifelong resident of Tashkent, was an excellent guide. We drove by the palaces of great leaders from centuries past. We visited mosques, museums and sprawling parks. Our driver described how, in 1966, a powerful earthquake almost leveled the city. Most of the city was rebuilt, but the rubble of a few houses and other structures were left as a memorials to the quake and to those who perished.
We were getting hungry again. At the mere mention of food, our cab driver pulled over to the side of the road and produced local bread called lepioshki and some bryndza, or goat cheese, out of a compartment built into the trunk of the car. Olive oil, bread and homemade wine all were delicious. After eating, it was time to return to our hotel. The meeting with the mining and geological committees was very productive. After the meeting, it was decided that we would drive out to the quarries next morning. The rest of the evening we walked the main street and tasted the local food.
I was awakened by a knock at my door at five the next morning. It was our driver, and it was time to go. It was dark and cold outside, and some awful-tasting coffee did little to make me happy. There was not much talking as our minibus climbed into the mountains. We stopped only for gas and a too-brief nature call. Our security guy sat up front next to the driver.
Then, the minibus pulled off the road onto a makeshift picnic area. "Time to stretch our legs and have something to eat," declared our driver. Out came a portable table and chairs, a pretty tablecloth and plastic ware. Food and wine came out of an ancient carved wooden chest.
Following that stop, it was four more hours on the mountain road. Some of it was not much more than two parallel gravel paths. We trudged along at 25-30 mph. Somewhere along the way, not very far from our final destination, a man and his family appeared on the side of the road. A magnificent hand-cut stone house stood behind them. It had probably been built a century or two ago. Our minibus slowed down. The man picked up a black lamb by its legs and raised it over his head. The bus stopped and the driver got out and approached the man. A few words and a handful of currency were exchanged. Then, everyone waved and we were on our way again.
An hour later, we were at the quarry. It resembled a moonscape more than any place on Earth. In front of us were hundreds of acres of marble boulders, some the size of a one-car garage while others approached the size of a two-story building.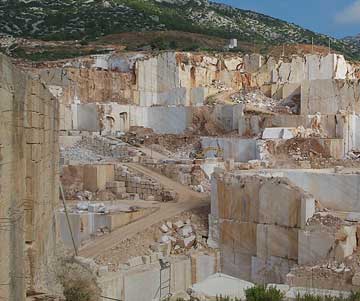 Marble quarry.
Their color was that of pistachio ice cream–pale, pale green. We got out of the bus, but it had rained all the previous night, which turned our walk into a trudge. The mud was, in some places, up to our knees. After hours of walking in that muck and taking hundreds of photographs, we were on our way back to the city. At just past 2 p.m., we were all starving when the minivan stopped in front of the stone house we had passed on the way in and our driver announced, "It's time to eat." We all eagerly agreed.
We were invited into the big stone house. The inside was as beautiful as the outside. Stone and wood were elegantly interlaced, creating a warm and comfortable feeling. We followed our host to the large balcony. A large irregular marble top rested on four white marble legs. "This table has history," said our host. "My great-grandfather constructed this table from scraps of marble thrown away by the quarry. He brought a slab of marble home and polished it for several months. His sons, one of them my grandfather, found a broken column by the side of the road. It was one of the columns ordered for Alexander the Great, to be put up in one of his many temples. It must have broken during transport, so it was tossed to the side of the road. My grandfather didn't do anything with the column, but many years later my oldest son did.
"He was out looking for firewood with his brothers when they rediscovered the column. It surprised them because it was so polished. Obviously it had been worked before, so why was it abandoned in the forest? My son brought the pieces home and, after chiseling them into three legs, we assembled this table here on the balcony. And this is where it remains. It never wobbles." That table was roughly hexagonal, but of course retained its original natural outer shape. It would easily seat 10 people.
The black lamb we had seen a few hours earlier was now on a large platter in the center of the table surrounded by fresh tomatoes, onions and fruit. There was lots of fruit and of course the ubiquitous lepioshki bread and wine. Not more than 50 feet from the balcony where we ate a waterfall plummeted straight down another 200 feet or more. "It is always cooler here during hot summers," our host explained. "We sleep here many nights when it is too hot in the front of the house." After an hour of wonderful food and wine, we thanked our host and left. Through it all, our driver never touched the wine.
It was past midnight when we arrived back in the hotel in Tashkent. We were to leave in the morning. Despite being super tired, I asked everyone to pack so we would not be late for our flight.
Tashkent International Airport was not too busy when we arrived, and we had an hour remaining after the authorities searched us and our luggage. One large kiosk sold everything from Uzbek hats to Playboy magazine. This eclectic collection had a special surprise for me all the way at the other end of the aisle–a black gun. I had never seen a gun like it before. I asked, in English, to see this very modern-looking rifle. I did not know that it was an air gun until I saw the 4.5mm caliber.
"What kind of rifle is this?" I asked.
"Eto vozdushka" he answered. Meaning, "It's an air gun." I examined it closer. It was the IZH 60. I took a photograph and promptly forgot about it.
Then, the loudspeaker announced that our flight to Moscow was ready to board. A few minutes later, we were airborne and on our way back to the winter.