by B.B. Pelletier
The year 2010 started out different than predicted. We do not have a colony on the moon and there's no manned mission to Jupiter to see what went wrong back in 2001. I guess that also means Jupiter will not turn into a second sun, and Europa will not harbor life 20,000 years from now.
Big change at Beeman
And there have been some interesting differences in the airgun world, as well. For starters, the Beeman company is now owned by the Shanghai Airgun Company, who will continue to import the Chinese Beeman-labeled guns and sell them under the Beeman name. Pyramyd AIR has been selected as the distributor for the Beeman R-series airguns, so the R1, R9 and R 7 will still be with us; and the HW guns that are their counterparts will continue as separate models.
The CEO of Shanghai told me that the Shanghai presence will diminish now in the U.S. They will be concentrating on the Chinese versions of Beeman guns in the future. What all this entails is anybody's guess, since I think Shanghai is still figuring it out.
Where was Daisy?
Daisy failed to attend the SHOT Show this year. That's the airgun equivalent of General Motors failing to attend the Detroit Auto Show, which, given their current situation, is not entirely out of the question. There was some talk and speculation about what it could mean for Daisy, but nobody seems to know the real story. It wasn't a good thing.
Crosman
Crosman had a huge number of new products at the show. The two new PCP pistols were big news, as were the new lines of Nitro Piston guns for Remington and Benjamin. Crosman will no longer carry the Nitro Piston under its own name. The Benjamin Super Streaks are turning into the Benjamin Trail, which will have the Nitro Piston.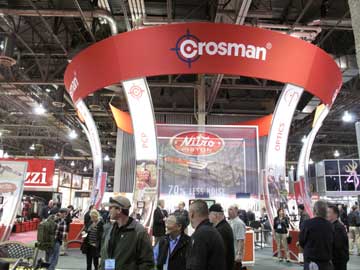 The Crosman booth was larger than ever this year.
They also had a 6mm paintball for airsoft games. And I got to shoot it in their booth in a captive plexiglass gallery. It fired perfectly through an automatic electric gun (AEG) M4 on both semi- and full-auto. In the past, paintballs in 6mm have had uniformity and breakage problems in the feeding mechanisms of AEGs, so let's hope the good showing means the problems have been solved.
Crosman is now putting Weaver scope bases on their spring guns, so finally someone has listened to our pleas. Buy Weaver mounts for any future Crosman or Crosman-made spring guns.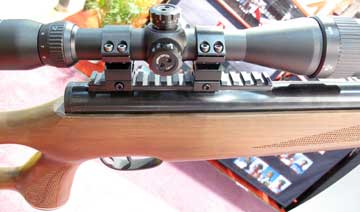 In a move toward total understanding of their product, Crosman is giving us scope bases that really work on their spring guns.
Pistols
I saw the new Marauder and Silhouette pistols. I'll go into the details when I get both guns to test for you. But believe me when I say that you'll be pleased.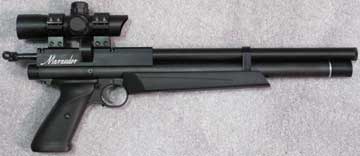 Coming around the middle of this year. The new Marauder pistol has an even better trigger than the rifle. It's just as adjustable and now has a positive, adjustable trigger stop. It's everything you hoped for. Three thousand psi air pressure gives about 24 good shots (three magazines of .22 caliber pellets).

The single-shot Silhouette PCP pistol is based on the 2240 frame, which had to be updated to accept the reservoir. Trigger is standard but improved. Should be available in a couple months.
But the biggest news was something Crosman didn't show, but which is under development for release in 2010. It's a .25 caliber Premier pellet. They took the .20 caliber Premier as the model for the new .25, so it should have a super-good ballistic coefficient. Expect it to weigh in the 27-grain range, which will allow use in powerful springers as well as PCPs.
With that pellet on the market, perhaps the first really accurate .25 caliber pellet since the end of the Diana Magnum a decade ago, Crosman has ample justification for the .25 caliber versions of the Marauder rifle and the Benjamin Trail Nitro Piston rifle. Happy days are here for fans of the quarter-inch bore.
Gamo
Speaking of .25 caliber, Gamo showed a .25 caliber version of their Hunter Extreme rifle. This is another good reason why an accurate pellet is needed for this largest of the smallbore pellet calibers. The Hunter Extreme is the most powerful spring rifle generally available, and the addition of a .25 caliber version makes perfect sense. This will be something to test in the coming months.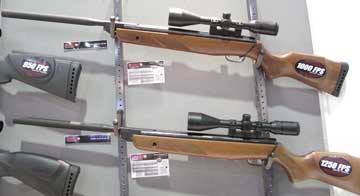 Gamo has added .25 caliber to their Hunter Extreme stable of guns!
Gamo also has three new .25 caliber pellets. One is their PBA series and another is also lead-free, I believe, but they also have a lead pellet, as well. More fuel for the quarter-inch-bore fire.
Besides the Hunter Extreme, the new SOCOM Extreme has the same velocity in a shrouded barrel gun. It's coming out in .177 and .22; but if the .22 is well-received, they'll also bring it out in a .25.
Big news was the laser designator and illuminator (I was told not to call it a flashlight) they've brought out. Imagine being able to focus a green laser like a flashlight over three to five miles! Mount one on your scope and you will be able to take varmints at night through your daytime scope. Critters are not spooked by the green light.
Umarex
Like Crosman, Umarex is another major manufacturer that had a lot of new products to show. Some of them, like the Colt Defender, we were fortunate to receive early enough that it was tested by the time SHOT opened.
I also saw a remarkable new select-fire H&K carbine that runs on green gas. It's all-metal and very heavy. Most impressive looking and feeling. Justin Biddle of Umarex USA told me it's the one gun airsoft shooters were looking for in their booth. I hope to do a report on it later this year.

I predict this green gas HK model will create a big stir in the airsoft world.
RWS will now offer a .25 caliber Superdome pellet. I asked for some samples to test for you. I don't know when they'll be available, but it'll be this year. One more plus for .25 caliber.
The news that will interest most of you has to do with parts for RWS guns. I spoke with Glen Seiter of Umarex USA, who told me that target aperture front sight globes are available for the front ramps on sidelever sporting rifles. That lead me to ask about the Diana rear target sight that will also fit those guns–as well as most of the breakbarrels. Glen said he would check into its availability. I'm going to stay on top of this and see if we can't get some new sights for the rifles many of you already own.
I also asked Glen if he could offer us a package of ten steel breech shims for the breakbarrels. He says he has them on hand but never thought of offering them for sale before. So, we'll also look into that possibility.
AirForce
The Edge was the big news in the AirForce booth this year. Shooters, dealers and coaches were stopping by to tell AirForce about the success that rifle has created in their clubs. And the dealers were clamoring for more guns!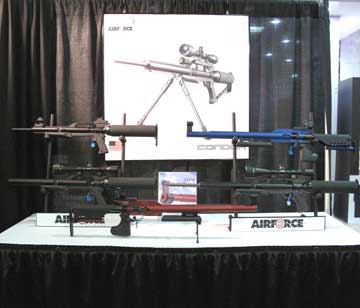 The AirForce booth was full of customers for the entire show.
The BKL line of scope mounts was also receiving some attention. Word is getting out that these fine mounts are available again, and AirForce is gearing up production to handle the demand that's already there.
Pyramyd Air
Pyramyd AIR had an expanded booth this year that included Air Arms, as well. And the American Airgunner crew used the booth as a base of operations as they filmed the SHOT Show. In the Pyramyd booth, an expanded Air Venturi line of guns was displayed, headed by the new Bronco. They were offering show specials on the Bronco to their dealers to get them out into the system.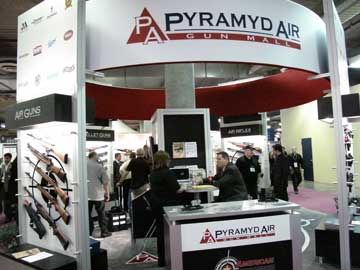 The Pyramyd booth was one of the airgunning central stations at SHOT 2010. More to come in a future report.
I spoke with Bill Saunders of Air Arms and am delighted to report that the wonderful 10-meter Sporter-class target rifle I told you about a week ago is not dead. They've scaled back the features to become acceptable to the NRA and CMP, and we should be seeing yet another wonderful 10-meter target rifle soon.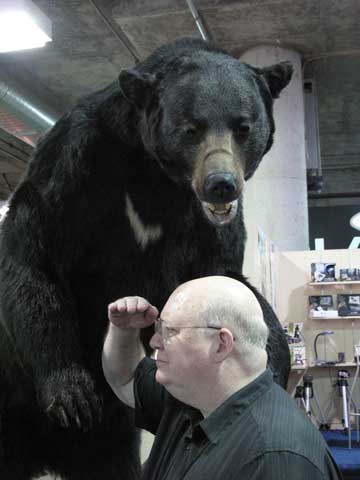 I was always scanning the horizon at the show for new airgun products.