by B.B. Pelletier
In Part 1, we looked at the features of the new Colt Defender BB pistol. Today, we're going to look at both the velocity and the accuracy, as promised.
Velocity
After my recent education by blog reader BG_Farmer about the difference in performance between standard Daisy BBs and the Daisy Avanti Precision Ground Shot, you can bet that I tried them both in this pistol. And I'm glad I did, because there was a difference.
Daisy Standard BBs
The first to be tried were the Daisy standard BBs. Thanks to a wonderful early Christmas gift of a Shooting Chrony Ballistic Printer, I didn't have to record the velocities manually. The average velocity in a 74-deg. room was 442 f.p.s., which is 2 f.p.s. better than the stated velocity. The range went from a low of 436 f.p.s. to a high of 448. If I waited more than a minute between shots, the velocity was always above the mean. But shooting every 10 seconds dropped it below very quickly. CO2 cools the gun and drops velocity–something we all knew, and I demonstrated once more.
The gun seems to deliver between 60 and 75 shots per CO2 cartridge. The number depends on how rapidly you fire, as a cooler gun exhausts more gas, and also how slow you are willing to go before changing cartridges. That's something each shooter has to select for himself.
Daisy Avanti Precision Ground Shot
As it did for the Red Ryder, the Precision Ground Shot raised the velocity noticeably. The average was 458 f.p.s. with a low of 449 and a high of 463. So call it a 16 f.p.s. increase. Pretty significant for this level of power, don't you think? Don't read anything into the total spread being larger, because I waited longer on every shot this time. So, the tests were not the same.
After these tests, I went to my 5-yard indoor range to see what impact the gun would have on paper. I must remind you that this is a double-action only gun, so the extra precision of manually cocking the hammer is not available. You have to aim during a heavy trigger-pull that I would estimate at 10-12 lbs.
I have to comment on the safety. It's on the right side of the pistol and I found it fully accessible to my trigger finger. It must be pushed in before sliding back and forth, but it's easy to do. A nice touch!
The first target was unimpressive, but I have to admit that I wasn't really trying. So for the next target, I did try to squeeze off every shot with as much precision as that heavy trigger allows.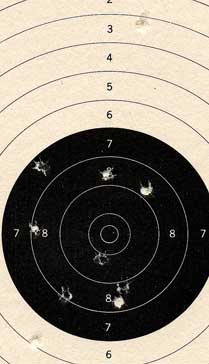 This doesn't look like a great five-meter group but for the fact that it was shot with a heavy double-action pull. The high and low shots were not called flyers. The hold was one-hand with the sights at 6 o'clock. Shot with Daisy Precision Ground Shot.
I'm impressed with the accuracy seen on the 10-shot target. For a double-action-only trigger, that's pretty good for me. It will certainly be on a pop can at the same range.
I also tried the standard Daisy BBs, but the group was the size of the one with Precision Ground Shot when I didn't concentrate. Clearly, this pistol likes Precision Ground Shot.
I must admit the pistol is more accurate than I was prepared to believe. The moving barrel that serves as a hammer apparently has little or no affect on accuracy.
The bottom line is that the Colt Defender is a very good action BB pistol. Remember that its DAO and that the sights do not adjust. If you like 1911 styling and feel, this is a good one.