by B.B. Pelletier
Before we start, there's been a lot of chatter about home defense weapons. I advised a .410 shotgun because a woman would be shooting it and she has no experience with guns. A .410 hits with the same velocity as a 12-gauge shotgun, though with far less shot. For defense that doesn't matter, and the .410 has far less recoil, so I think it's ideal. I plan to buy one of these for my house.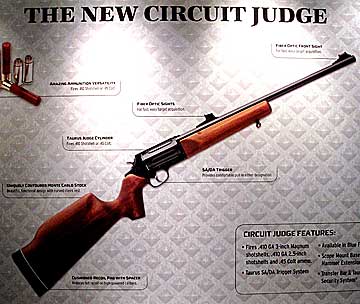 The Taurus Circuit Judge is a 5-shot .410 carbine that will be perfect for home defense. Faster than a pump, it's a double-action revolver. Supposed to be out in 2010.
Here are a couple reminders. First is the Facebook event on Tuesday, April 8, at 8 p.m. Eastern. I'll be on the Pyramyd AIR Facebook page for an hour to answer questions you send in. To ask questions, you need a Facebook account and you must be a Friend of Pyramyd AIR. Register early and don't miss out.
Second, don't forget the Arkansas Airgun Extravaganza, April 30 & May 1. This airgun show is open to the public on Friday, 10 a.m. to 6 p.m., and Saturday, 9 a.m. to 4 p.m. Six-foot tables are $50 each. Admission is $5. Kids 12 and under get in free with an adult. Dealer setup is on Friday, 8 a.m. to 10 a.m. Visit the show website here.
Okay, on to today's report.

RWS 92 is a nice little breakbarrel. Based on the Cometa 220.
The RWS 92 was a strange bird. One of those airguns that's difficult to categorize. While they were available, no one, including me, paid much attention to them, but as they were being blown out at the end of their run a few years ago, suddenly people sat up and took notice. And when they did, their remarks were more telling about themselves than about the gun.
One person who happened to get in on Larry's Pawn & Gun blowout sale bought one for $100 and said it wasn't a half-bad gun, despite the high price. Excuse me? High price? Where do you buy a quality breakbarrel these days for under a hundred dollars? Obviously this person was new to airguns and was also probably quite young, because $100 is a fantastic price for a gun of any quality.
And the RWS 92 does have quality. Made by the Spanish firm Cometa, the 92 is a small breakbarrel called the Cometa 220 that resembles a Feinwerkbau 124 in several important ways. It has a ball detent barrel latch, the forearm screws go in on an angle, the trigger feels about the same, and the safety slide looks and operates the same way. Even the stock resembles the FWB 124 sporter stock more than a little. Size-wise, the 92 is a 7/8-scale 124. Overall length is 41-1/4 inches with a 13-3/4-inch length of pull. Barrel length is 17-1/4 inches, and the rifle weighs 5-3/4 lbs. Cocking weight of my example is 24 lbs., just enough to know you are doing something, but not too much to spoil a long day's shooting.
Power is supposed to be in the 700 f.p.s. range with 7.9-grain Premiers. We'll find out what this one does for certain.
The sights are a bit on the strange side. They're fiberoptic, but with a difference. Instead of a fiberoptic plastic tube in front, the entire front sight blade is cast of fiberoptic plastic. The fully adjustable rear sight has a large fiberoptic plastic element that peeks through the rear leaf in the conventional two dots. Vertical adjustment is by a wheel; but for horizontal movement, there's a screw that's loosened and the element slides in either direction.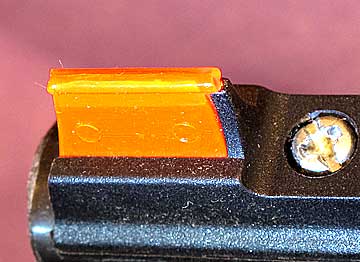 Entire front sight blade is fiberoptic plastic. It catches the light.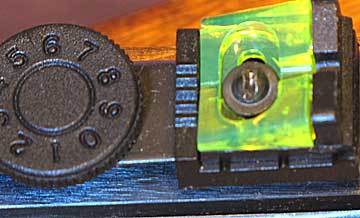 Rear sight contains a huge fiberoptic element.
The beech stock is plain and finished with a medium brown stain. The shape is conventional with a Monte Carlo comb and a vestigial cheekpiece on the left side for right-handers. Except for that, this is a completely ambidextrous rifle.
This is a new rifle to me. I paid it no attention when it was selling and little afterward. But now that I see one in person, I'm persuaded that was a mistake. I like smaller, easy-to-cock and shoot air rifles. With the R7 serving as the poster boy, I guess the Bronco is my idea of a nice rifle. Now that I'm looking at the RWS 92, I see it belongs in the same category.
I see some moly peeking out at the baseblock, so I asked Vince if he tuned the gun. He doesn't remember, but said if there's moly visible he probably tore it down, deburred and cleaned the insides, lubed with moly and set the pivot bolt tension. That should give us an optimum factory tune. Next time, we'll see what that does for us.