by B.B Pelletier
Before I start, a couple of reminders. First is the Facebook event on Tuesday, April 8, at 8 p.m. Eastern. I'll be on the Pyramyd Air Facebook page for an hour to answer questions you send in. To ask questions, you need a Facebook account and you must be a Friend of Pyramyd Air. Register early and don't miss out.
Next, don't forget the Arkansas Airgun Extravaganza, April 30 & May 1. This airgun show is open to the public on Friday, 10 a.m. to 6 p.m., and Saturday, 9 a.m. to 4 p.m. Six-foot tables are $50 each. Admission is $5. Kids 12 and under get in free with an adult. Dealer setup is on Friday, 8 a.m. to 10 a.m. Visit the show website here.
The show is filling fast, and it looks like it'll be larger than last year's Little Rock show, which it replaces. I hope you consider attending. I'd sure like to meet as many of you as possible, and I'll be bringing several of my airguns to show and possibly to shoot, including today's rifle.
Also, a word to show-goers. If you're going to attend the show only on Saturday, come before noon. Airgun dealers get antsy toward the end of every show and start packing up early. Unlike gun shows, they're not penalized for this. Get there while the show is still running strong.
Today, I'll tell you what I did to the 124 after discovering that the Mongoose kit wasn't performing up to my expectations. You may recall that it was shooting Crosman 7.9-grain Premiers at an average of 670 f.p.s. I had expected at least 840 f.p.s. Although the firing behavior was very smooth and delightful, I had hoped to break at least 800 f.p.s., so I continued to work on the rifle.
First, I removed the mainspring only and wiped off about 3/4 of the black tar grease. That still left enough to kill all vibration, and the velocity rose to about 700 f.p.s. That's a gain of about 40 f.p.s. It's possible to remove the mainspring without a total disassembly, so it was quick and I did it first to see what gains there would be.
Next, I completely disassembled the rifle and removed all the lubrication from the powerplant. I carefully relubricated it very sparingly, keeping the use of tar confined to the outer coils of the mainspring. That got me to 710-720 f.p.s., which was about as far as the Mongoose kit is going to take me.
I'd treated the Mongoose kit as a drop-in instant power booster, and apparently it's not. It's more of a 1970s-era 124 kit that needs to be coaxed to shoot as fast as possible–just like the factory 124. I discovered something very important about the piston seal. It's domed. With that shape, it'll never produce the absolute fastest velocity since the top of the dome stops it from compressing all the air in the chamber. It may seem like a small thing when you look at it, but this last bit of compressed air is where the big things happen. Maccari has made this seal to cushion the piston blow rather than develop maximum power, so consider that when you order your tuneup kit.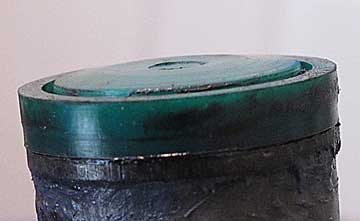 The Mongoose piston seal has a raised, dome-shaped crown. It cannot compress all the air in front of it.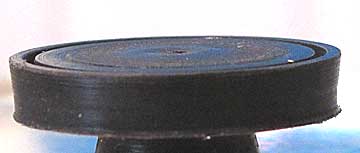 Compare this Surrey 124 seal to the Mongoose seal. See how flat it is on top?
At this point, there were several different directions open to me. One was to start shimming the Mongoose mainspring for extra compression. That would boost power. Another was to abandon the Mongoose seal in favor of a flat one. That would compress the air more thoroughly and give more power.
I took a third step that's not available to any of you. From my years of working on argues, I had other mainsprings available. I selected a stouter one that was shorter but had a spacer top hat on one end. The other end fit the spring guide very tightly because this was an experimental Maccari 124 mainspring. I retained the Mongoose seal for smoothness and assembled the rifle with minimal lubrication. No black tar because the new spring fit much tighter than the Mongoose spring. I used moly grease on everything. I knew I would lose some power with the Mongoose seal, but that was okay for now. All I wanted was a working 124 with decent power.
As I assembled the rifle, I also answered someone's concern about the safety spring. They had heard it is a concern when assembling a 124, but I say as long as your spring compressor is a good one the safety spring is easy to install. Hopefully, the pictures will show you how it's done.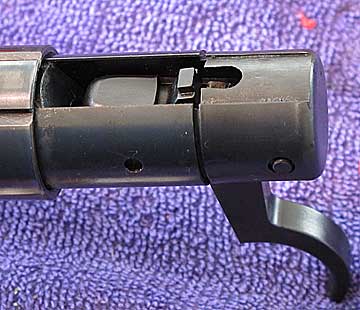 This is the 124 trigger unit with the safety slide and spring removed.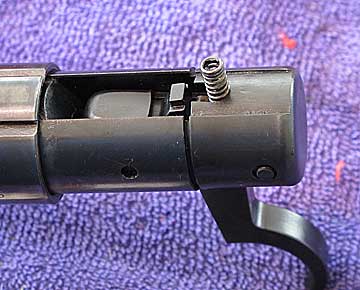 Here's the spring I've been calling the safety spring. It's actually a trigger-return spring, but it presses against the safety slide.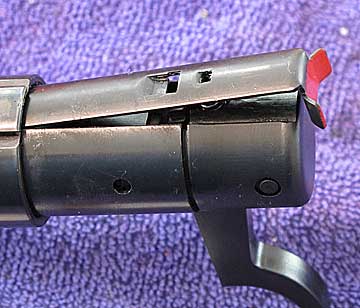 And here's the safety slide on top of the trigger unit. You can see the spring between the trigger unit and this slide. As the trigger unit enters the spring tube, the safety slide is pressed flat and retained. There's really no difficulty installing these parts as long as you use a mainspring compressor.
Following this tune, the rifle is averaging 800 f.p.s. with 7.9-grain Crosman Premiers. While that's not as much as I want, I'm fine with it for the moment. The gun fires quick and doesn't vibrate when it shoots, so the tighter parts are as trouble-free as can be. The velocity varies between 783 f.p.s. and 802 f.p.s. Experience tells me this will tighten, and the average velocity will increase by 10-15 f.p.s. as this tune wears in.
I'd planned to test the rifle for accuracy at this point, but I'm not yet finished with the project. The barrel's gunked up with oil and grease that I don't want to clean out until I'm done tuning.
My plan is to now install a Maccari Old School kit and be done with it. This is the kit I used to install in 124 rifles 15 years ago, and I know I can expect a velocity over 840 f.p.s. with 7.9 Premiers. The best result I ever got is still averaging 880 f.p.s.
Well, this little adventure has turned into quite the saga, hasn't it? I never envisioned spending this much time with this rifle. Now that I have, I've decided what to do with the gun in the future. I'll keep the rifle outside the case and shoot it from time to time. It was silly keeping it tucked away where I got to see it only every couple years. That isn't what this rifle was made for, and I intend getting the full value out of it.
Someone asked me what all this tuning does to the value of the gun. Well, the box only adds value in a non-monetary way. Yes, it's worth more than a rifle by itself, but this is no collectible. It's more of a curiosity. So, I feel the tuning does nothing but enhance the value of the gun. I won't scope this rifle because of the pristine condition, but I will leave it out of the case as a shooter.
In the future, I will chronograph and also shoot for accuracy the vintage Beeman Silver Jet pellets, which–believe it or not, started this whole report in the first place.
On Monday, I'll show you a 124 clone Vince sent to me.