by B.B. Pelletier
Announcement from Edith Gaylord
Tom/B.B. will be out of commission and offline for at least a week. Yesterday, he had another gallbladder attack. I took him to the ER, where we discovered that he also had acute pancreatitis. The pain was so excruciating this time around that three shots of morphine did little to relieve it. The pancreatitis will be treated with antibiotics over the next three days (he can't eat or drink anything, either). Then, they'll remove his gallbladder. If you happen to have Tom's cell phone number, please don't call him.
Whatever you blog readers can do to answer questions will be much appreciated. Of course, I'll answer as many as I'm able. I'll keep you posted on Tom's progress!
I'll be providing blogs from previous articles Tom's written for one of our former publications. Here's a neat one from Airgun Revue #2, which was published in 1998. Enjoy!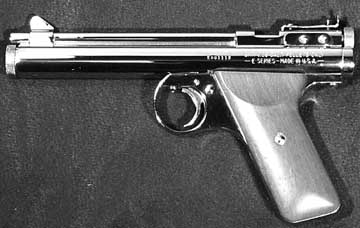 This Sheridan pistol is finished as nicely as any airgun from "the good old days."
"They don't make 'em like they used to!" Have you ever heard that said about airguns? Do you say it yourself? If you do, perhaps you haven't yet had a chance to see or shoot Sheridan's model E CO2 pistol. It's as well made as any of the airguns of the past and better than most. Although it was discontinued recently, there are many of them laying around just waiting for you to connect with a piece of Americana.
First, let's clear up some confusion that originates with the manufacturer. Until January 1977, there were two separate companies–Benjamin and Sheridan. Benjamin's history goes back into the 1800s with the St. Louis Air Rifle Company, which became Benjamin during the first decade of the 20th century. Sheridan is a relative newcomer, starting in 1947, with the first offering of their Pneumatic Rifle, which has since been known as the Supergrade.
So, Benjamin/Sheridan have been two separate companies until Benjamin purchased Sheridan. Although they're now one, and wholly owned by another airgun maker–the Crosman Corporation–there still are differences between the two brand names. Caliber is the biggest difference. Sheridan pioneered the .20 caliber with their first rifle and have sold their airguns with the same caliber ever since.
Benjamin guns have been offered in both .177 and .22, with public preferences of one over the other at various times. In the 1950s and '60s, .22 was by far the favorite; but in the '80s and '90s, .177 was dominant.
I've been discriminating between guns made by Benjamin/Sheridan, therefore, by caliber. If it's .20, it's a Sheridan; if not, it's a Benjamin. Our subject pistol is a bright nickelplated .20 caliber CO2 single-shot Sheridan model E. More on this in a bit.
One of the first things to disappear after the golden age of airguns ended was the use of good, substantial materials with corresponding finishes. The older Benjamin guns of the '30s through the '50s had black nickelplating over silver nickel–all on a solid brass base metal. Whether they were brand new or without a speck of original finish, these guns looked (and still look) like a million dollars. It's true that they sometimes look a little scuzzy when the black is just left in the corners and some of the silver has begun to show brass, but that's just a larval stage that can give way to a golden-trumpet sparkle with a little polishing. When contrasted against an oiled brown walnut stock, the all-brass look is my favorite.
Crosman was more conservative with finishes, applying black paint instead of plating; but their guns also looked snazzy, either new or buffed to a shine. Although they did produce some steel-tubed/barreled guns, many–if not most–of them were all brass like the Benjamins.
In the 1960s, American industry began to find less expensive ways to build products, and brass gave way to pot metal first and then plastic in airguns. Finishes weren't as durable when marketing departments and comptrollers began reining in their production departments. The reasoning of the day was that airguns are temporary possessions, after all. So, why build them to last forever? When that thinking took over, airguns became the very temporary items that it dictated. Airgunners will tell you that the golden age was over–not to be resurrected in the US, again.
But the Sheridan model E, made for just a little more than one year, beginning in 1989, belies that philosophy. It's heavily plated with beautiful nickel over a metal base that has been well-prepared. Nickel looks so nice on a gun, having a slight gold cast that can only be noticed by holding it next to something plated with chrome. And a good nickel job will outlast a good blue job by many years. Chrome, by comparison, is brittle and will soon begin to flake off in unsightly patches.
The rear sight of the model E is adjustable for both windage and elevation. Although the method of adjustment is crude, it works perfectly. The entire unit slides left and right in a groove and is held in position by a single slotted friction screw. Elevation is via a headless slotted screw running through the horizontal leaf. This same method has been used for air pistol sights since the 1930s and is just as precisely accurate as more expensive click-adjustable units, if not as easy to make fine adjustments.
You might think that accuracy in a gun selling for under $90 would be quite low, but the Sheridan is really quite the shooter. In fact, it was this aspect that caused us to look at it in the first place. One of our readers sent us some targets he had shot with his Sheridan model H multi-pump pneumatic (different powerplant than the model E, but similar in other ways) that were quite eye-opening. He had several five-shot groups fired at 25 yards that measured under an inch! That isn't bad for a rifle, let alone a pistol. For a pistol costing so little, it's very good!
He had scoped his gun with an inexpensive Tasco, but I preferred to try ours with the factory iron sights. Shooting at 10 meters (33 feet), I got one five-shot group that measured under 3/8″, and several others were just a smidgen larger. The most accurate pellets were the .20 caliber Crosmans that come in a red plastic belt-loop box–the same as the .177s.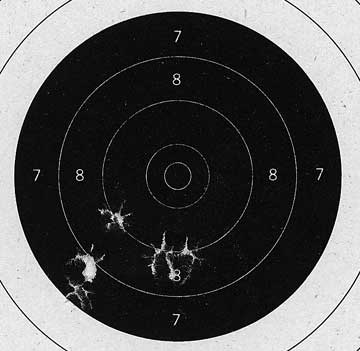 This is the kind of accuracy I got from a rest at 10 meters. Not a target gun but certainly a good plinker.
Shooting from a rest, I noticed a very pronounced flip-up at the muzzle with every shot. The escaping CO2 works backwards on the gun (like a rocket), once the pellet has cleared the bore. I adjusted the sights to a six-o'clock hold, and lighted the target well, so my nickel sights appeared totally black. The sight picture was less than precise because the front blade is many times smaller than the rear notch; but by focusing on the front sight and not the bull, I managed to keep a decent sight picture.
The trigger on the pistol we tested was a bit stiff, at more than 5 lb., but it broke without creep. A bit of moly lubrication on the sear and the bearing pin lowers this by about 1 lb. I wouldn't recommend any stoning of the sear in this gun, as the parts are not as hard as those found in some firearms. The moly grease makes a large difference.
Regular Crosman .20 caliber pointed pellets went into a tight group under 3/4″. Crosman Premiers, a pellet that usually shoots best in most guns, lagged behind in this one, keeping them all in a group just over an inch. This is why it is always recommended that a shooter try all different types of pellets in a gun. Barrels will vary from gun to gun within the same brand and caliber, so it always pays to try out everything you can lay your hands on.
64-deg. F • Point blank
Crosman Pointed Pellets
High…..412 f.p.s.
Low…..384 f.p.s.
Avg…..398 f.p.s.
Ext. Spread…..28 f.p.s.
Beeman Silver Sting
High…..444 f.p.s.
Low…..423 f.p.s.
Avg…..429 f.p.s.
Ext. Spread…..21 f.p.s.
I found that shooting rapidly did cause the velocity to drop along a regular slope, but waiting 15 seconds between shots allowed things to stabilize and velocity to rise to the average. Many CO2 guns exhibit this phenomenon, which is caused by their internal parts being cooled by the steady flow of CO2, a refrigerant gas. The vapor pressure of CO2 drops when things get cooler, which puts less pressure behind each succeeding pellet. So, it's often a good idea to allow a CO2 gun to warm up between shots.
In all, I must say that I was most impressed by this Sheridan pistol. It has the genuine quality that we all look for in older American airguns. Too often, today's guns do not measure up to that same standard. This one does. If you're looking for an inexpensive American-built gun, try either the Sheridan or the Crosman line of CO2 and pneumatic pistols. The CO2 gun now comes in a dull painted finish only, but the pneumatic is still finished in bright nickel.