by B.B. Pelletier
Update on Tom/B.B.: Tom is still making progress, and things are moving in the right direction. (Woohoo!) Once again, today's blog is from B.B.
Pyramyd AIR has some new products, so I wanted to bring some of them to your attention. They have a web page that lists new items, but all of you may not look at it. Plus, I can add my 2 cents here.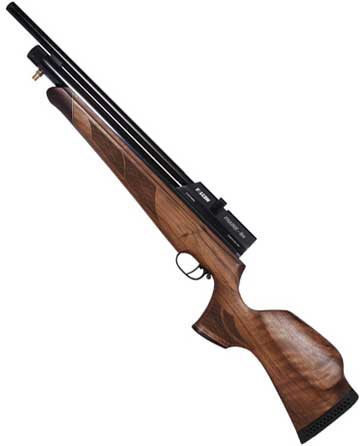 Beautiful, huh? It's even more gorgeous in person…rich walnut stock (beech also available), unparalleled blueing, accurate, powerful. What's not to like?
The Falcons are coming! The Falcons are coming!
About 10-12 years, Edith saw a female target shooter out-shoot her husband in EVERY field target match with a Falcon Light Hunter rifle with a skeleton stock. When she found out that Pyramyd AIR was going to sell Falcons, she grinned from ear to ear.
Pyramyd AIR is now stocking Falcon rifles, and the web pages will be available very soon. The guns are made in England, and their quality is superb–the equivalent of Air Arms. In fact, the company that owns Air Arms also owns Falcon Airguns (a relatively recent acquisition). They'll stock the Prairie Falcon, but there are other models coming, too.
Of course, last year, Beeman imported a Falcon rifle and carbine. These are branded as Beeman guns on the breech, but the new batch is coming direct from Falcon and will bear only that name.
Several of the new .45 cal. pellets have steel tips embedded in the round nose.
.45 caliber pellets
Big bore airguns have really moved to the forefront, and Pyramyd AIR is keeping up with the growth. They've just added 4 new .45 cal. pellets to their lineup. Three of them are steel-tipped round noses and the fourth is a hollowpoint. They run from 175 to 230 grains. These new pellets bring the total ammo for .45 up to 14. Lots of choice!
Beeman guns, pellets and mounts
As you already know, Pyramyd AIR is now the importer for the high-end European Beeman guns, ammo and accessories. There's a transition period now, and that means you might find two product pages for one model of gun. One model might have iron sights while the other has fiber optic sights. One might be the model shipped from the Beeman warehouse in California, while the other model may be the stock we just received from the German manufacturer. As we found out the other day, there are two for the HW50S.
At this time, the Beeman guns that are being ordered by Pyramyd AIR are starting to arrive, as are the pellets and mounts. The mounts are also a nice surprise, as Pyramyd AIR has been able to significantly lower the prices on them. If you've avoided them before because of price, you might want to start checking them out again.
In-stock dates and why they keep changing
Contrary to popular opinion, Pyramyd AIR is not playing games with the dates they use to indicate when an out-of-stock item will be in stock. In fact, we have several people who are tracking these dates. They contact the manufacturer or vendor to determine if a product has been shipped. If it hasn't, then they get an estimate when they think the shipment will happen. If the shipper doesn't know, then they remove the ADD TO CART button and just leave it at that. You can see the product but you can't order it.
When we're told that a shipment has been made, we estimate when it'll be received in Ohio. Often, the date listed is two weeks from the ship date. As is often the case, the products arrive earlier than expected and everybody loves us.
A manufacturer might tell us they're going to ship something in a day or so, and we should get it within a week. We put a 2-week in-stock date online but then find out that the shipment never happened. We move the date out even further. Occasionally, the shipper has pulled our leg a number of times, and the date keeps getting pushed out further and further, over and over. Think you're frustrated? Pyramyd AIR doesn't like it either! It's maddening when manufacturers aren't straight with you. In some cases, though, the manufacturer was expecting a delivery (such as a shipment of guns from China or Turkey), and that shipment didn't arrive because the factory didn't ship it as promised. So, everyone's delivery date gets bumped.
Another issue is U.S. Customs. Sometimes things fly through customs without an issue…and sometimes they don't. Airsoft is especially vulnerable to customs delays. I've heard of delays as long as 6 months. I'll bet there have even been longer delays.
So, the next time you get an email that says the product you ordered didn't get delivered on time or you see an in-stock date constantly changing, don't blame Pyramyd AIR. It's the manufacturer or their suppliers who have delayed delivery.
Now that we're talking about shipping and stocking issues, what are your other gripes?