by B.B. Pelletier
Whenever a gun writer is at a loss for a subject, he invariably falls back on how to start a collection. There are so many ways to slice that loaf that even the worst hack can fill a quota.
Today, I decided to do something different. You see, I never decided to collect what I'm going to show you. It just happened. Before I reveal it to you, though, I'm going to tell you a story.
My mother was a receptionist/nursing assistant in a family practice doctor's office in Akron for many years. One day she brought in a cast aluminum turtle I had given her and placed it on her desk. When the patients saw it they often remarked, "Oh, I see you collect turtles." Over the course of many years, they brought her turtles until her collection dominated her desk and the entire waiting room. When she finally left the job, the count was over 2,000 turtles of all shapes and sizes, including a Steiff footstool.
Of course, her favorite candy was also chocolate turtles, and we'll never know how many boxes of those she received. When she moved to California, the turtles were displayed in her home and they stimulated more gifts from visitors. I probably gave her 10 over the years. She was easy to buy for. The last Christmas she was alive, we gave her a collection of Teenage Mutant Ninja Turtles. In the end there were over 3,000 turtles. When she passed away, we collectively said, "The Turtle has gone home."
The point being, she never set out to collect turtles. They just came to her and stayed. And I think that is the way many collections happen. The other day, for no particular reason, I laid out all of my hobo knives, which are camping sets that also contain a spoon and often a fork. Mac has given me several hobo knives and Edith has given me more besides. I never set out to collect them, but today I have a small grouping that can only be called by that title.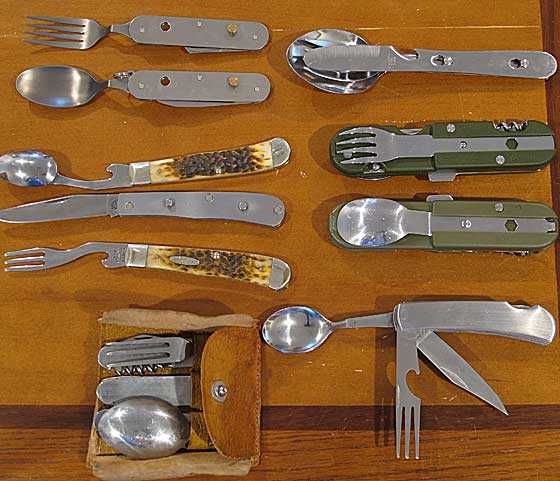 Not a huge collection, but more than one man really needs. These hobo knives are a set of dining utensils that travel. The set in the leather pouch was my first. I used them in the field in Germany.
While getting my hobo knives out, I had to dig through all my pocketknives, which I also don't collect. However, I have even more of them, so a collection is what they are. I enjoy a good pocketknife for the quality of materials, ability to sharpen and hold an edge and, in the case of several, for the additional tools they contain.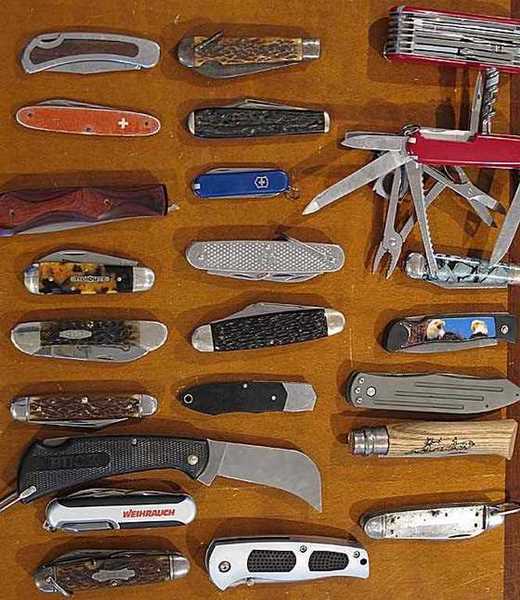 And these aren't all of them! I have other pocketknives stuffed in drawers, tool boxes and cars. Note not one but two Swiss Champs in the upper right corner. I had to buy a replacement when I sent in one to Victorinox for repairs. Notice the Weihrauch knife? A gift from Hans Weihrauch at a SHOT Show a few years back. Second from the top in the same column is a Swiss Army Knife with a single blade! Until I saw it, I didn't believe they existed.
My pocketknives are in a drawer next to my watches. Over the years, I've acquired many different watches for many different reasons. Several are of Russian origin because I'm fascinated by their build quality and timekeeping ability. I have a nice fake Rolex takes the place of an 18kt and stainless Rolex Submariner with a blue dial that I'd really like to have.
I will probably never get the real Rolex because it's hard to justify spending that kind of money ($6,000 used) for a watch that isn't as accurate as my old $99 Seiko quartz watch. But thinking about it prompts me to acquire more inexpensive watches from time to time.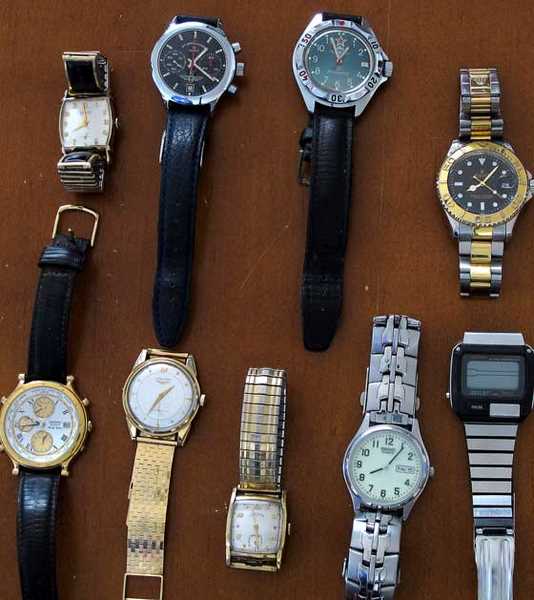 Top row, second from the left is a Russian navigator's watch styled after the watch Yuri Gagarin wore. Like the Omega it copies, it's manual wind. The dial layout is almost the same as the Omega, too. Watch at the lower left is a Seiko World Timer. It keeps great time in multiple time zones, but it eats batteries like elephants eat peanuts.
I own a Russian navigator's watch that's styled after the watch made for Soviet Cosmonaut Yuri Gagarin, the first man in space. That watch was, in turn, copied from an Omega Speedmaster chronograph that became the U.S. astronaut watch. The back of the Omega says THE FIRST WATCH WORN ON THE MOON, and they're very collectible. So are the James Bond Omegas that are like the watch worn by 007, though without all the extra features.
One time, a watch found me. Edith and I were driving in Annapolis, Maryland, early one Saturday morning, when she yells, "There's a watch in the middle of the road!" I couldn't swerve or stop fast enough and ran over it with our minivan. I stopped to see what I'd just destroyed, but discovered that the Heuer Regatta Timer, a high-end automatic watch roughly equivalent to a Rolex or Omega Moon Watch, was still ticking! The bracelet was destroyed, but who cares…the best part was still working. I replaced the bracelet and wore the watch for several years until I traded it to airgun collector Marv Freund for a Trapdoor Springfield rifle that I still own.
As a result of these things, I might look like a watch collector to some, though I never intended to be. There are several other small collections in my life, like firearms, airguns and so on. But I'm not a collector.
However, if I were to become a collector, I'd like to start with farm tractors. In my Walter Mitty existence in a quiet corner of my mind, I live on 100 acres of land and own many different kinds of vintage farm tractors and equipment. I don't use them to farm, but I ride them like a carnival ride whenever the mood strikes me. In my dreams, I own Johnny Poppers and Farmalls and Ford 8Ns; and, if the grass gets too high, I might hook up a mowing deck and have at it. Beyond that, I just revel in the proximity of all that vintage iron.
But, Josh Ungier, the owner of Pyramyd Air, does own a farm in Ohio…and he's living my dream for me.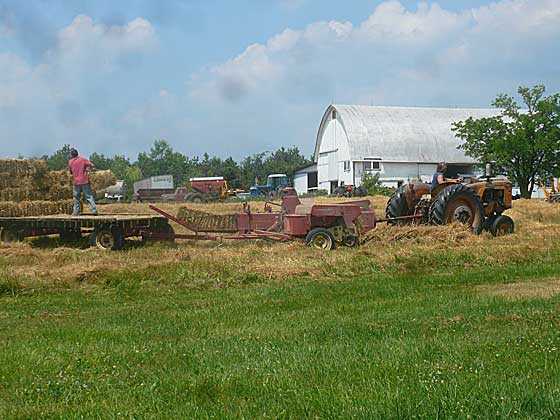 Josh's Minneapolis Moline hasn't been restored yet, but it can still do a day's work on the farm.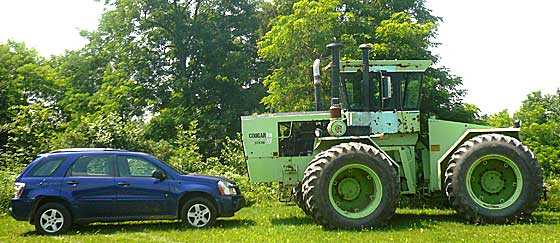 Another recent acquisition that awaits restoration, the huge German Steiger tractor dwarfs a Chevy Equinox.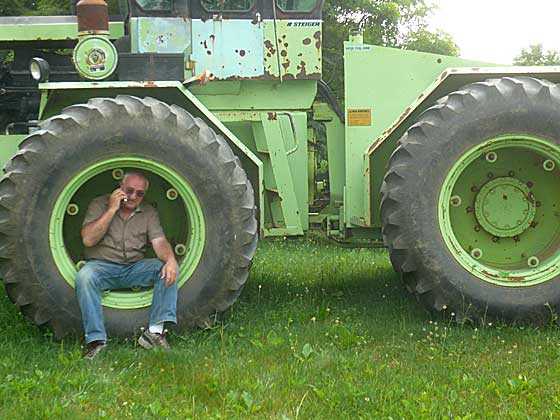 This view shows the size of the Steiger. Five steps to climb up to the cab.
The above are but two recent additions to Josh's collection.
My point is that a lot of the time, we don't plan to collect something. A fascination causes the slow but steady accumulation of things over time until they attain a critical mass that could only be called a collection.
I didn't even show you my flashlights, which is another major fascination of mine. Now, I'm going to sit back and let all of you tell your tales of collecting over the coming weekend!