by B.B. Pelletier
I was casually reading through the new NRA Guide to Firearms Assembly for Rifles and Pistols last Sunday when something caught my eye. There's a page on the assembly/disassembly of the Winchester model 74 .22 semiautomatic rimfire rifle, which I find to be a very strange firearm. It doesn't look like any other Winchester, and it doesn't resemble any other rifle that I'm familiar with.
I read the brief information about the model 74 because there's one for sale at one of my favorite gun stores. Unfortunately, that one has had about six inches of barrel whacked off, which ruins it as far as I am concerned. But seeing it there last March and again this past Friday brought it to my attention.
On the same Friday, I saw another model 74 in a different local gun store, only this one was a real clown car! It was chrome-plated — I don't mean nickel, either. I know the difference between bright nickel on a gun and chrome that looks absurd under most circumstances. And, on this rifle, absurd is a compliment!
The stock on this freak show has an unusual forearm tip of a contrasting wood. The rifle looks like a cross between a summer camp wood shop project gone bad and a '57 Chevy. I wondered what deranged National Guardsman had done such an evil thing to this poor rimfire in hopes of marching in the big parade.
Then, I saw the entry in the NRA book cited above: A Gallery Special (.22 Short) version of the model 74 was also offered. Gallery rifles were furnished with chromium-plated trimmings on special order and at extra cost. This variation was discontinued in 1952.
That prompted a check in the Blue Book of Gun Values, which revealed a 25 percent premium for the .22 Short version. Okay, simple enough so far.
Now this rifle is one I wouldn't own on a bet. It's garish and completely foreign to my personal tastes. I don't like silver guns, period. But it's also a somewhat rare version of a fairly common Winchester rimfire, and I know there are a multitude of collectors out there who might be crazy about it. A check on Gun Broker located a .22 Short model that was not a Gallery model, but was like new in the box for $1,375.
So, the conundrum is this: Do I invest in a gun I don't personally care for because I know it's a rare one? I don't even know what price they had on this rifle, but this particular gun store has the local reputation of underpricing rare things. It's a sort of "sleeper shop," if you catch my drift. All the local guys watch the used inventory looking for bargains.
Okay, let's bring this discussion back to airguns. Now I'm at an airgun show, and I pass a table where someone is offering a Montgomery Wards model 180 CO2 rifle for $80. Yes, it holds and shoots just fine. In fact, he even has the box because it was a birthday present back in the 1960s.
Do you know what a Monkey Ward model 180 is? I do. It's a Crosman rifle that Crosman never made under their own name. Despite what the Blue Book of Airguns says, this model is different than the Crosman 180. It's a single-shot CO2 that you seldom see, and in the 99 percent condition this one is, it's easily a $200 airgun, if not $250 with the box. It may not be your cup of tea, but it might delight that Crosman collector over in the corner who hasn't come by this table yet.
I remember once seeing what appeared to be a Crosman second model (the one before the "beer keg pump handle") pneumatic in an airgun shop. Yes, it was a Crosman, despite the total lack of writing on the gun. Yes, the breech was steel and machined (Crosman did that only in the very early days). I offered $150 for this non-working pneumatic single-shot and then held onto it until the Baldwinsville show four months laster. Then I resold it for $650 cash. I even told the shop where I bought it that I thought it was worth a lot of money. They weren't interested because it wasn't their mainstream business, so making a little cash was fine with them.
In the same airgun shop, I found an FWB 124 sport model. That's the plain gun without checkering or sling swivels. And the stock finish was worn. Likewise, the barrel finish was worn. But what can you expect for $35. That's right, I once bought an FWB 124 for $35. After applying a nice tune and a scope, I sold that gun for about $200, as I recall. I had less than $100 in it. It was a very nice shooter and the buyer got a good gun, but my point is that there's money to be made in airguns if you know what you're doing.
But what about those plug-ugly guns you would personally never deign to own? Are they worth your time and effort? Yes, they are. As long as you know what you're doing, you can make money on a gun that you personally would never own.
Several years ago, a person approached me at an airgun show with a Challenger Plainsman multi-pump pneumatic pistol. It didn't pump and it didn't hold. The grips had been replaced by homemade scales of birdseye maple. There was no finish on the gun. All in all, it was an airgun that I would never own. But — and this is a big but — I knew it to be a rare air pistol. How rare? I couldn't say at the time of the opportunity, but I'd recently sold a CO2 Plainsman that isn't as rare, and it brought me a very good price. This pneumatic had a longer barrel than the one pictured in the Blue Book, and it was in the very desirable .177 caliber.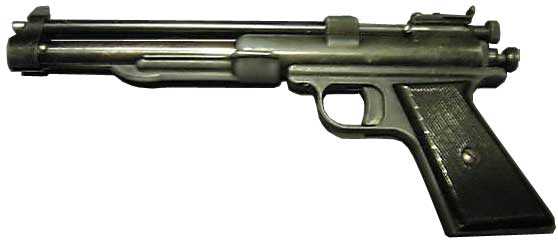 The Challenger Plainsman multi-pump pneumatic is rare. In .177 caliber with a longer barrel, it's super-rare! This is a .22 with a standard barrel.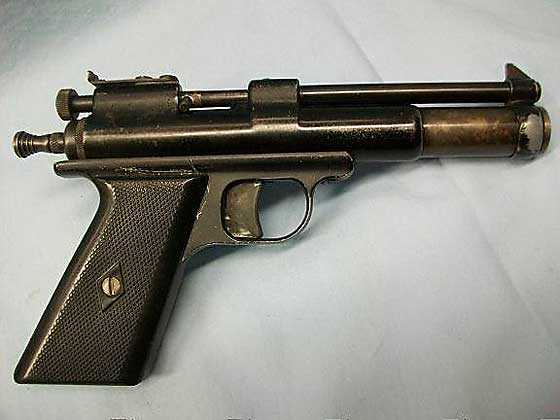 Even the Challenger CO2 pistol is uncommon and commands a good price.
The person offering the pistol didn't know what it was worth. Nor did I, for that matter. He wanted something I had on my table that was priced around $200, so I took a chance and traded. Within the next year, I made $150 on that gun, and I'm sure I left something for the guy who got it from me.
So, to buy or not to buy? Well, here's an interesting tidbit. As I was researching this very report, I stumbled across an antique crank air rifle from New York City. Nobody had bid on it, so I set up a sniping run for a few seconds before the auction expired. If I got it, well and good. If I missed it, I would visit the gun store where the strange Winchester model 74 was the next day. I will give you a follow-up on both of these.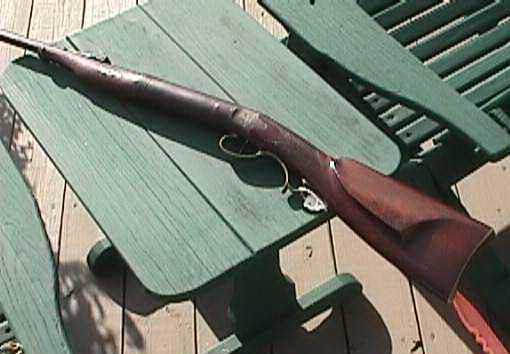 This Primary New York crank air rifle emerged from research I did for this report. So, I set up a snipe bid.
Here's a little story that might further motivate you to start looking for collectible guns to keep or resell. Weekend before last, a Pyramyd Air employee emailed us that she'd bought a Crosman model 112 with 10-oz. CO2 tank at a garage sale. It was the third day of the sale, so she was able to get the gun and tank for just $20. What a deal! Her .22 caliber single-shot gun was made between 1950 and 1953 and is worth $100-125. This is the first airgun she's ever bought.
So, jump in…there's plenty for all of us!