by B.B. Pelletier
Before we start, I'd like to congratulate Tom Harris, Pyramyd Air's airsoft blogger. His blog has just been voted the best airsoft blog on the internet!
As you know, I didn't get to go to the SHOT Show this year. Fortunately, blog reader Lloyd Sikes, who invented the Rogue ePCP rifle, DID go. Today, he's giving us his report.
If you'd like to write a guest post for this blog, please email us.
Bloggers must be proficient in the simple html that Blogger software uses, know how to take clear photos and size them for the internet (if their post requires them), and they must use proper English. We'll edit each submission, but we won't work on any submission that contains gross misspellings and/or grammatical errors.
by Lloyd Sikes
When B.B. asked me to report back on the 2011 SHOT Show, he warned me that it would be huge, but I guess I didn't fully appreciate the complete WOW factor until we were already there — overwhelmed and overloaded. My wife and I had driven through freezing rain at 4:00 in the morning on Tuesday the 18th to the tiny Charlottesville airport and arrived in Las Vegas to 60 degrees, sunshine and major assaults on the senses. It seemed like almost everyone at the Palazzo was wearing a SHOT Show badge. As we walked through the lobby and casino toward the Sands Convention Center, the magnitude of the event started to sink in. The show is set up on two gigantic floors covering over 630,000 square feet, with 1,600 exhibitors and 57,000 people in attendance. It's a trade show not open to the general public, and it's where all the manufacturers spend lots of money strutting their stuff. Stimuli everywhere!
Before I continue, a disclaimer: if you're looking for lots of detailed info about the new airgun products that were introduced at SHOT, I'll probably miss the target. B.B., I'm sure you would have been in heaven! but I'm not a walking book of airgun knowledge like you and others here, so I have to apologize for not gathering the kind of field data some of you would savor. This will be more about how someone whose comfort zone is limited mostly by four workshop walls managed to survive the world's largest shooting sports show — I hope that will do the trick.
The show website had a very neat planning guide where you could find all the exhibitors you wanted to see and check them off. I'd been to big machine tool shows in Chicago and Atlanta and knew that system worked pretty well. Ok. So, maybe not so much this time. After I picked out my 30 must-see exhibitors, I was presented with a handy map for each floor. Let's see: two 8-1/2 x 11 pieces of paper, with 800 booths mapped out on each page, and some little specks of pepper to mark where I wanted to go. You get the picture — I never did get the hang of either the map or the layout of the show (more about that later).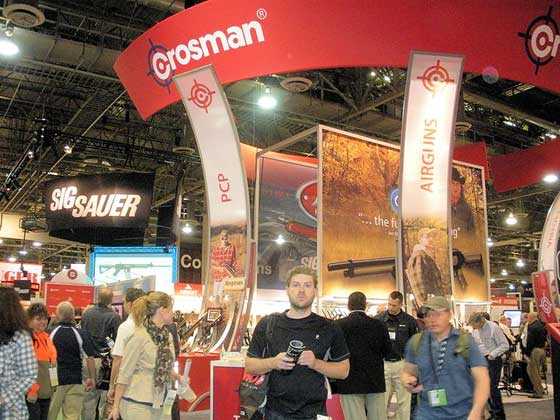 I wasn't the only attendee with a "deer in the headlights" look.
Instead of trying, we just went right to the Crosman booth where the Benjamin Rogue and Crosman's top-notch staff were waiting. The booth was huge, visible from several aisles away and easily as impressive as any of the big firearm manufacturers' displays. In fact, Crosman's was the biggest airgun venue, by far, with lots of new products. My wife and I spent a good bit of time looking around and visiting with the Crosman folks. They, like many of the manufacturers, were still a bit giddy from the previous day's media-only event at a local shooting ranges — it had brought the new Rogue so much positive coverage from writers, magazines, photographer, and film crews. I have to admit I got a little giddy, too, as crowds passed through the booth checking out the Rogue, the Marauder and all the other tempting goodies.
Time to do some exploring. I knew where I wanted to go but never could figure out the numbering scheme for locating the booths. The map was like a complicated 3-dimensional matrix, and I didn't have my 3-D glasses. I finally gave up and handed it to my wife. After a quick roll of the eyes, she began to lead the way. I stayed a few steps behind so it wasn't so obvious I'd actually admitted to being, well, los….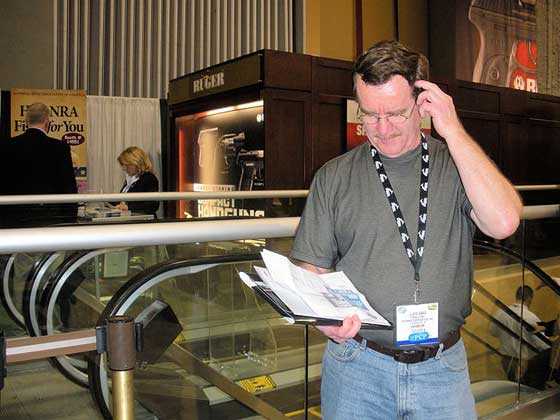 How hard can it be to find the escalators to the first floor?
First stop was the Pyramyd Air booth, along with Air Venturi and Air Arms. Whipped from the plane flight, I didn't pick up much info, but the Pyramyd Air folks did relay a hello to all the readers. (So, hello!) I went by the Shooting Chrony booth to see if there was a limit on the number of times you could use their shot-up Chrony upgrade bargain feature. They said I still had a few more punches on my ticket.
Just about all the airgun manufacturers and distributors were there, and the diversity was obvious. Low-rent district, high-rent district, lots of new products, nothing new, crowded, deserted. But the floor was packed and no one was idle. Pyramyd Air, AirForce Airguns, BAM, Umarex, Gamo, Diana, Beeman Precision Airguns, Crosman, Falcon, Airguns of Arizona, B-Square, Leapers, Shanghai Airgun Factory…my eyes glazed over as my wife led me from booth to booth.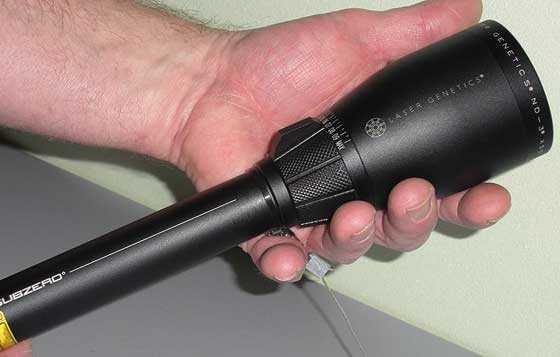 I was intrigued by all the optics. Gamo had the new Laser Genetics Sub Zero laser designators that work down to zero degrees F. Pricey but sweet.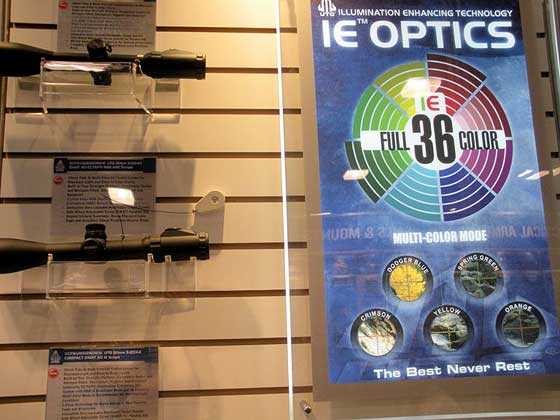 Leapers UTG had a dizzying selection of scopes and optics including their new IE scopes. You can change the reticle to 36 different colors depending on light conditions or your visual acuity. A lot of men are color blind, and this will really help them.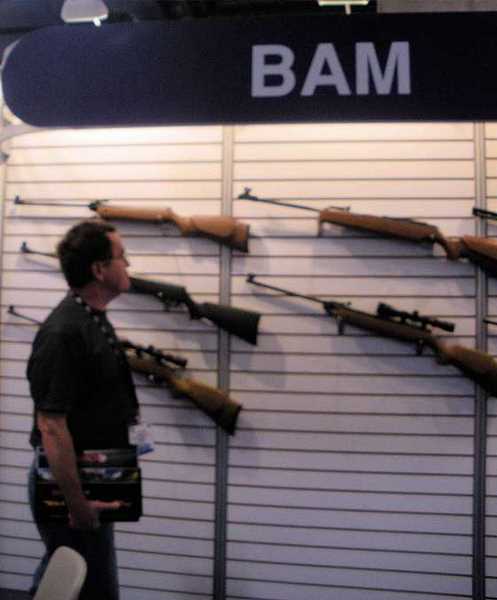 BAM had a mix of their standards plus some new variations. B41, Vince?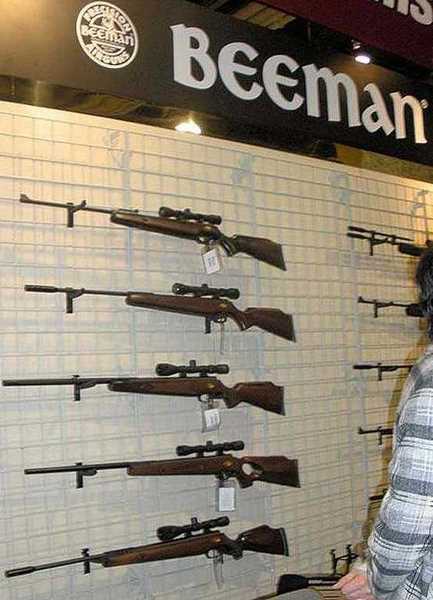 Beeman and Shanghai Airgun Factory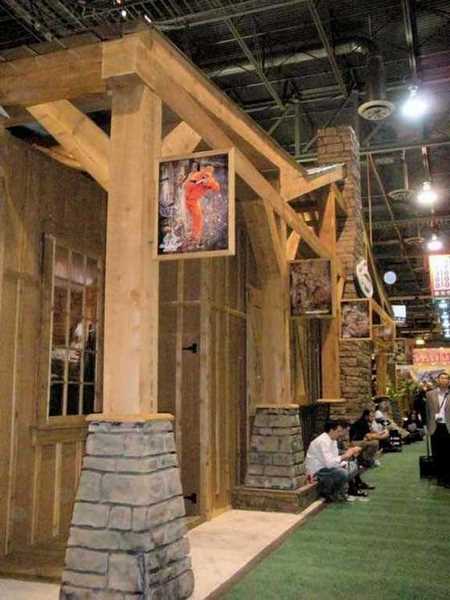 The gigantic back side of the Real Tree lodge shows the magnitude of the some of the exhibits.
The exhibitors have to pay an obscene amount of money for their little spots of real estate (anywhere from about 10'x10′ to 60'x60′). All were well staffed and eager to talk. Except at the very busiest booths, if you looked interested, someone was happy to engage. A lot of the attendees were gun shop or sporting goods shop owners, and they were making lots of contacts and on-the-spot deals. There was never a better opportunity to see whatever you wanted under one roof, provided you had the stamina. The biggest exhibits actually had meeting rooms for the arm wrestling that happens before the signatures go down.
Everything you can think of was on display — from clothes and tents, to handguns and shotguns, police and tactical equipment, knives and ammo. There were also numerous groups and organizations, most of which were new to me. There were live demos and big (10'x15′) TV screens to grab your attention.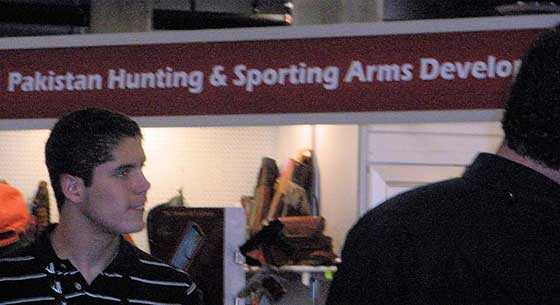 There were surprises around every corner.
B.B. told me to be on the lookout for celebrities, and I managed to snag a few pix once my wife reminded me that the casino cocktail waitresses were NOT considered appropriate photo opportunities for a professional blog. However, I managed to snag photo ops with Travis Turner of Bone Collectors and professional hunter Jim Shockey. I also had a nice conversation with big bore airgun hunter Jim Chapman and his cameraman and fellow hunter Eric Henderson. Jim confessed that he still found it hard to believe the great hunting opportunities presented to him. Sigh! I did feel better when he told me has a real day job, just like the rest of us, and has to burn his vacation time on hunting trips.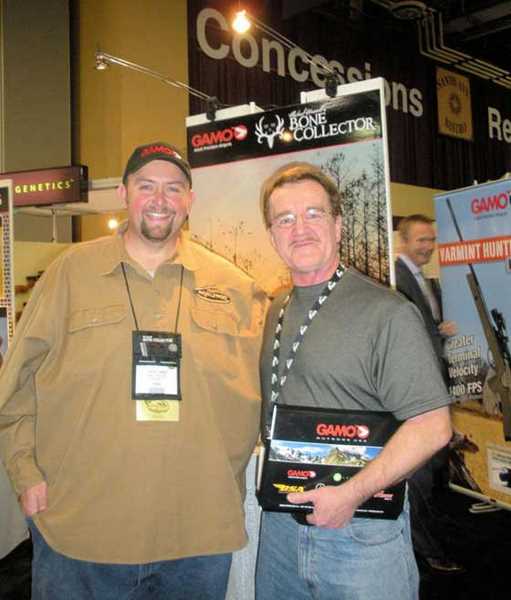 Here I am with Travis Turner of the TV show "Bone Collectors." (Is everyone more photogenic than me?)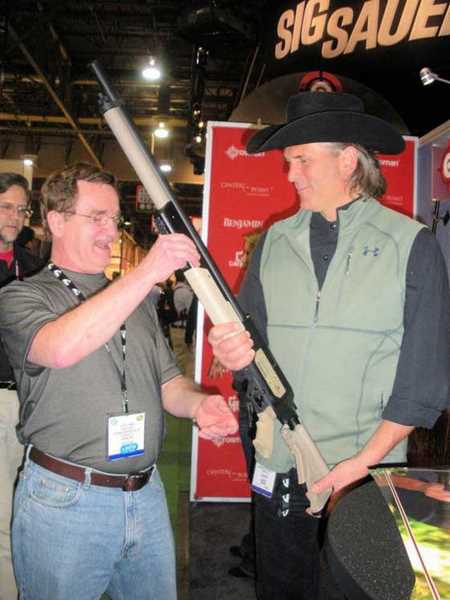 Jim Shockey and I scuffled for possession of the new Benjamin Rogue. I was a good sport and let him win.
Our second and last day at the show was equally fantastic and stimulating, but I have to admit that continuing on to Sonoma, California, on Thursday was a welcome breath of fresh air as well as a much needed vacation after three years of working every spare hour on the ePCP in my workshop and on the computer. Our last day before heading back east, we went to Point Reyes National Seashore Park, a 100 square mile almost-island populated mostly by those happy California cows you see on TV, but also by black-tailed deer and Tule elk.
You have to take a bus with the rest of the nature lovers down to the lighthouse and to an overlook of the beach where elephant seals stake their claim as pup season approaches. On the sunset bus trip back to the parking area, three elk with four-foot racks were standing less than 40 yards from the road. I guess I was lucky most of the people on the bus had cameras handy when I blurted out, "What a perfect shot!"