by Tom Gaylord, a.k.a. B.B. Pelletier
Roanoke Airgun Expo
Before we begin, Davis Schwesinger has just sent me the flier for this year's Roanoke Airgun Expo. It will be one month early this year, on Friday, September 27, and Saturday, September 28.
The show is held at the Roanoke Moose Lodge 284 at 3233 Catawba Valley Drive, Salem, Virginia. It runs noon to 7 p.m. on Friday and 9 a.m. to 4 p.m. on Saturday. From past experience, I can tell you that most of the best deals are gone by the time the doors open on Friday, so buying an Early Buyer's pass for $50 is the best way to get what you want. Tables are $50 and admission is $5.
Contact Davis Schwesinger
130 Holder Rd.
Pine City, NY 14871
607-734-7340
email
Now, let's see what today brings.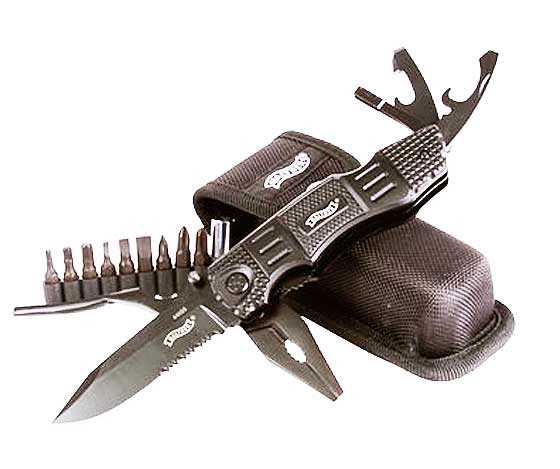 Walther's MultiTac 18-function tactical knife packs a lot of utility into a small package.
Man uses tools. And those who read this blog tend to use them a lot more than most people. Over the years, we've talked about knives, tactical flashlights, knife sharpeners and even exotic ways of sharpening knives. At one time, several of us feared we might lose our Matt61 to knife-sharpening, as his comments indicate it absorbs a lot of his attention. So, at the risk of jump-starting yet another tool/knife discussion, I reveal today's topic — the Walther MultiTac 18 function tactical knife.
Edith found this knife for me several months ago on Pyramyd Air's website. She knows of my obsession with knives and multi-tools, and, truth be told, she carries a Swiss Army knife and a multi-tool in her purse. Her favorite kitchen knives are officially the set of ceramic-bladed knives we got at this year's SHOT Show, plus a set of French Opinels that my late friend, Mac, introduced her to. So, she supports me fully in my quest for tools. She also understands that, while I may own lots of them, I don't necessarily use any of them much — nor am I especially skillful when I do. You don't have to know how to build a watch to tell time.
I reported on the basic Walther tactical folding knife last October, in an article I wrote while on the road to the Roanoke airgun show. I showed that knife to a lot of people at the show and was thoroughly entranced by it — both for what it is, but perhaps more for the low cost of just $19.95. Well, today's toolkit in a pouch sells for just 4 cents more!
I love mulitools! Despite the attempt at humor, I really do use them all the time, with the Gerber Crucial being my favorite. Today's Walther will never be a favorite because of its size. But there is one thing it has/does that the Gerber cannot have/do. It has 18 functions to the Gerber's 5. That's more than 3 times the tools in a relatively small package. Not small enough to carry in the pocket, like the Gerber, but certainly small enough to stow in the center console of my truck, where the glass-breaking stud will come in handy when I'm upside-down in a shallow river and water is gushing in. That hasn't happened yet, but it's nice to know I'm prepared.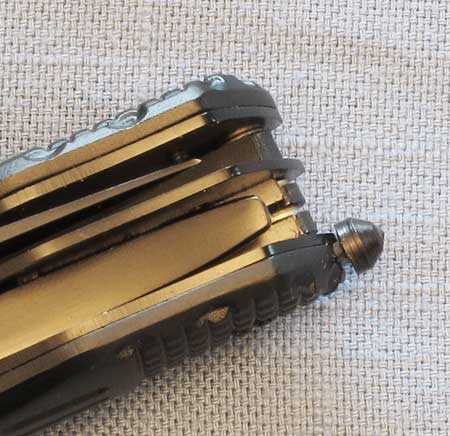 The glass-breaker stud on the end of the tool may be overlooked until you need it. Then, it's priceless!
Is it made in China? Of course it is. There's no way something could be built to sell at this kind of price and not be made somewhere where the labor rates are very low. And it does come in a belt pouch, though I am at the limit of what I can carry on my belt and in my pockets. Unless I start wearing Batman's utility belt, the bulk and weight of my cell phone, hideout gun, pocketknife and keys is the absolute limit for me. When I drop trousers in a bathroom stall, I now have to be careful not to crack the floor tiles!
But my range box is loaded with tools like this, and they have saved the day more than once. And the center console of my truck backs up those tools with even more useful things. Sometimes, you really need 2 pliers instead of just one. That's where this new Walther lives.
What's good about it?
The Walther has plier jaws that spread apart a useful distance. I use the pliers on multitools more often than anything other than the primary knife blade, so pliers and knives are the two criteria I use to judge a new tool. And the new Walther MultiTac has the jaw width to be very useful.

Walther's MultiTac 18-function tactical knife jaws (right) open wider than the jaws on the Gerber Crucial and Leatherman Wave, combined!
Also, the wire cutter inside the plier jaws can be an important tool — if it works. The wire cutter on the Walther works very well; and because the jaws have a spring-loaded action, it works faster than even my Leatherman Wave. That's saying something!
Another handy thing for airgunners are the Phillips screwdriver bits that come in the rubber accessory package stored inside the Walther's pouch. There are 3 of them and surely one will be exactly what you need to tighten those pesky stock screw on your springers.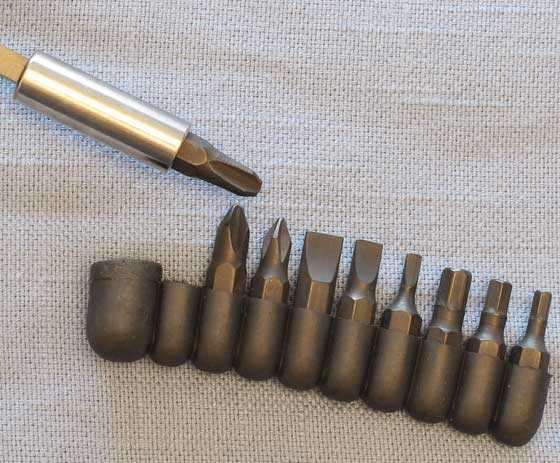 The Walther tool comes with 3 different Phillips bits. How could an airgunner not like that?
What is not as good?
The knife blade is not as convenient to use as a dedicated pocket knife blade would be. I guess that's why I always carry a pocket knife! In fact, when I wear jeans and have a watch pocket, I carry 2! But if I needed to use the knife blade, it's sharp and sized to use. I would have no qualms about using it all day, if I had to. And I'm set up to sharpen both normal blades as well as serrated blades, so the serrations only make more sense on this tool.
Is the metallurgy as good as other multitools? Quite frankly, my dear, I doubt it. While it's made from 440 stainless steel, I wouldn't expect it to stand up to the same abuse as a Leatherman. And, I don't care. It costs less than one-third as much, and I'm not planning on building my life around this one tool. It will do what I want, and if it should ever fail, how much am I out? That's right — $19.99.
The bottom line
The real reason I'm telling you about this multitool today is because it makes a wonderful gift. You always need something in this price range, and I can't think of anything that's better than this multitool (that's how we ended up buying 5…one for each of our vehicles and 3 for gifts). It may not be the sort of possession you treasure above all others, but how nice to have it in your glove compartment or range bag when you need it.