by Tom Gaylord, a.k.a. B.B. Pelletier
Friends, I am so jammed up with work that it isn't funny. I've never been so busy in my life. I'm trying to do everything for everybody, and it's pulling me in all directions.
I'm not telling you this for sympathy. I'm telling you so you'll understand the next set of notes.
There's going to be an airgun show here in Texas on September 6. It will be about 20 miles outside Ft. Worth at a gun club that has asked me to put on an airgun show for them. Their members all own airguns and want a place to sell them. I believe both airguns and firearms will be permitted at this show, which will be a first for any airgun show.
This s a private club that runs 6 gun shows a year, but they have no concept of what an airgun show will be like. I do. They'll pull in visitors and dealers from thousands of miles away, instead of a 50-mile radius. I already have several commitments.
Pyramyd Air will sponsor the show. Jim Chapman has said he'll come and be on the big bore range along with Eric Henderson. That's the two most prominent big bore airgun hunters in the world at the same place and time demonstrating big bores to all who want to learn. Big bore maker Dennis Quackenbush will also have a table at this show. And, no, I don't know what he will have for sale.
AirForce Airguns said they will have a table, and the "American Airgunner" TV show has said they'll film the show.
I'll try to pull in as many major airgun dealers as possible from around the country. But here's the deal. These guys (the people running the show) have no concept of how big this could get. They haven't met with me yet to give me names of contacts, table fees, etc. Until I know that, nothing is decided. I'll keep you informed. Please don't ask until I tell you — right now, you now know as much as I do.
I'm traveling next week to attend the "Flag City Toys That Shoot" airgun show in Findlay, Ohio. I'll also stop by Pyramyd Air to return some guns I've tested over the past year. I have one other stop to make on the East Coast. That will keep me on the road for over a week, and I need blog reports that I can write quickly without resorting to test results.
What I need are topics I can write while I'm on the road. I have such topics — the choking of a barrel, more on airsoft tuning, safety of CO2 guns, etc. I'm saving those reports for the road. I also have one guest blog from reader RifledDNA that I'm saving for that time.
That's a quick update on my life and what's happening. Now, let's get on with today's report.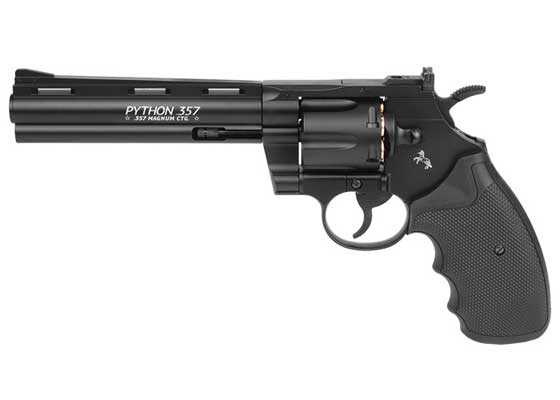 The Colt Python from Umarex is a realistic-looking BB revolver.
Umarex is bringing a realistic Colt Python to market. It's a BB gun (shoots steel BBs, not plastic 6mm airsoft BBs) that uses realistic-looking shells to hold each of the 6 BBs it fires. When you load it, it loads with cartridges, just like a normal .357 Magnum Python.
When I saw this revolver at the 2014 SHOT Show, I told Justin Biddle, the Umarex USA marketing director, they're going to sell a boatload of these. I remember the wide acceptance of the Dan Wesson BB revolver when I tested it. This Python is the same thing. It looks real, feels real and customers are going to reward the effort by buying it. I just hope it turns out to be as accurate as the Dan Wesson!
When I opened the box, it revealed all that comes with the revolver, plus an undisclosed but entirely realistic bit of future information. As you can see in the picture below, the revolver comes with a speedloader and 6 (count 'em) shells that hold one BB each. An astute observer will also note the styrofoam in the box is cut for 4-inch and 2.75-inch barrels, so I think that's the plan. This revolver that I'm testing has a 6-inch tube.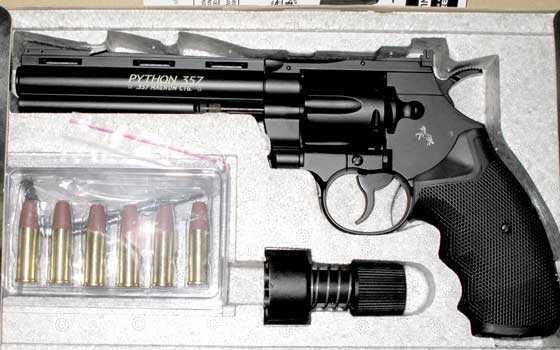 This is what comes in the box. Note the cutouts for the front sights of shorter barrels.
Each cartridge holds a single BB, so this gun is a true 6-shot revolver. I say that because shooters familiar with airsoft revolvers, which this one appears to descend from, usually load 4 plastic BBs into each shell, for a total of 24 shots per loading.
The speedloader assists in loading the 6 cartridges into the revolver's cylinder. But it can also help you load the cartridges with BBs I showed how to do that in a report on the Dan Wesson revolver. It should work the same for this Python.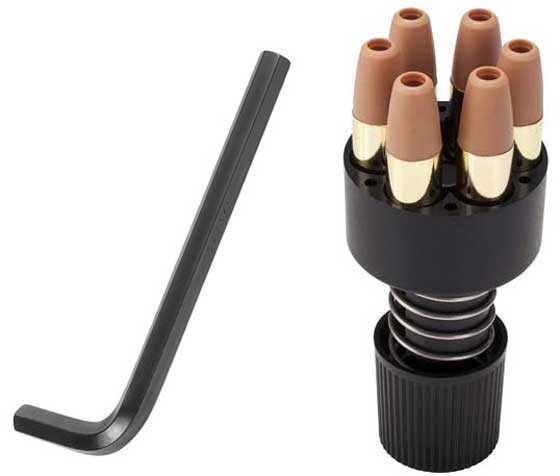 The Python comes with a speedloader that helps load the 6 cartridges into the cylinder. It also helps load the BBs into each cartridge.
What's so nice about this revolver, besides the great feel of the Python that it captures perfectly, is the way it operates the same as the firearm. The cylinder swings out to the left for loading, just like the .357 does. It's both single- and double-action, and the trigger-pull is lighter than the firearm in double-action but much heavier in single-action. I'm thinking this one will probably go as high as 5 lbs. in single-action. I'll weigh both pulls in the velocity test.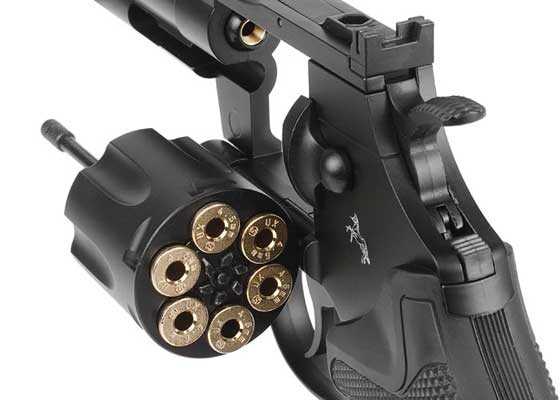 The cylinder pops out to the left, just like a Python firearm cylinder.
The gun weighs 39 ounces, which is several ounces less than a firearm Python with a 6-inch barrel (44 oz.). But it's definitely muzzle heavy, just like the firearm.
The one major departure from the firearm is the inclusion of a manual safety, located behind the hammer. Push it in to lock the action. Pull it out, and the gun operates normally. It's very difficult to see, so it doesn't hurt the look of the revolver one bit.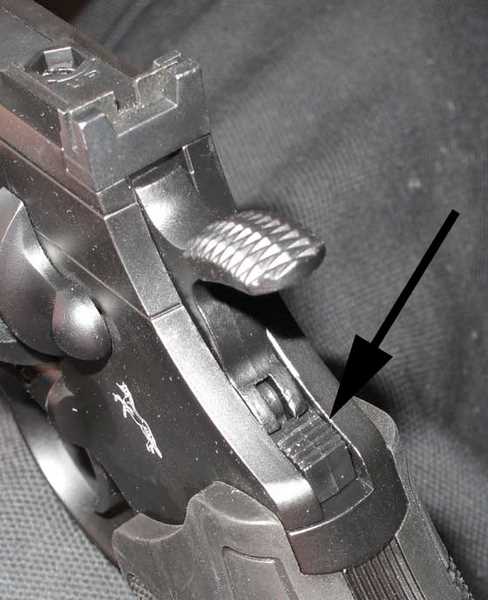 The manual safety (shown in the "on" position) is unobtrusive. Pull it back to take it off.
The sights are adjustable in both directions, as you can see in the photo above. I'll report on how well they work in the accuracy test.
The CO2 cartridge is housed inside the grip, but you don't access it in the normal way. The "normal" way would be to pop off one of the rubberized grip panels, exposing a place for the cartridge and some sort of mechanism to tighten it during piercing. Instead, this one uses a large, plastic threaded plug that screws in with a large Allen wrench supplied with the gun. It's easier to operate, plus it keeps the grip panels from loosening during use…as they always do with the other arrangement.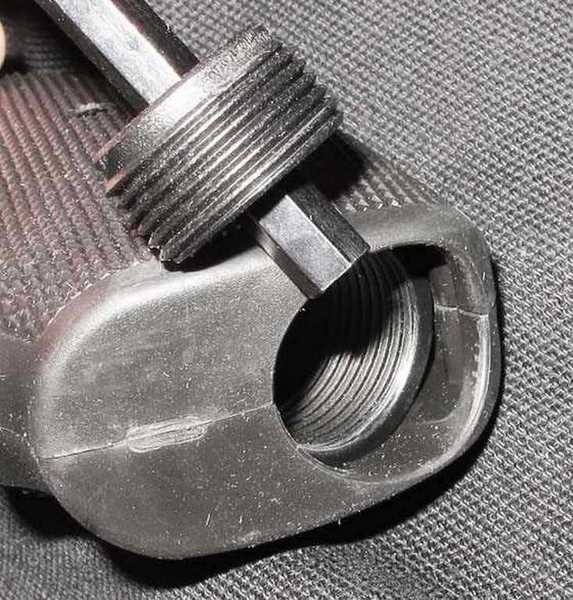 The CO2 cartridge drops into this hole and is tightened by this threaded plug.
All things considered, and with the revolver in hand, this BB gun is everything I'd hoped it would be. All that remains is to test it.