by Tom Gaylord
Writing as B.B. Pelletier
This report covers:
Back story
No sale!
UTG Rapid Mission Deployment Daypack
Designed by a traveler
How I use the pack now
Other uses for the pack
Quality
Why this report
Sometimes I have to step out of the mold and tell you about a great product that may not sound like it applies to airguns. In truth, it can and does apply, but only if you make it do so.
Back story
I was in the aisles at the 2016 SHOT Show on the last day — about 3 hours from catching the shuttle to the airport to return home. Suddenly my computer case handle broke! I call it a computer case, but it's actually a small traveling office that weighs about 33 lbs. when packed. Time for me to go into the Boy Scout mode and improvise — because I am sure not carrying that load under my arm (left the strap at home — the case is too heavy for it) around through the exhibit hall for three hours, then the casino and then the airport!
No problem, because this is the SHOT Show and it's the last day! Some vendors sell stuff on the last day. So I look around for some tactical equipment cases and find one that looks rugged enough to take the strain. And it's only $80, knocked down to $66 because I'm buying it off the display at the show! Hurrah! So I make the deal and promise to return at 10, when they tell me I can pick it up.
I return at 10 and they have just sold my case to someone else! They tell me they will send me a case as soon as they get back in the office on Monday. I won't tell you what I told them, but it wasn't polite. Now I had a real problem and only an hour left.
So I went to the Leapers booth, where I have seen tactical backpacks for the past several years. Never paid much attention to them, but I was desperate. Would they please sell me the largest backpack they have? I prayed that it would hold my 2 laptop computers and everything else.
No sale!
They just removed the stuffing from the backpack on display and handed it to me. Thank you, Leapers! I really would have been pleased to buy it, because I know two things about Leapers tactical cloth products. First, they are very reasonably priced and second, they are made better than any other tactical cloth products I have seen. I won't say who I am referring to, but I can think of a company that makes very expensive designer tactical cloth products, and Leapers beats them every time.
UTG Rapid Mission Deployment Daypack
Time to get specific. This pack is called the UTG Rapid Mission Deployment Daypack. I got a black one, but it also comes in tan, though I don't see that color on the Pyramyd Air website. The first thing I did was put my 2 laptops (yes, I carry 2 when I'm on the road) into the pack to see if they fit. It swallowed them like a python swallowing a chicken! Then all the other stuff went in and I was able to throw my old case away. This pack is larger inside, yet smaller outside than my old case. I think part of it resides in the fourth dimension! It also fits under the seat in front of me on the airplane. My old case was getting too fat for that.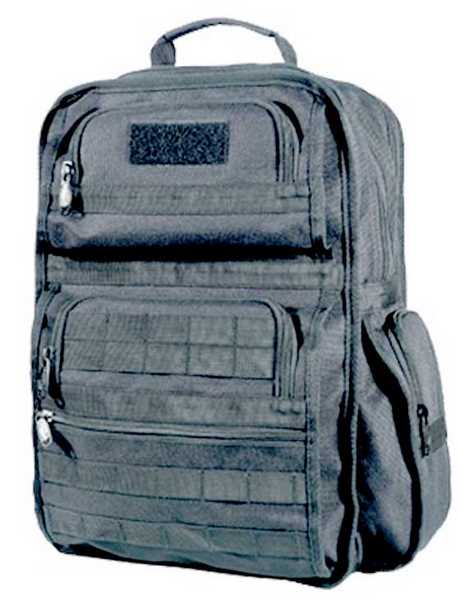 The pack looks small on the outside, but it holds my office on the road!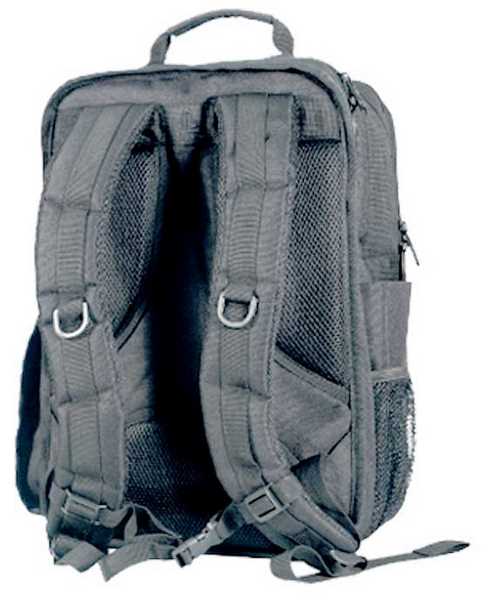 Those padded straps are a real blessing when the pack is full.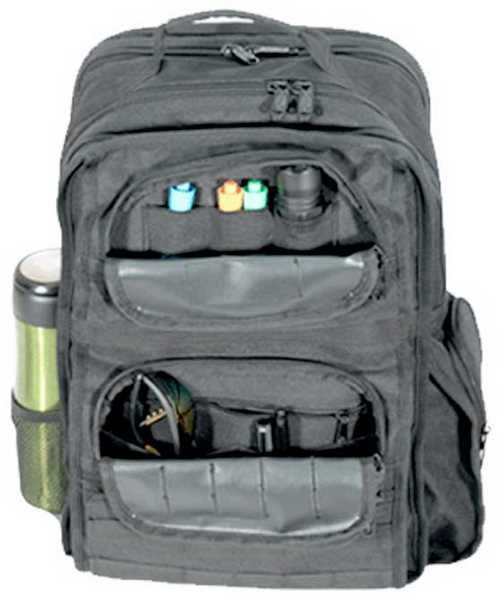 I use the front pockets for adaptors, power supplies and modem/camera gear.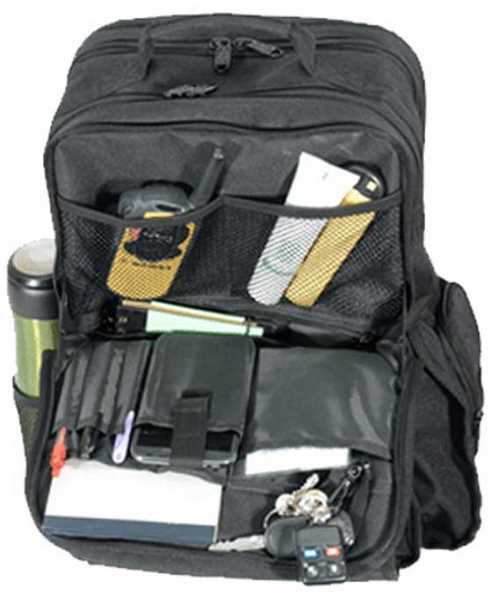 Inside the front pouch is room for a whole office. This is pretty much how I pack mine, with medicine and emergency supplies added. Then there are two more huge pouches not seen here that each hold the largest laptop!
The pack has a carry handle that looks like it will support 3 times the weight I packed in it. That's handy for moving it around, but the real plus are those two padded backstraps! I didn't need to carry all that weight in my arms any longer! There is a chest strap that holds the two backstraps together, to keep the weight high on your back. And of course every strap is adjustable. The compartments that don't hold the computer(s) are set up like a briefcase — just like the flimsy computer case that was replaced.
Designed by a traveler
David Ding, one of Leapers owners, designed this pack. He is a frequent traveler and knows the value of lots of pockets and places to carry stuff. He made sure this daypack has them! As I wrote this report I even found a couple places I didn't know about.
How I use the pack now
Every time I need to be away from the house, I pack up the computers and go. I now keep a portable power supply in the pack at all times, so I can just unplug accessories (keyboards, hard drives, trackballs, etc.) and go. If I'm on the road, I pack a keyboard, hard drive and trackball in my suitcase for when I am in my hotel room. This pack is so convenient that it has changed how I work.
Other uses for the pack
This could also be an excellent range bag. It has more than enough room for everything, plus a couple of handguns and ammo. If you look carefully at the first photo, there are cloth loops for holding smaller items on the outside of the pack. They are for grenade handles, but they work for lots of other things, too. Just use your imagination.
Quality
I have used Leapers UTG bug-out bags for many years and have learned some valuable things about them all. They have tough zippers and Velcro closures. When the zipper run is long, they give you two sliders, for greater flexibility. If there is such a thing as a mil-spec zipper, I bet that's what these are. And when they sew fabric together, they reinforce every seam. There will be no unexpected breakdowns with UTG cloth products!
Why this report
I told Leapers I would write this report and I always meant to after the SHOT Show, but this year hasn't exactly gone according to plan. And while I have been doing unscheduled things, the case has been my constant companion. Some of my medications have changed and the pockets of the pack have been designated for them, as well, and I still carry everything else that I need.
I own a number of smaller UTG bug-out bags, but until I needed it I had no idea a backpack like this could be so handy. Now I can walk through the airport with my hands free, because the pack has everything I need.
If you are looking for a new range bag or laptop case, take a long look at this one. And please note the price. It's less than the discounted pack the other guys sold out from under me. I don't think you'll find a better bargain than this one.