by Tom Gaylord
Writing as B.B. Pelletier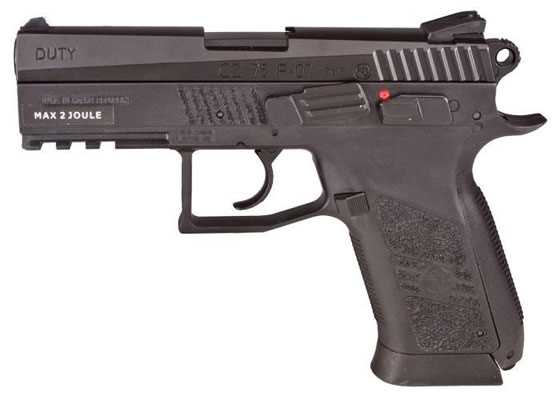 ASG CZ 75 P-07 Duty BB pistol with blowback.
This report covers:
The test
ASG Blaster BBs
Trigger blade is curved
Smart Shot BBs
Hornady Black Diamond BBs
Sight adjustment
Dust Devils
Summary
Today is accuracy day for the ASG CZ 75 P-07 Duty BB pistol, and I think you will be surprised. I know I was.
The test
I shot this BB pistol from 5 meters off a UTG Monopod rest. I started out badly, getting such a large 10-shot group with ASG Blaster BBs that I frankly did not believe it. I noticed on the last couple of shots that I wasn't concentrating on the front sight and I thought that might be the reason for the poor showing. I decided to give ASG BBs a second chance.
ASG Blaster BBs
I'm so glad I did try a second group, because I shot much better this time and also I learned what caused the problem. It wasn't the sight like I thought, though that was a part of it. This time the CZ75 P-07 Duty put 10 BBs in 1.455-inches. The group is well-centered but low on the target. That means the pistol is sighted to shoot to the aim point, because I was using a 6 o'clock hold. read more