by Tom Gaylord
Writing as B.B. Pelletier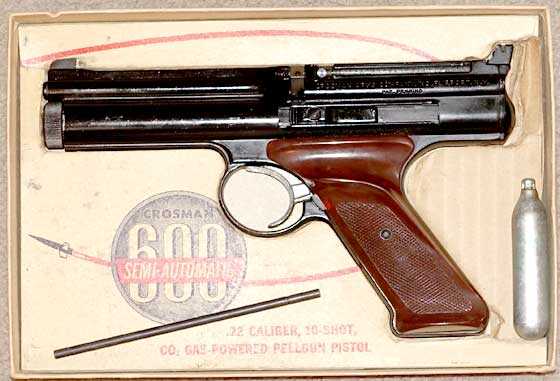 Crosman 600 CO2 pellet pistol.
This report covers:
The test
First up — Crosman Premiers
Hobbys are next
Adjusted the sights
JSB Exact RS pellets
Where does that leave us?
Conclusion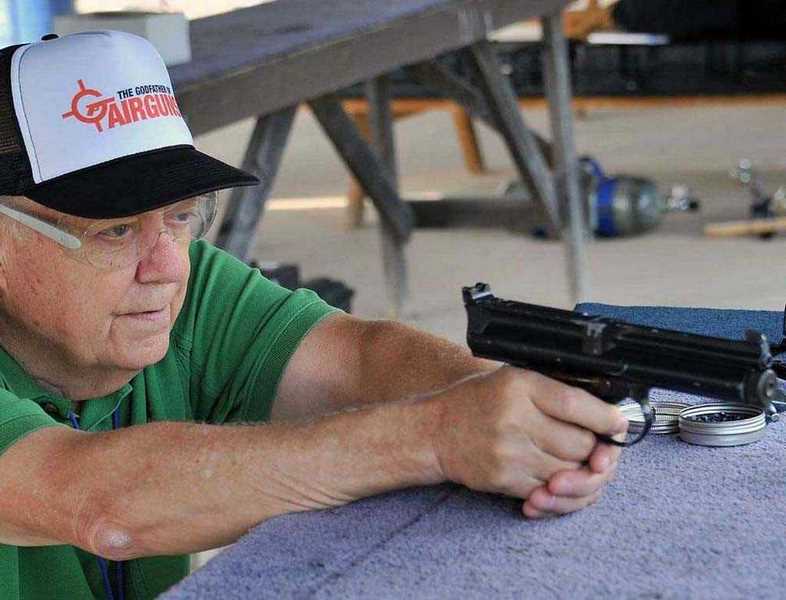 Me shooting a Crosman 600 CO2 pellet pistol at the Pyramyd Air Cup. Photo courtesy of Bryan Lever.
Today is accuracy day for the Crosman 600 semiautomatic pellet pistol. Before I get to that, however, let me tell you about my experience with one at the Pyramyd Air Cup a few weeks ago. Bryan Lever brought one for me to try and we were virtually alone on the range while the competition was ongoing. We both got to shoot as much as we wanted.
Bryan's 600 is much like mine except it had a knob on the safety switch that I had never seen before. It turns out this knob is supposed to be there, but it's one of the first things to fall off. It does make operating the safety a lot easier because you can both feel and see where it is.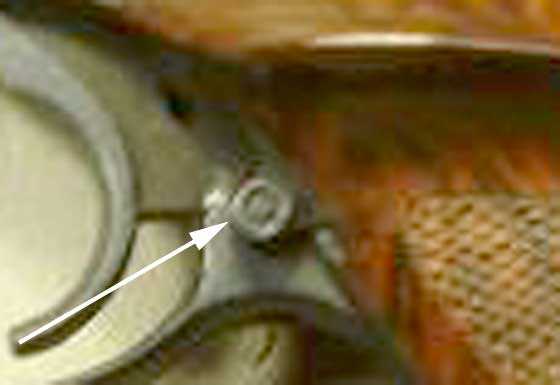 Sorry about the poor quality but this is an enlargement of an image off the web. That button is small and is missing on most of the 600s out there.
Bryan's pistol performed much like the one I am testing for you. We got 3 magazines of 10 rounds each, but the final few shots were very weak. So it really got about the same 25 shots per CO2 cartridge that I'm saying mine gets. His gun was shooting very high at 15 yards, but we held off the spinners and managed to connect. That led me to wonder where my sights would be in today's test. Let's see.
The test
I shot from 10 meters with the pistol rested across a sandbag. Since the 600 is a gas gun, there is little recoil and vibration, so resting on a bag will work.
I shot 5 shots per target at first, hoping to find one or more pellets to test further. I had no idea of what to expect, as far as accuracy was concerned, because the 600 pistol varies so much from gun to gun.
First up — Crosman Premiers
The first pellet I tested was the Crosman Premier. In the 600's day we shot the "flying ashcan" pellets that Crosman made, and I have always tried Premiers in every vintage Crosman gun that I test. With some airgun makers it isn't as important to match the gun with the maker's pellets, but with Crosman I've found it a good place to start.


Two oxidized Crosman "flying ashcan" pellets on the left and Premier pellets on the right.
The target shows 5 pellets in 1.632-inches at 10 meters. Three of the shots are clustered in a tight 0.396-inch group, but I don't attach much value to it. It just shows why 5 shots are more realistic than 3.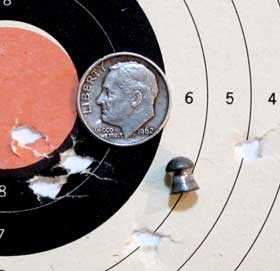 Five Crosman Premier pellets went into 1.632-inches at 10 meters. I don't think I will try these again in this pistol.
Hobbys are next
Next up were RWS Hobby pellets. When I saw that 5 of them went into 0.636-inches at 10 meters, I knew this was the pellet for this gun. I would return and try 10 of them.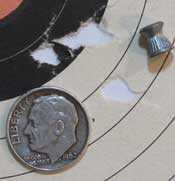 Five RWS Hobby pellets made this 0.636-inch group at 10 meters. This is the pellet to beat!
Adjusted the sights
You have noticed that the pellets are hitting the target low and to the right. My aim point is 6 o'clock on the black bull, but I want the pellets to climb into the center of the bull. So I adjusted the sights. A small flat-blade screwdriver is all it took. Remember to move the rear sight in the same direction you want the pellet to move. I didn't know how far to move the notch, so I guessed.
JSB Exact RS pellets
Next up were JSB Exact RS pellets. These showed such promise during the velocity test, but alas, they are not that accurate in this pistol. Five of them grouped in 1.583-inches at 10 meters. The only good thing was my sight adjustments appear to have been about right. But the pellets are not worth pursuing.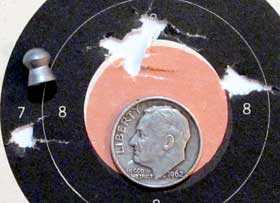 Five JSB Exact RS pellets went into 1.583-inches at 10 meters. Not the pellet for this pistol.
Where does that leave us?
At this point we have to ask whether this 600 is accurate or not. If it is not accurate you can always put a different barrel on it, though it's not exactly a simple thing to do. But the machining isn't too challenging, so you can end up with a gun that's accurate and smooth-shooting, if that's what you want.
For me, though, the Hobby group of 5 is enticing enough to try a 10-shot group — just to see what I get. So, that's what I did. Now that the sights have been adjusted the pellets hit higher on the target. Nine of them landed in a 1.294-inch group, but a lone stray landed off to the left, opening the group to 1.515-inches between centers. Given that I was shooting all of this with my bad right eye, I am satisfied with the accuracy the way it is.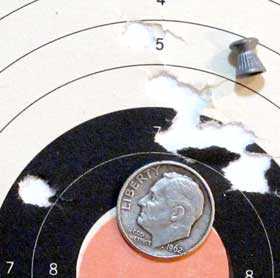 Ten RWS Hobby pellets made a 1.515-inch group, with 9 pellets going into 1.294-inches. This will do for me.
Conclusion
The Crosman 600 semiautomatic pellet pistol is an all-time classic. It is one of the few truly semiautomatic pistols that are not blowback, and it features an exceptional trigger. The sights are adjustable and the gun can be very reasonably accurate with the right pellets.
The grip is form-fitted to your hand and allows the pistol to be pointed as naturally as a Luger. The pellet feeding of my personal test pistol is flawless.
Like the other classic airguns, the 600 is a pistol you should try to experience, if not own.