Sheridan Supergrade: 1
by Tom Gaylord
Writing as B.B. Pelletier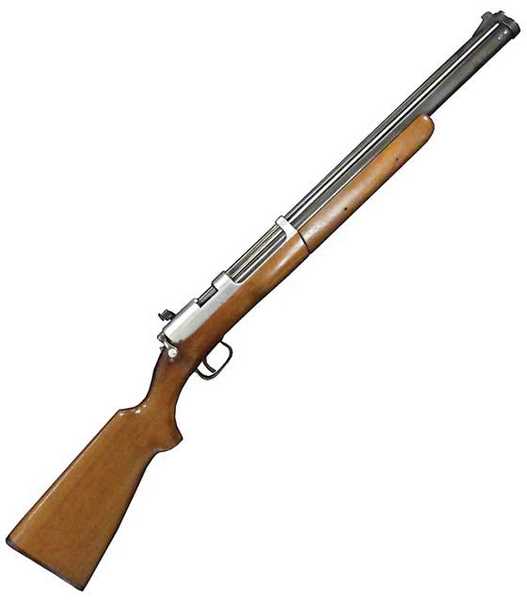 Sheridan model A, also called the Supergrade.
This report covers:
What is a Supergrade?
First sight
Only .22 caliber airgun Sheridan made
My impressions before owning one
Materials
Must be cocked to accept a charge
Power and accuracy
I no longer own a Supergrade
For many years I lusted after the iconic Sheridan model A, which is known among airgunners as the Supergrade. It was the first Sheridan air rifle to be produced and production commenced in 1947 — the year of my birth.
What is a Supergrade?
I was unaware of the existence this fine multi-pump pneumatic at the time when it was being sold, which ran from 1948 until sometime in the middle 1950s. Production ended in 1953, but stores continued to sell guns until their stock ran out. Supergrades sold for $56.50 in 1948, when Winchester model 61 slide-action rifle were selling for $44.50. Today a 61 that's excellent in the box will bring $1,800-2,500, and a Supergrade in the same shape brings even more. This is one air rifle that has appreciated in value. According to the book, <i>Know Your SHERIDAN Rifles & Pistols</i> by Ronald E. Elbe, 2130 model As were produced.
A Supergrade in working condition with some finish, and one that has not been hacked up in any way, will fetch $1,200-1,500 all day long. Unfortunately there are a lot of Supergrades that have been "customized" by former owners, and have been reduced to parts guns. Nobody wants a scope on a Supergrade!
I only became aware of the rifle in 1976, while serving with the Army in Germany. I bought volume 1 of Airgun Digest, by Robert Beeman, and my journey with the Supergrade began.
First sight
It wasn't until my first airgun show in Winston-Salem in 1993 that I actually saw one up close for the first time. When I did, two different thoughts surfaced. First, the rifle is surprisingly small in person. It's no larger than a Blue Streak. It's bulkier, and the wood is shaped better, but the overall size of the rifle is about the same as a Blue Streak. However, the Supergrade is way beyond the Blue Streak in appearance. It has a real raised cheekpiece and all the wood is shaped better than the wood on the Blue and Silver Streaks. The rear sight was always a peep sight that sort of defines the airgun. And the large cast aluminum receiver really stands out from the gun, when contrasted with the Streak receiver that's just s the pump tube.

Supergrade cheekpieces were raised.
The bolt handle is another place where the Supergrade stands apart from the Streaks. It is comparatively long and curved down, where the first Streak bolt were short and straight. Both of them operate the same though, cocking the rifle when lifted and pulled all the way back..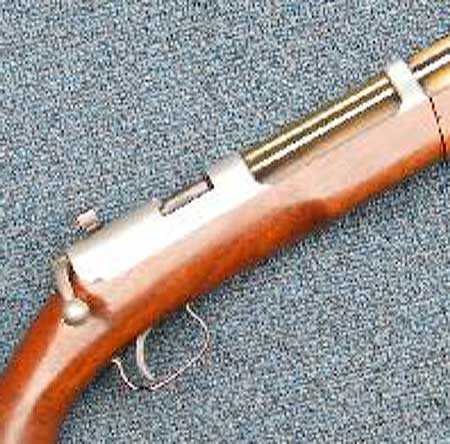 The receiver is a large part made from cast aluminum. Note the long bolt handle.
Only .22 caliber airgun Sheridan made
During the prototype period, the men who developed the Sheridan, E.H. Wackerhager and Rorert Kraus, used at least one .22 caliber barrel before standardizing on .20 caliber for the gun. There is at least one Supergrade in .22 caliber, if not more. There is no advantage to .22 caliber, but to a collector such a rifle would be quite valuable.
My impressions before owning one
You guys know how you build expectations of what an airgun will be like before you actually try one. That's what I did with my Supergrade. As far as I was concerned, the Supergrade was the most fabulous airgun ever produced and nothing else could compare.
Sheridan used to show ads of their rifles penetrating up to one inch of wood with variable numbers of pump strokes, and at the time read those ads I was still shooting BB guns that bounced off any wooden surface. I was as yet unaware of the Supergrade model that was out of production by that time, so I assumed the ads referred to the Blue and Silver Streaks that were selling. No matter, though, because the Supergrade and Blue Streak are almost equal in power. If there is a slight edge it goes to the Supergrade, but the difference isn't that great.
Materials
The Supergrade barrels and pump tubes were made from phosphor bronze, where the same parts in the Streaks were made from red brass. Knowing nothing about metallurgy, just the names of those two different metals make the Supergrade sound better. All Sheridan rifles had walnut stocks up to the end of production and sometimes the Streaks can have highly figured stock wood. I never saw a Supergrade whose stock had anything but plain grain, so this was the one area where the Streaks were actually better.
Must be cocked to accept a charge
One thing really surprised me when I finally got my Supergrade and that was the fact that it has to be cocked or the gun won't accept a charge. This is not that unusual and simply relates to how the firing valve it set up to operate. It's neither good nor bad — just different.
Power and accuracy
I know you want to know everything right now, and I'm going to give it all to you. Just not today. When I got my Supergrade all I had to go on was the writeup in Smith's Gas, Air, and Spring guns of the World. Smith was able to get the Sheridan pellet up to 712 f.p.s. on 10 pump strokes. Well, the Sheridan pellet was all they had in .20 caliber in 1956 when Smith wrote his book and the "chronograph" he used for his test was a room full of electronic equipment that was run by a technician in the H.P. White Laboratories. A hundred-dollar chronograph today has much more computational power and precision than was in that entire room!
That peep sight gives the impression of extreme accuracy, and I will reveal in a future report what my tests showed. I envisioned that phosphor-bronze rifle barrel capable of infinite accuracy before testing one the first time. This should be a real eye-opener for you readers!
I no longer own a Supergrade
Alas, Edith and I fell on hard times when The Airgun Letter ended and we had to refund all those unfulfilled subscriptions. I had to generate some cash fast so I sold my Whiscombe, my R1 and my Supergrade. I have since bought back both the Whiscombe and the R1, but the Supergrade is still missing. So this repoort is based on the testing I did years ago.
However, there possibly might be a good substitute. A friend who is local just acquired a Supergrade and has asked me if I would like to test it. I jumped at the chance! He will evaluate his new rifle when it arrives and, if it is in good condition, I might actually be able to do an updated test for you. We shall see!
Tags In
Tom Gaylord is known as The Godfather of Airguns™ and has been an airgunner for over a half-century, but it was the 
Beeman
 company in the 1970s that awoke a serious interest in airguns. Until then, all he knew were the inexpensive American airguns. Through the pages of the Beeman catalog, he learned about adult airguns for the first time. In 1994, Tom started
The Airgun Letter
 with his wife, Edith. This monthly newsletter was designed to bring serious reports about airguns to the American public. The newsletter and
Airgun Revue
, a sister magazine about collectible airguns, was published from 1994 until 2002, when Tom started
Airgun Illustrated
-- the first American newsstand magazine about airguns. Tom worked for three years as technical director at
AirForce Airguns
, the makers of the 
Talon, Condor, and Escape
 precharged air rifles. Today, he writes about airguns and firearms for various publications and websites. He also makes videos, and you'll find short clips embedded in some of his artices on Pyramyd Air's website. Tom is a consultant to Pyramyd Air and writes under the name of B.B. Pelletier.