Two Gun Lawman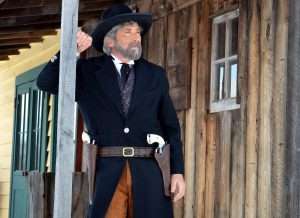 While most men preferred, or could only afford to carry one handgun or rifle, others chose to wear a brace of pistols around their waist. Outlaw Jesse James famously wore a pair of S&W single action topbreaks, while his brother Frank preferred two 1875 Remington .44-40s. Legendary pistolero and lawman James Butler "Wild Bill" Hickok always sported a pair of 1851 Colt Navy models around his waist, (though he also owned an 1860 Army .44 Colt cartridge conversion and an S&W Model No.2 Army .32 rimfire pistol); El Paso, Texas lawman and Deputy U.S. Marshal Dallas Stoudenmire was another shootist who preferred a brace of six-guns, he favored a .44 S&W Model 3 American topbreak and a Colt Richards-Mason .44 centerfire conversion, with the barrel cut down to 2-5/8 inches. He carried the latter in his left front pocket butt forward.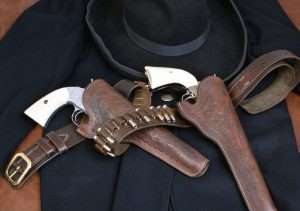 Throughout the late 19th and early 20th century, many western lawmen, outlaws and cowboys showed a preference for wearing a brace of pistols around their waist, but almost to a man, they were identical guns. It was less common, as in Stoudenmire's case that two different guns, let alone two different designs and calibers were carried, but when they were, it was often a Colt Peacemaker and a Smith & Wesson American or Schofield topbreak.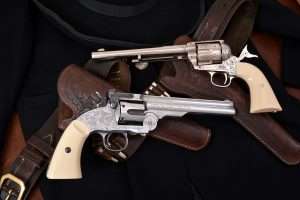 Doubling Up on .177 Caliber
In the world of airguns, an opportunity exists to recreate that remarkable pairing of Colt Peacemaker and S&W Schofield with two of the latest additions to the BB and pellet cartridge-loading Western airgun market, the 7-1/2 inch Umarex Colt Peacemaker pellet model and 7-inch Schofield BB model revolver.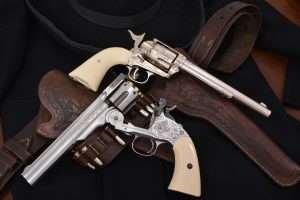 Both the 7-1/2 inch Umarex Colt Peacemaker and Bear River Schofield are available with bright nickel finishes, and the Colt is also offered in the hand engraved edition shown. What is new, is the addition of a hand engraved Schofield, also from the master craftsmen at Adams & Adams in Vershire, Vermont. This new model will be limited to just 100 guns.
An Age Old Rivalry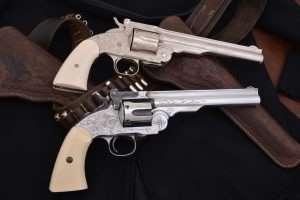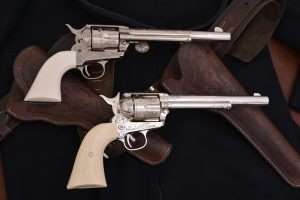 Almost since Umarex and Colt teamed up to produce the Peacemaker as a .177 caliber BB cartridge model, there have been hand engraved special editions available. With the addition of pellet firing, rifled barrel models in 2016, even more engraved versions were added to the John Wayne signature series, including "The Shootist" model, and a very limited edition 5-1/2 inch gold and nickel plated L.D. Nimschke hand engraved Peacemaker from Adams & Adams. Following the introduction of the 7-1/2 inch Peacemaker and the Schofield late last year, it only seems fair to dredge up the old rivalry between Colt and Smith & Wesson that had begun with the U.S. Cavalry in 1873.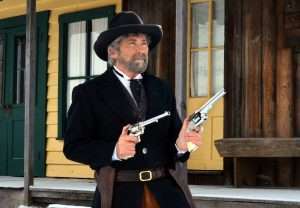 Both the 7-1/2 inch Colt Peacemaker and S&W American (followed by the Schofield) were carried by horse soldiers, cowboys, outlaws and frontier lawmen from 1872 throughout the remainder of the 19th century, so lining up these matching, hand engraved, CO2 models, rekindles the age old relationship between two of the most famous cartridge revolvers of the Old West.