by Tom Gaylord
Writing as B.B. Pelletier


Air Venturi Seneca Dragonfly multi-pump air rifle.
This report covers:
Information
Irony
First impressions
Sights
Lubrication
Shot it immediately
Trigger
Reader's comment
How hard to pump?
Nostalgic
Summary
There are always things at the SHOT Show that I am excited about testing, and today's rifle is one of them. The Seneca Dragonfly is a new entrant into the multi-pump world. That's a world that doesn't get many new guns. It's certainly not like the spring gun world! And yet the multi-pump camp has a host of dedicated followers who love it above all other airgun powerplants. I am excited to get a chance to test something new.
Information
The internet is both a blessing and a curse for every new product. On the positive side it gives broad exposure to each new offering. On the negative side it allows for uncontrolled gossip and innuendo. People can slander something they have never seen or will never see, and many who are gullible will believe them.
Irony
In an ironic twist of fate, that is exactly what got me started as an airgun writer in 1994. The internet wasn't a big deal in those days, but print publications allowed the same things to happen, and in the then-tiny world of airguns there weren't very many of those. The in crowd decided what could be said and what was withheld, which is why I started The Airgun Letter. That newsletter never grew very large, but it positioned me well to write this blog that has become large and influential. So, sit back and allow me to describe my impressions of the Seneca Dragonfly.
First impressions
When I opened the box I was surprised to see a beautiful presentation of the rifle in a fitted styrofoam container. I am testing the .177 version and included were a 9-shot rotary magazine, a single-shot tray that was installed in the gun and a set of seals and o-rings that even includes a replacement firing valve seal. Impressive!
The rifle is exactly what I saw at SHOT. It's all wood and metal. The hardwood is well-shaped, free from blemishes and finished flawlessly. The pistol grip is checkered with flat diamonds that do nothing to roughen the grip. The stock is slim with a square-section forearm. The pull is a manly 14-1/2-inches.
There is a low cheekpiece on the left side and the butt has a Monte Carlo profile, but I think lefties will have no difficulty with the rifle. The buttpad is soft grippy rubber.
Sights
The sights are perfect! They are a black square post in front and a fully adjustable black rear notch. No fiberoptics in sight! Somebody has finally listened to what shooters want in airgun sights. As you can tell, I am excited about these sights.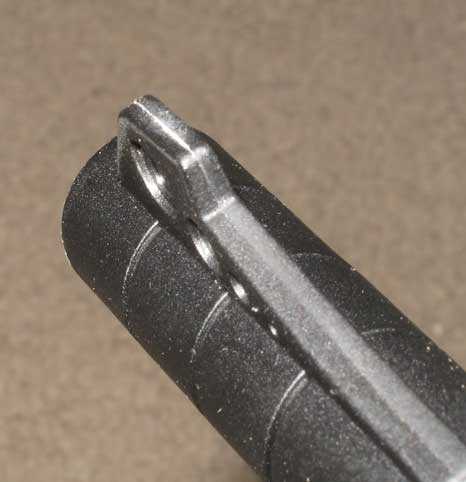 The front sight is a squared-off black post! Hallelujah!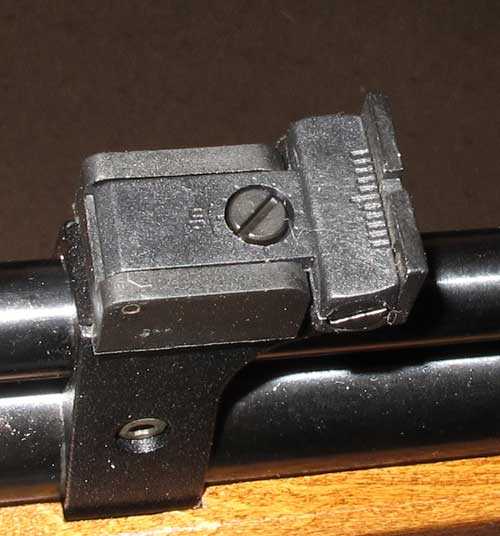 The rear sight is also plain black. It adjusts in both directions. I plan to test how well it works.
There is a short scope base on the flat top receiver. I wouldn't want to scope one but a lot of shooters do these days, so it's there. I think some short scope like a Bug Buster is probably right for the scale of the rifle.
The rifle is 38.5 inches long, which makes it compact. But the barrel is 21.7 inches long, which means they have a lot of length to work with. Length in a pneumatic barrel means time to accelerate the pellet. Longer barrels equal higher velocity for a given amount of push. All within reason, of course.
The rifle weighs 5.65 lbs. I would have guessed 7 pounds, which I think is a function of the compact size. It feels substantial.
Lubrication
The first thing I did after taking the rifle from the box was open the pump handle as far as it goes to examine the pump head. It was in good order but appeared drier than I want a pneumatic pump head to be. So I oiled it liberally with Crosman Pellgunoil and worked the pump handle back and forth to distribute the oil.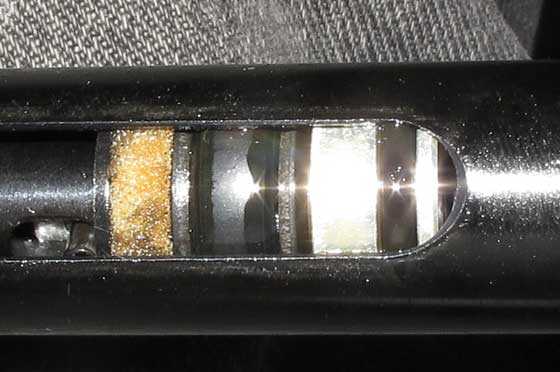 The Dragonfly pump head is a neat assembly of o-rings and an open-foam wiper to hold and distribute the oil. This is how it looked as it came from the box. I oiled it with 20-30 drops of Crosman Pellgunoil.
Keep an eye on this pump head, because on a multi-pump it is the primary source of power. It needs to be well-oiled to keep the gun running at its peak.
Shot it immediately
The first shot on 3 pumps gave a satisfying crack. The test rifle sounds powerful. There is no silencer on this gun, so expect some old-school noise when you shoot it.
Trigger
I will report on the trigger in detail in Part 2, but I can tell you right now that it's a good one. It's single-stage and doesn't have any adjustment, but I don't think many people will miss it. Crosman — better get one of these and look at the sights and the trigger.
The safety is a cross bolt type that runs through the front of the triggerguard. It is manual and under the complete control of the shooter, which is how it should be.
Reader's comment
Reader Benji-Don bought a Dragonfly and had this to say on the day he ordered it.
"B.B., I just put in my order for a .177 Dragonfly. I will be looking forward to your review. I was trying to wait for your review I figured it was coming but could not wait. It has too many characteristics I have been looking for. I was hoping Crosman would come out with one. If the Dragonfly shows enough quality it will give the Crosman [Benjamin] 392 some serious competition. The Crosman 312 is still my favorite multi-pump. It is just made better and pumps easier than the 392. Thanks, Don"
Don also sent me two reports of his initial assessment of his rifle. I have avoided reading that material because I want to test this potentially important new air rifle without any bias. But his observations are important and I do plan to include them as this report advances.
I had already put in my order for a test gun when Don posted that comment, and I swore that I would not allow his experiences to influence my first impressions — good or bad. But Don is a guy who likes multi-pumps, so his impressions are valid.
How hard to pump?
We had a question on the Benjamin 392 report that asked how hard are these airguns to pump. That's a very good question. Obviously the answer is subjective. I can give you a number, just like I do with the cocking of spring guns, but there is no way anyone but you can decide whether it's hard or easy.
I will give you a number on the Dragonfly's pumping effort — just like I did for the 392. And I will also tell you that my initial impression is the Dragonfly does pump on the hard side. Until I get the numbers that will have to suffice.
Nostalgic
My first impression is that the Seneca Dragonfly turns back the clock to 1960. It appears to be well made from good materials and it has the features most of us want in an air rifle:
• Well made
• Lightweight
• Attractive
• Adjustable open sights without fiberoptics
• Good trigger
• Manual safety
• Single shot and repeater
• Scope base
Summary
That's my first impression. I sure hope the test rifle lives up to the promises and expectations!