by Tom Gaylord
Writing as B.B. Pelletier
This report covers:
Hatsan Piledriver
Hatsan Blitz!
Hatsan HydraQE
Hatsan Volt
Hatsan Alpha — grandfathers of the world, rejoice!
Engage warp drive!
Lancer Tactical
Black Ops Quantico
Drum Roll — Mosin Nagant rifle
Rhino Limited Edition
M1A is here!
Bug Buster bubble level!
So much more to come!
If I didn't see any more of the show than just today I have already seen more new and innovative airguns and accessories than there are at most entire shows. Let's begin with Hatsan.
Hatsan Piledriver
Hatsan's Cecil Bays showed me their new 800 foot-pound big bore rifle called the Piledriver. It comes in .45 and .50 calibers. It gets 3 to 6 shots at full power, depending on the caliber. The fill is 300 bar, or 4,350 psi, so you should have a compressor or a large carbon fiber tank for this one.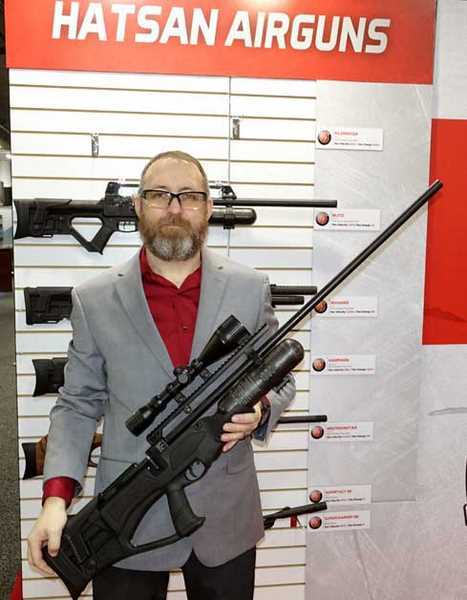 Cecil Bays holds Hatsan's new Piledriver big bore.
Hatsan Blitz!
Want full-auto? The new Blitz gives it to you in .22, .25 and .30 calibers! Actually the rifle is select-fire, so it's also semiautomatic. Cecil told me it gets 4 full 16-round magazines in .30 caliber from a single fill (19 in .25 and 21 shots in .22)!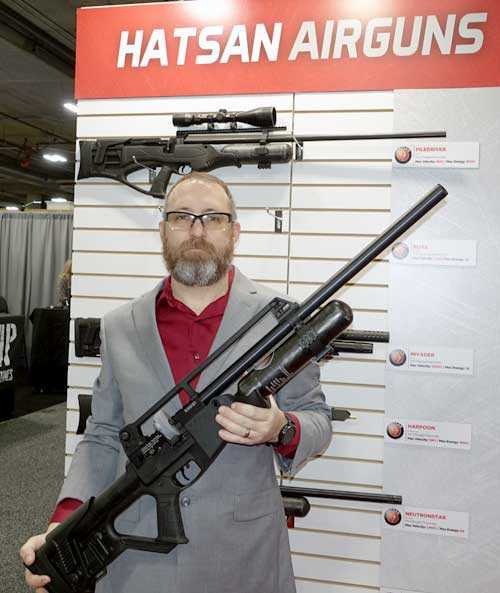 Cecil holds the new select-fire Blitz!
Hatsan HydraQE
The new Hatsan Hydra QE (no, it's not a weapon from Marvel Studios) is a systems air rifle that comes to you in one caliber with the ability to switch to two other calibers (.177, .22 and .25) and an arrow launcher in seconds. Best of all, each barrel retains its own scope, so no need to sight-in again, once the scope is sighted for that barrel.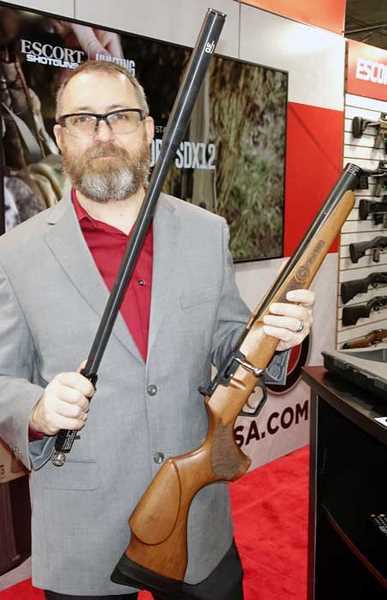 The picture tells the tale. Buy the HydraQE is one caliber and then buy spare barrels as the need suits you.
Hatsan Volt
All these PCPs need air and Hatsan provides it with their new Volt compressor. It's a gun-only compressor that's powered by either house current or a car battery, so you can take it anywhere. It's small but Hatsan claims it fills guns 15 percent faster than the competition.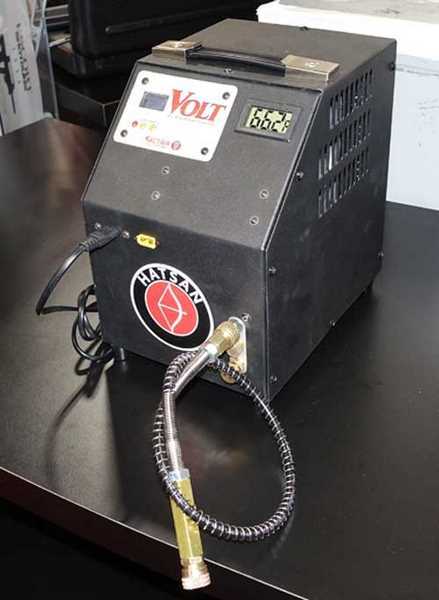 Hatsan's new Volt is a compressor for filling PCP airguns.
Hatsan Alpha — grandfathers of the world, rejoice!
You know I love youth airguns. The Alpha was made just for me. It's lightweight, easy to cock, has low power and open sights — as in let's teach these kids to shoot before their world turns into a video game!
HOWEVER — when Hatsan USA president, Blaine Maniford, told me that the RETAIL price will be UNDER FIFTY DOLLARS — I went ballistic! I have got to test one!


The Hatsan Alpha. Every grandfather's dream — a starter pellet rifle for LESS than $50!
Engage warp drive!
By this point I was 30 minutes into the show and already I was panting! This SHOT Show is exploding with new things to see. I want to do justice to all that I saw today, but I have a deadline to consider. So I'm going to select things to show you but not do complete reports on every company. From this point on, you have to pay attention to the headlines to follow along.
Lancer Tactical
I was invited to the Lancer Tactical booth to see what I thought were going to be airsoft guns. They had them — and what great ones they have!
Black Ops Quantico
But they also showed a new line of pellet rifles this year — the Black Ops Soul airguns. I will show just one today — the Quantico air rifle. They are all named for American military bases and the Quantico is a breakbarrel with an extremely adjustable buttstock. It has a gas spring and delivers 14.7 foot-pounds in .177 and 17.7 in .22.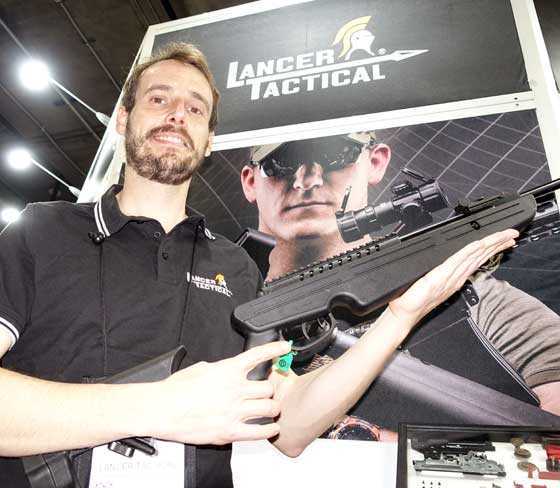 Gorka Oyaga, sales rep from Europ-Arm (and a blog reader!) holds the Quantico breakbarrel rifle.


The Quantico is a tactical-looking sniper rifle in breakbarrel form!
These are exciting looking air rifles that I hope we will see more of this year. The price point is in the budget class for the Quantico — though I don't have a final MSRP for you.
Drum Roll — Mosin Nagant rifle
Okay, sports fans. You wanted to see it and I found it for you. This next airgun is a big deal. How about a life-sized 91/30 Mosin Nagant airsoft rifle that the snipers shoot with 0.30-gram BBs? Does BB bring you the good stuff, or what — huh?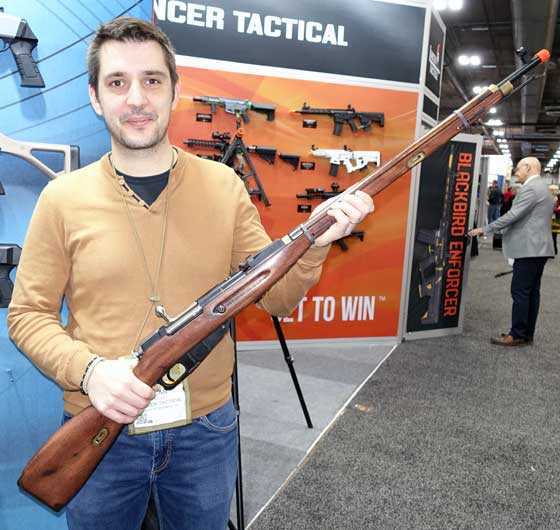 Jean Baqué, COO of Sport-Attitude, holds the EXTREMELY realistic 901/30 Mosin Nagant airsoft gun.
Yes it has Hop Up. Yes it is realistic. It even had a Tula Arsenal mark on the receiver ring.
These are not cheap airsoft guns, guys. These are the guns that serious collectors and skirmishers buy. This Mosin will have an MSRP of $389. You will buy them from a Lancer Tactical dealer here in the US.
Rhino Limited Edition
Lancer also showed the Rhino (Chiappa) .357 magnum revolver in a BB version. This revolver shoots from the bottom of the cylinder to lower the recoil and reduce muzzle flip with the .357 Magnum cartridge. When I held it I was surprised by the heft. They will be made in a limited production and less than 150 will come to the U.S.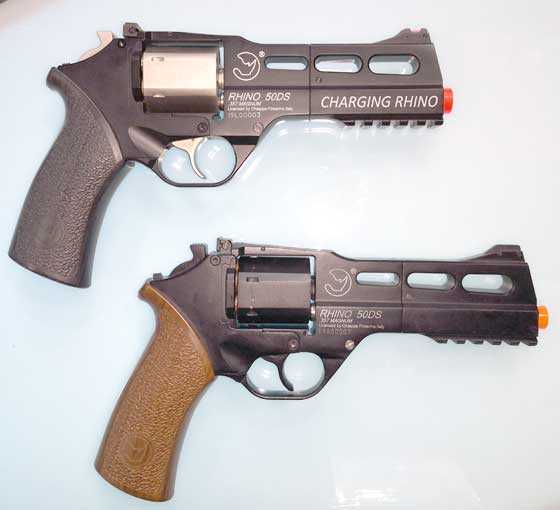 Top gun is actually a steel BB (4.5mm) caliber, despite the orange tip on the barrel. It's the limited edition Charging Rhino revolver. Bottom gun is a true airsoft revolver that weighs and feels exactly the same.
How do you get a limited edition gun like this? I have no idea — yet. But I will try to find out for you.
There is much more to show from Lancer Tactical, but like I said, I'm condensing today's report.
M1A is here!
More military realism — the M1A from Springfield Armory is here. I saw it. I held it. It's right on! It was in the Air Venturi booth. It's a pellet rifle and it feels like the real deal. Last time I held something like this I had more hair, less waist and wore green!


The M1A weighs so much that you guys who only served with M16s are going to complain! Can't wait to test it!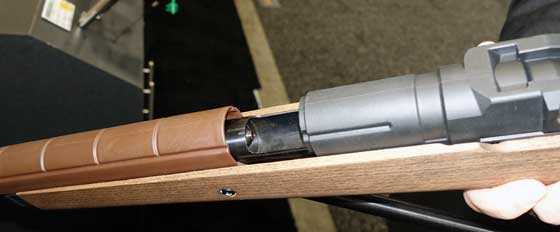 When the underlever that's disguised as the gas piston is pulled all the way down, a sliding breech opens to reveal a generous loading port.
There is so much more to come from Air Venturi, and you'll get some each day. Gotta knock your socks off now.
Bug Buster bubble level!
I was such a good boy on this one. Have scars on my tongue from biting it for the past few months. Yes, Leapers did it — a 3-9 Bug Buster with an etched glass reticle, a bubble level and a center illuminated crosshair!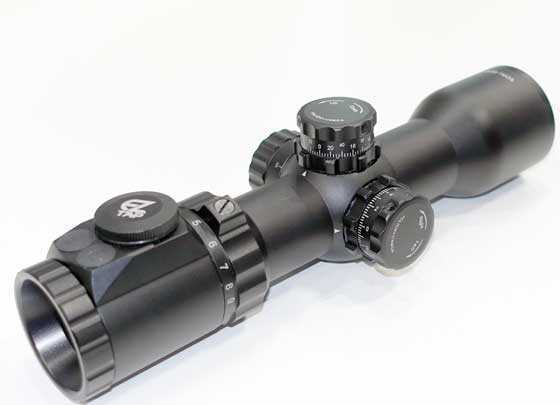 And yes — that is a 30mm tube! Thank you very much!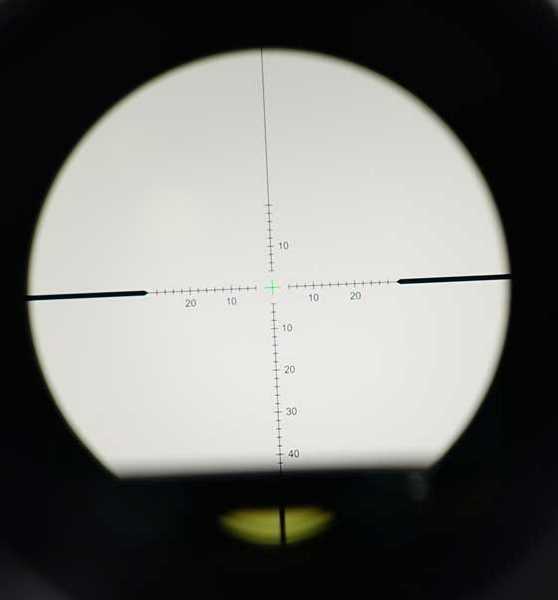 Photographed through the eyepiece with the green illumination on!
So much more to come!
If you poked me with a pin right now I would fly around the SHOT Show for hours — I have so much more to show you. But after 18 hours on my feet I reach tracer burnout, so that's it for my Day One report!