by Tom Gaylord
Writing as B.B. Pelletier
This report covers:
Sig Virtus
P365 BB pistol
Virtus airsoft
Smart Shooter
It's over
Media day at the Range
Umarex USA
Air Javelin
Air Saber
Constant Acceleration Pneumatic Arms
Light gas
Not done yet
That's all
I went to two range days this year. Sig Range Day was on Sunday and Industry Day at the Range was Monday. Both are for the media, so we get to see and possibly shoot the guns they are showing at SHOT. I say, "Possibly" because the guns don't always cooperate. I have seen several that failed to function on range day. That's either because they were rushed through production or sometimes it's just bad luck.
Sig Range Day — Sig Virtus
The first day was all Sig. This year they had one new PCP pellet rifle that is now shipping — the semiautomatic Virtus. This rifle is based on previous designs of Sig CO2 repeaters and has a belt-fed magazine. This one is a precharged pneumatic (PCP) though, and develops up to 12 foot-pounds in .22 caliber. So it's a fun gun!
I shot it with the Romeo5 dot sight and also with the flip up iron sights that are no-doubt called "Backup Iron Sights (BUIS)". Well, the Romeo5 wasn't cooperating that day, so I used the back up sights and discovered that the Virtus is a very accurate rifle out to 25 yards. I was putting pellet on pellet at 15 yards. It's a quiet rifle too, though I will need to test it alone and away from a firing range — hint-hint, Sig!


Sig Air Virtus is a tactical-looking semiautomatic PCP.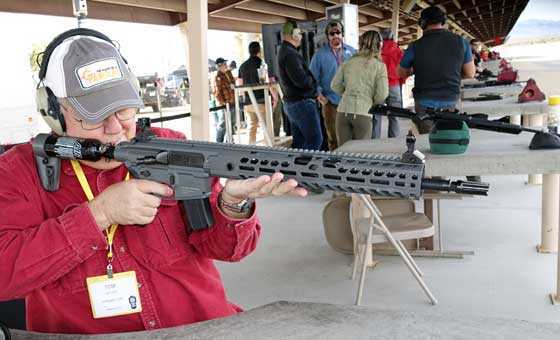 Once I switched to open sights, the Virtus was stacking pellets!
P365 BB pistol
I was surprised to see that the Sig P365 BB pistol is back — and apparently has been for more than a month. That's one I'm in the middle of testing and need to complete sometime soon — another hint Sig!
Virtus airsoft
Sig Air will be bringing in more airsoft replica guns this year. I have tested the M17 already, but not the new M18 that's the sidearm of several US armed forces. Sig's Matt Handy showed the guns to me off the range and then I was able to shoot the new airsoft Virtus on the range. I hope to test that one for you this year, as well.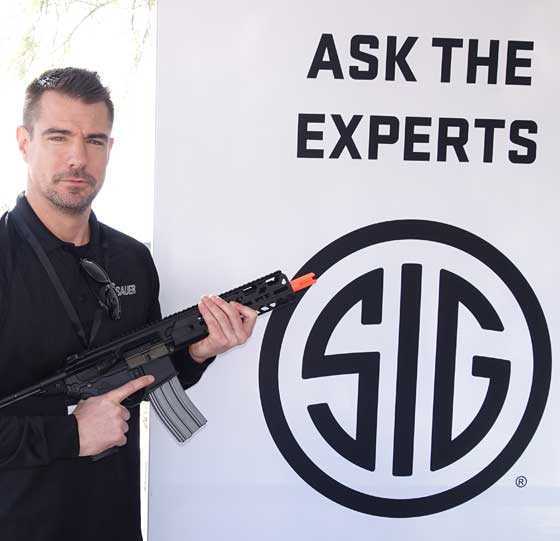 Matt Handy holds the new Sig Virtus airsoft gun.
Smart Shooter
As I was leaving the range I was buttonholed by Hadas Weizman from Smart Shooter. He told me about a new weapons system where the shooter doesn't have to be that good a shot. Smart Shooter is an electronic sighting system that controls the firing of a rifle. You hold the sight on the target and press a button until the sights draws an illuminated box around the target. Then you release the button and pull and hold back the rifle trigger. A large illuminated cross forms in the sight and you swing that over to the target. When the computer senses the shot is good the rifle fires.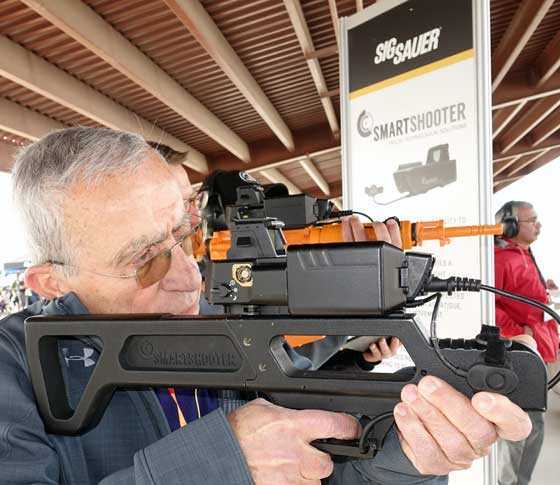 Hadas Weizman holds the Smart Shooter training device that he trained me on.
I was trained in five minutes and then turned loose with a live rifle. I hit the moving target in the head twice at 100 yards from the offhand position.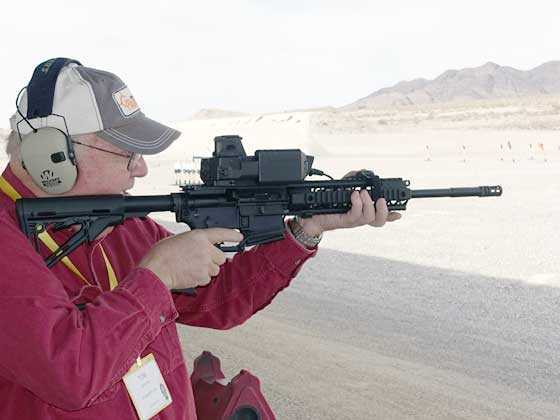 I hit the 100-yard moving target twice in the head.
After I finished shooting the Sig guys looked at each other and wondered why the target's head had snapped back but the whole target had not dropped. They then shot the target in the body and got it to drop. I was told that I had at least wounded the target and that was the goal. Ha, ha!
They told me that a battle rifle is not a precision weapon and center of mass shots are best. But I just thought, "Two in the head and you know they're dead!"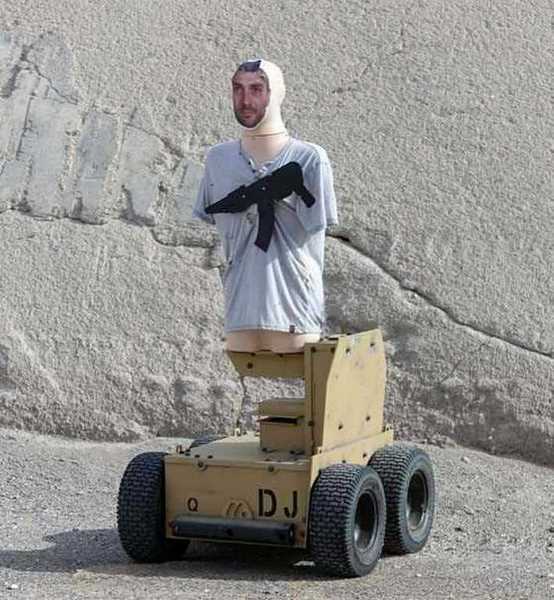 This is a standby life-sized moving target for the Smart Shooter range.
It's over
Sig Range Day was over for me but I do plan on stopping by their booth to talk more with their reps. I want to get a better feel for what 2020 holds for Sig Air.
Media day at the Range
This Media Day was better organized than ever before. The bus dropped us off at the top ranges where the two airgun ranges happened to be, and all we had to do after that was walk downhill. Even I can do that!
Umarex USA
Almost across the street from the entrance was the Umarex USA range. They were showing both of their arrow launchers and I got a chance to shoot both of them.
Air Javelin
The first one is the budget-priced Air Javelin that's powered by CO2. It accepts a large 88-gram cartridge, and, though I saw about 10 shots fired, I never saw the cartridge run out of gas. It was 50 degrees, Fahrenheit, that day so I will have to test this one for you myself! Hint, hint — Umarex!
It shoots at over 300 f.p.s. which made me think it was capable of taking deer until I realized that the hollow arrow shaft makes the arrow weigh just 120 grains. It probably could take a deer up close, but that's not what I would recommend. The guys at the range were talking groundhogs, rabbits and raccoons for this one.
Yes, the arrow is hollow and fits over a long tube in the gun. The air seals quite well, and there is very little impulse when the gun fires.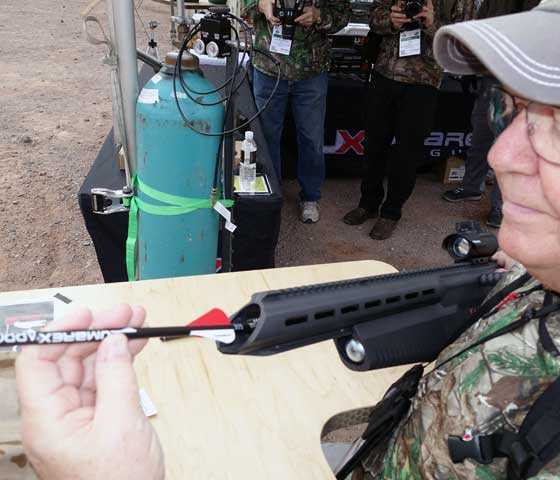 To load an arrow into the Air Javelin I had to look at the slim tube inside the firearm, because the hollow arrow shaft fits it tight.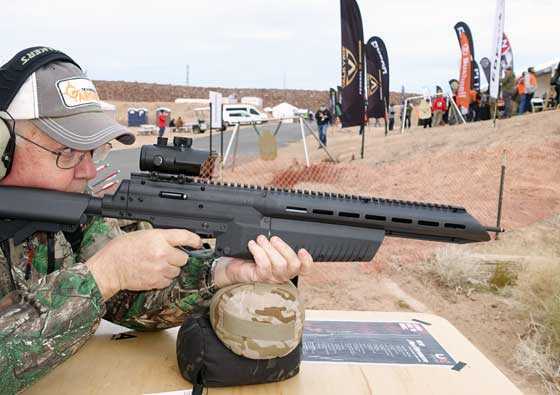 The Air Javelin was quite accurate at 20 yards.
Air Saber
The Umarex Air Saber is their big dog this year. It launches a hollow 276-grain carbon fiber arrow at 450 f.p.s. This one runs on high pressure air, so it's a PCP. It operates at 250 bar or 3,625 psi. I'll have to wait to test one to give you a shot count per fill, but I never saw it run out of air while I was there.
They had a bipod on the range gun and I very nearly shot a Robin Hood at 25 yards, though I purposely tried not to. This arrow launcher is so powerful that they stuck arrows with field points so deep in a 3D jackalope target that they could not pull them back out! For those who don't know, a jackalope is a mythical cross between an American jackrabbit and an American antelope.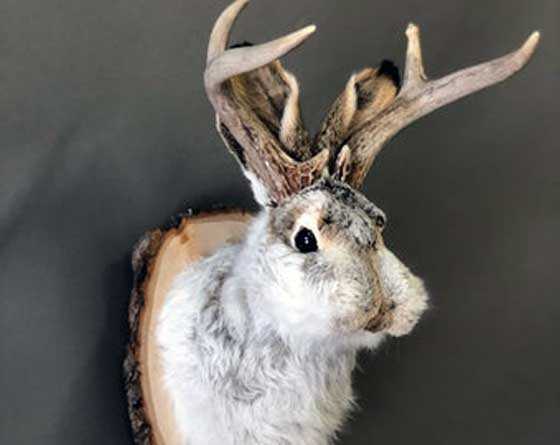 You see a lot of mounted jackalope heads in southwestern bars in America.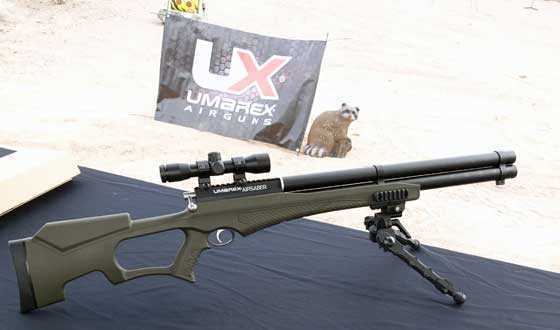 The Air Saber is a powerful PCP airbow.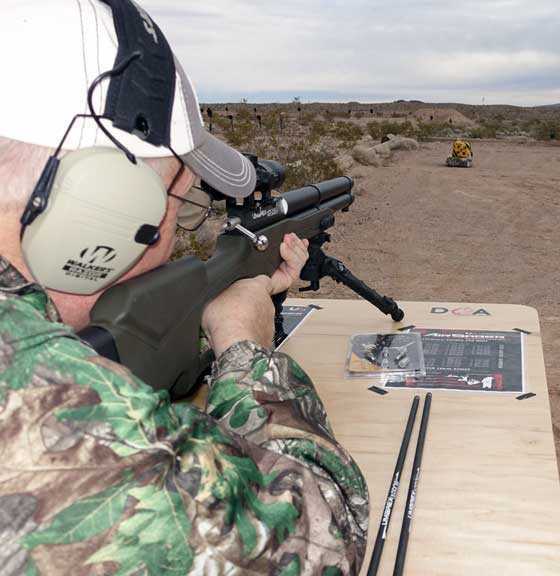 The Air Saber was surprisingly accurate at 25 yards. I almost Robin-Hooded, even though I tried not to!
Constant Acceleration Pneumatic Arms
These guys are new to the world of big bores, though I have been communicating with one of the founders, Mark Cherry, for a couple years. To be honest, I didn't think I would ever see anything come from our talks, but Mark persevered and brought his creation to Media Day. I will first show you the info sheet at their range.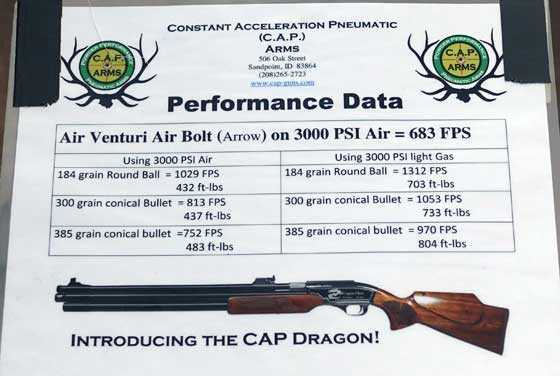 This sheet says it all except the experience of shooting the gun.
Light gas
No, light gas is not 90 minutes after you eat onions! It's a blend of Helium and other light gasses that flow faster than air because their atoms are smaller. I have known for a long time that it's possible to get much higher velocity from an airgun when you shoot it with Helium, but there is a big problem. Or a very small one, to be more specific! The tiny Helium atoms are so small that they aren't easily contained by valve seals and o-rings that are designed to hold air. Besides costing a lot, Helium will make a precharged airgun leak!
Well, these guys may have found a solution or solutions for that. The Dragon I shot was tethered to a tank, so lots of gas was being used, but they were also letting the media shoot, so maybe that was just the prudent thing to do.
All I know is I smacked the target at 40 yards on the first shot, with a 350-grain bullet that developed over 700 foot-pounds at the muzzle. The gun kicked like a .357 big bore, which stunned me. Apparently that "thin gas" also absorbs a lot of the firing impulse.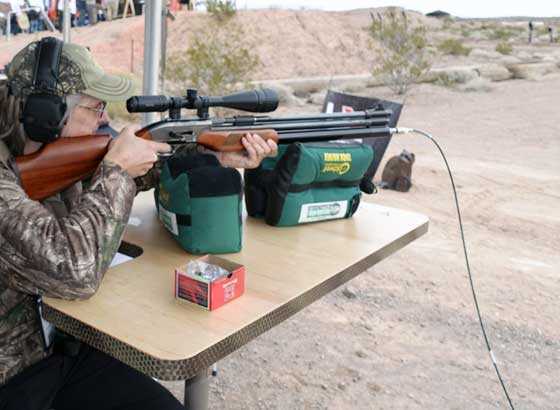 The recoil was mild.
They told me their patented valve design maintains constant pressure on the bullet all the way down the bore. A larger valve passageway, longer valve dwell time and that thin gas all contribute to the amazing power that's claimed.
Not done yet
Old BB was then finished with airguns, so he moseyed down to the other end of the range, sampling all the ranges along the way and stocking up on giveaway SWAG (hats, shorts, cupholders, pens, etc.). I thought I was done until I happened by the Rambo pavilion. There I met Kelle Adams of ShopBadAss.com. She was offering free rides on electric-powered desert bicycles! Would I like to try?
WOULD I?????
So there I am, all 235 lbs. of balding fat man, perched on a fat-tired mountain bike and racing across the Nevada Desert like Jabba the Hutt on a unicycle. No I didn't fall. And no, I didn't allow photography. Some things like car crashes, modern art and pictures of me riding a bicycle are best kept private.
Why am I telling you this? So you will tell your wives and they will give you some snappy comebacks to lay on me. You see, that was Edith's job. Who is gonna pick up a 72-year-old curmudgeon when he piles up his bicycle at 30 mph?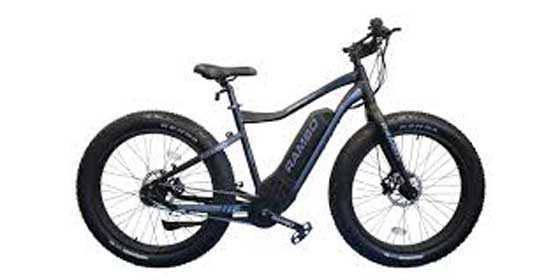 I want one!
That's all
That's my report for today. The show opens tomorrow and I hope to have a lot more to show you!