by Tom Gaylord
Writing as B.B. Pelletier
This report covers:
Air Venturi
Butterfly
Avenger PCP
Bada Bang
Ataman big bore
Hill compressor
Leapers
Hatsan Invader
AirForce Airguns
.50 Texan
RAW
Raw HM Micro
RAW systems rifles
That's all for today
Air Venturi
I told you there were a lot of things to see and I had to skip past them to finish Part One. I will begin today by going back and looking at what we missed. I'll start with Air Venturi.
Butterfly
The Butterfly is the Air Venturi Dragonfly with a pump-assist built in. You remember the pump-assist that was tried on the Benjamin 392  many years ago? The additional linkage makes pumping the gun much easier. That linkage is built into the Butterfly, which was named for the look of the linkage. So, it's a multi-pump that's much easier to pump. You multi-pump guys will want to check this one out.

Avenger PCP
The Air Venturi Avenger is a precharged pneumatic air rifle that has a rotary magazine, a full-length shroud and an externally adjustable regulator. It's to be offered in .177, .22 and .25. The MSRP will be $329 and people wonder whether that makes it a price-point PCP. I think it does — if it functions as advertised. Also, look for it to be priced closer to $300.

I always knew there would be an upward creep in the price point when I coined that phrase three years ago. We don't have nickel candy bars anymore, do we? The crunch for this rifle is will it perform? This is a hot market right now and there is a lot of competition.


The Air Venturi Avenger is a price point PCP with a lot of good features. Can't wait to test it!
Bada Bang
Bada Bang is an electronic airgun target system that works with guns up to 12 foot-pounds. It's operated by a smart phone app and offers numerous different games and challenges. It was shown last year but is out now and I will be testing one for you soon.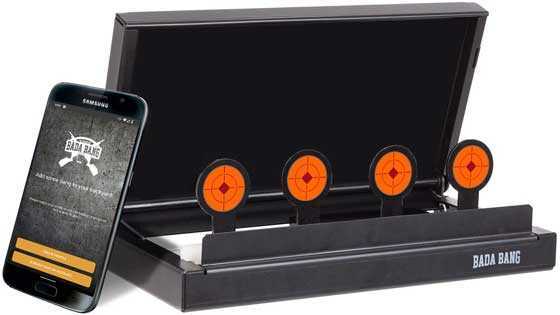 The Bada Bang electronic airgun target works with a smart phone app.
Ataman big bore repeater
I saw a prototype big bore air rifle from Ataman in the Air Venturi booth. This one is .45 caliber and made to shoot pistol bullets that are 0.452-inches in diameter. It will produce energies in the 300 foot-pound range and it is a two-shot repeater with a shuttle in the breech.


The Ataman big bore is in the prototype stage at this point.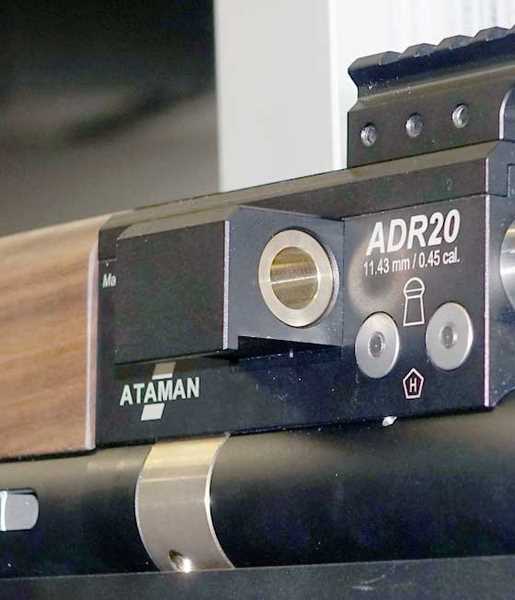 The Ataman big bore will be a two-shot repeater.
Hill compressor
I saw the new Hill compressor in the Air Venturi booth, as well. It looks stout and rugged, and it carries the Hill name that is well-known for reliability. I was told that this compressor is a true set-and-forget unit that will shut off when it reaches the set pressure. It's said to operate at 75 db, making it the quietest compressor around. It's for filling airguns and not tanks.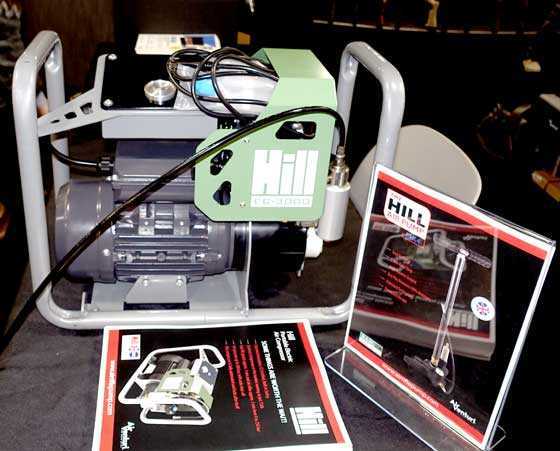 The Hill compressor will be added to the stable of reliable air compressors.
Leapers
I have been telling you for years that Leapers was building a large clean room in the US to be able to manufacture scope sights. Well, they have started production of the first one! It's a first focal plane 1-8X scope that was shown only in the new products section at the show. No photographs are permitted in that section, but Leapers owner, David Ding, had another one set aside in the booth to show me. This may be the only image of this new scope from the SHOT Show.

This first focal plane 1-8X scope was made in Livonia, Michigan. It's compact, yet features an 8X magnification range!
Hatsan Invader
I skipped past one significant Hatsan PCP in Part One. The Hatsan Invader is a semiautomatic PCP that's offered in .177, .22 and .25 calibers. Magazine capacities are 14, 12 and 10, respectively.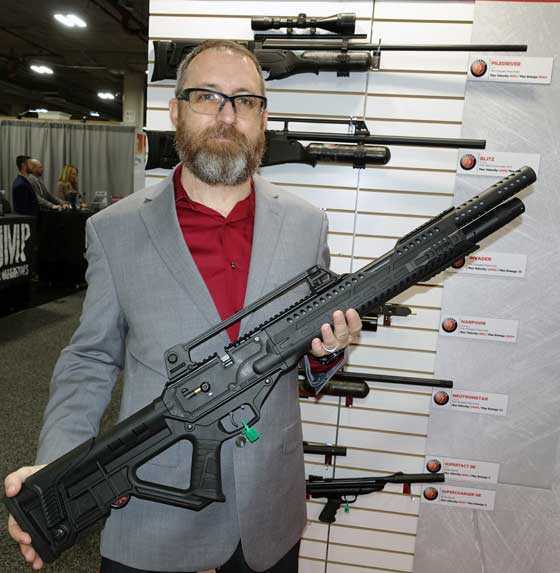 Cecil Bays holds the semiautomatic Hatsan Invader.
AirForce Airguns
I went to the AirForce booth next. Owner John McCaslin gave me the tour of their new products. We started with the .50-caliber Texan — and no, they do not call it the Super Texan!
.50 Texan
The .50 caliber Texan is really just a .45 with a larger Lothar Walther barrel, a carbon-fiber tank that saves a pound of weight and a larger valve. Their .45-caliber Texan now gets 750 foot-pounds at the muzzle, and this fifty is getting up to 820 foot pounds, though AirForce is still testing ammunition so that number will rise. The carbon fiber tank holds 250 bar or 3,625 psi of air. Let me tell you — that hole at the muzzle looks pretty large!

The big difference in the .50-caliber Texan is the size of the hole at the end!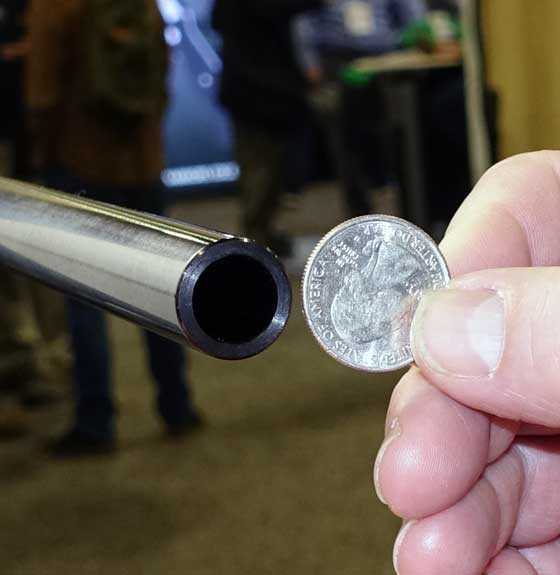 That's a big hole!
RAW
And now, prepare for the onset of the Great Enabler! I knew about this rifle a week ago and once again had to bite my tongue to keep from spilling the beans. How about a lightweight, systems-based RAW for Hunters? Meet the Raw HM Micro.
Raw HM Micro
The Micro is built on an aluminum chassis and optimized for size and weight. The chassis means all sorts of add-ons are possible, plus the weight is reduced. The Micro will come out as a .25-caliber first and I think of it as a hunter's airgun.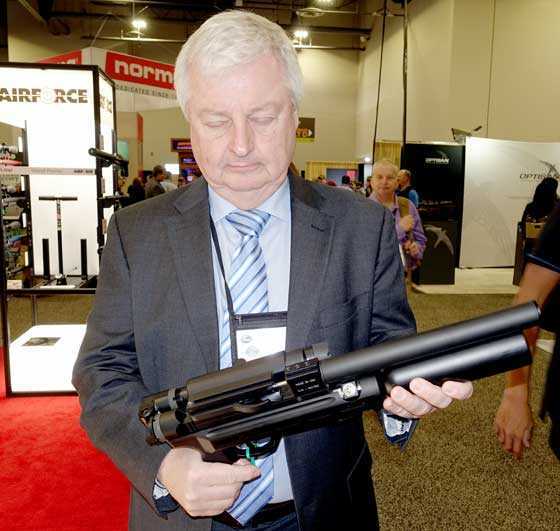 When the stock is folded the RAW Micro is a very small package!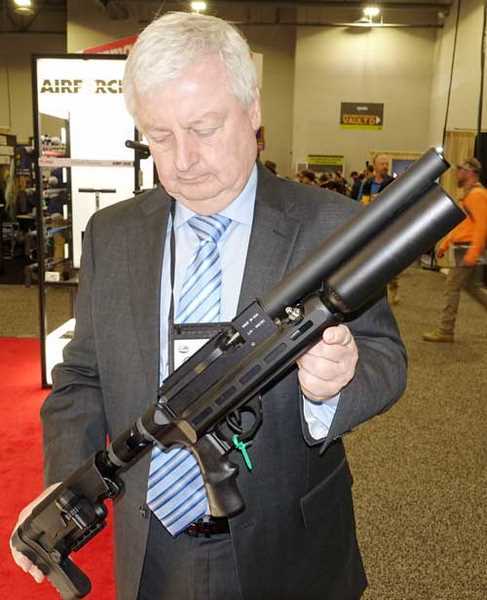 When the butt is deployed the Micro is still a small carbine!
It's coming out soon, so start saving your pennies! I can't tell you what the price will be yet, but it will probably be lower than you think.
RAW systems rifles
But the real story at RAW isn't the one rifle — it's what AirForce has done to the entire RAW lineup. They have managed to maintain the scrupulous quality RAW owners demand and still gear up for higher rate production. And, instead of just one dedicated model, they have made the rifles upgradable to various configurations.
They were showing their new lineup of HM 1000 and 1000X rifles in both wood stocks and the new chassis stocks. Even the wood stocks are new and are relieved for the removable tanks. They are also set up for benchrest matches, to accept precision rifle rests in front and bags in the rear. The AirForce approach is to manufacture every stock to be able to shoot benchrest, but to not limit it to just that.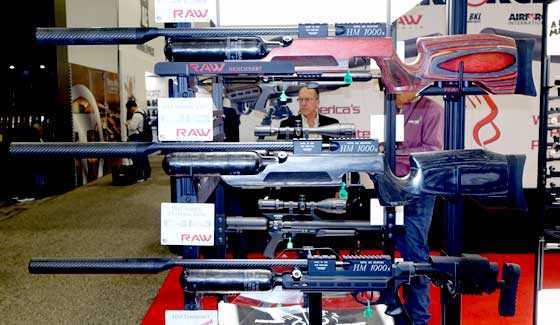 RAW Benchrest HM 1000X wood stock on top, 1000X LRT wood stock in the middle and the same 1000X in the chassis system stock below.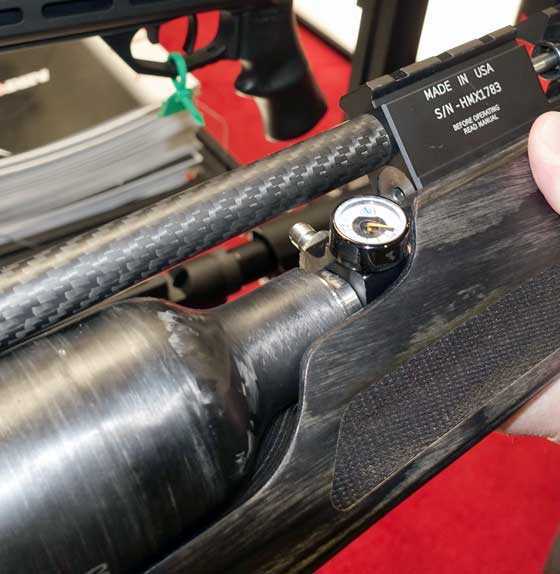 The new RAW wood stocks are relieved to allow easier removable, plus save weight.
RAW owners will soon have platform airguns that are custom as well as customizable.
That's all for today
I have so much more to tell you about! This is the best SHOT Show I have seen, of the 22-23 I've attended. And airguns are starting to be mainstream in the shooting sports. This show demonstrates it.