by Tom Gaylord
Writing as B.B. Pelletier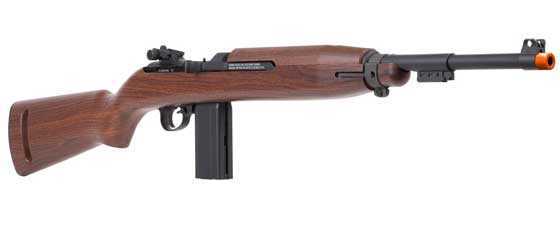 Springfield Armory M1 Carbine Airsoft gun.
This report covers:
Two things
The test
TSD 0.20-gram
Magazine is great!
Air Venturi 0.25-gram
ASG 0.30-gram Blaster Devil
Umarex Milsim Max 0.32-gram
Wearsoft Sniper Grade 0.36-gram
Discussion
Next test
Shot count
Trigger pull
Summary
Today I test the power of the new Springfield Armory M1 Carbine airsoft gun. On the Pyramyd Air website the velocity is shown as 470 f.p.s. with a 0.20-gram BB, but there is a question mark after that listing — at least at the time I am publishing this report. Maybe this test will refine that number?
Two things
I see two things I have to do in this report. The first is to determine if 470 f.p.s. with a 0.20-gram BB is correct. The second is check the gun with heavier BBs, because 470 f.p.s. is a bit too fast and stingy, in my opinion. Of course it all comes down to accuracy. I'm looking for the best of both worlds — velocity and accuracy. Rather than to just throw out some numbers, I will test the gun and then let the accuracy test determine the results.
The test
I will shoot strings of 5 BBs for velocity if the gun appears to be stable. If it isn't stable I will expand the strings to 10 shots. I will wait a minimum of 25 seconds between each shot, but I will come back and test the gun by shooting as fast as possible, later on. I'm allowing the gun to warm up after each shot and at the end of the report I'm testing the effects of rapid-fire on velocity.
TSD 0.20-gram
First I tested with TSD 0.20-gram BBs. These should give pretty close to the specified velocity. The average for the 5-shot string from the test gun was 449 f.p.s. The velocity spread ranged from a low of 444 to a high of 452 f.p.s. So the test gun is shooting 20 f.p.s. slower than the advertised average. I would think 450 f.p.s. is a more realistic velocity for a 0.20-gram BB.
The velocity spread was just 8 f.p.s., which is fairly tight. I will have more to say about the 0.20-gram BB in a while.
Magazine is great!
The Carbine magazine loads easily because there is no constriction at the top. Many times the "ears" at the top of the mag are formed to catch and hold the BBs as they are fed upwards by the follower and spring. It works well but it means you have to pop each BB past the ears and into the mag as you load. This magazine is wide open at the top so the BBs just drop in with no resistance.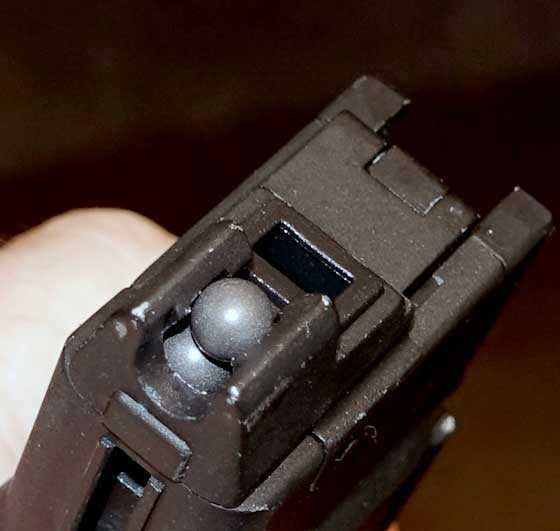 Instead of sitting all the way to the front of the mag and being restrained by fingers, this mag pushes the BBs straight up to a place where they sit awaiting the bolt to strip them off. The lack of restriction makes the magazine easy to load.
Air Venturi 0.25-gram
Next up are Air Venturi 0.25-gram BBs. They averaged 422 f.p.s. with a spread that went from 418 to 424 f.p.s. That's just 6 f.p.s. This is still a pretty snappy velocity for an airsoft gun so I continued to shoot BBs of increasing weight.
ASG 0.30-gram Blaster Devil
Next to be tested were five ASG Blaster Devil 0.30-gram BBs. These averaged 407 f.p.s. with a spread of 9 f.p.s. It went from 402 to 411 f.p.s. This was the largest velocity spread of the test, which shows that this gun is set up quite well!
Umarex Milsim Max 0.32-gram
The next BB I tested was the 0.32-gram Milsim Max from Umarex. These were the first BB to average less than 400 f.p.s. They came in at an average 397 f.p.s. with a spread of just 4 f.p.s. It ran from 395 to 399 f.p.s. I'll have more to say about these heavier pellets in a moment. But before I do, let's look at the heaviest BB I tested.
Wearsoft Sniper Grade 0.36-gram
The Wearsoft Sniper Grade 0.36-gram BB averaged 387 f.p.s. in the M1 Carbine. The spread went from a low of 383 to a high of 398 f.p.s. That's a difference of 6 f.p.s.
Discussion
At this point in the test we might be inclined to say that any of these BBs would be okay in the Carbine, but I have been waiting a minimum of 25 seconds between each shot. Is that realistic? It might be for a sniper, but the Carbine is not a sniper's weapon. It's for active skirmishing and close quarters battle. So, no — waiting that long isn't realistic.
Next test
Now I wanted to see what the 26 shots fired thus far (there was a first shot to make sure the CO2 cartridge had been pierced and the gas was flowing) had done to the velocity. We know that the average velocity for the TSD 0.20-gram BB at the start of the test was 449 f.p.s., so what was it for the same BB on shot 27?
Shot 27 did not register on the chronograph, so I waited 25 seconds and fired shot 28, which registered 451 f.p.s. So the gun is still shooting on the pressure curve.
Next I fired shots three through 14 (of a 15-shot magazine) without recording. That's 12 shots fired shot as fast as possible. Then the last shot — number 41 on the CO2 cartridge — registered 400 f.p.s. This could be due to either of two things. Either the gun has cooled down from the rapid firing or it is starting to drop off the power curve. In other words, it's running out of gas.
Then I fired nine more shots with 25 seconds between each shot and shot number 51 registered 299 f.p.s. The CO2 cartridge is definitely running out.
Shot count
I continued to shoot the gun, but now the BBs were bouncing off the box I was using as a BB trap. I used an empty 20-pound box that held cat litter for my trap. I stuffed it with heavy brown craft paper and still the heavier BBs were shooting through both sides of the box after about 6-7 shots. These cat litter boxes are made from very tough cardboard, so this gun has some real punch!
At shot 67, which was a dry-fire, the exhausted the remainder of the gas. I would say that you can count on 50 good shots per CO2 cartridge, and that number will vary a little, depending on how fast you fire.
Trigger pull
The airsoft Carbine has a single stage trigger that breaks at 5 lbs. 10 oz. The military spec is 5 lbs., so the airsoft Carbine is close to spot on!
Summary
Now we know how the Springfield Armory airsoft Carbine performs. While there will always be some variation, any gun you get should be close to the numbers seen in this test.
I remember how accurate the BB Carbine is, so I can't wait to test this one. If you're a Carbine guy maybe this is for you.