by Tom Gaylord
Writing as B.B. Pelletier
Range Days at the 2020 SHOT Show
2020 Shot Show Day One
2020 Shot Show Day Two
2020 Shot Show Day Three

This report covers:
Here we go again
Crosman
Ravin R29Xcrossbow
1077 FreeStyle
Air Arms
Diana's modular platform
Gamo
New JSB Knock Out
Elsewhere at the show
Summary
Here we go again
I said I would return to finish reporting on the 2020 SHOT Show and today is the day. The 2020 SHOT Show was the best one I have ever seen for good reasons. From my perspective, most airgun companies brought out a whole boatload of new products. I talked to several vendors in booths who told me they thought there were fewer people in the aisles, but each of them had more money they were willing to spend. I'm talking about placing orders for the whole year's worth of goods, because that is what this commercial trade show is about. It's not for the public, though they do attend. It's for the stores that want to tie down their business for the coming year and also for vendors who are always looking for new customers.
We have a lot to look at so let's get started. There is no particular order to today.
Crosman
I saw three PCPs in the Benjamin side of the Crosman booth that they are importing from Turkey — the Cayden, Akela and the Kratos. The Cayden is a .22-caliber 12-shot repeater that cocks via a sidelever. It fills to 3,000 psi and gets up to 60 shots per fill They say it will get up to 1,000 f.p.s. in .22. The stock is Turkish walnut and the suggested retail is $600.
The Akela is a 12-shot .22-caliber bullpup repeater that also cocks with a sidelever. It's long for a bullpup and again the velocity is supposed to be 1,000 f.p.s. Same 3000 fill and 60 shots. The stock is Turkish walnut. The price will be $650.
The Kratos another conventional repeating PCP that will be offered in both .22 and .25. It holds 12 shots in .22 and 10 in .25. Velocities are 1,000 f.p.s. in .22 and 900 f.p.s. in .25. The fill is to 3000 and they say 60 shots. The price will be $700.

The Benjamin Cayden is a beautiful new PCP with a Turkish walnut stock.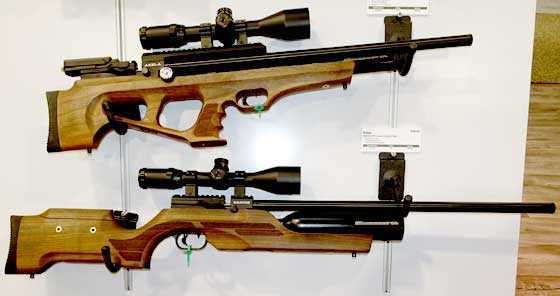 The Benjamin Akela (top and Kratos are two more new PCPs from Crosman.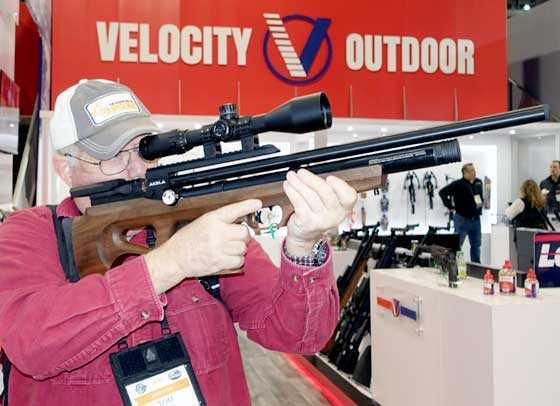 The bullpup Akela is large and stunning to look at.
What does BB think? Well, he's a little overwhelmed right now. Even if I never write another historical article this year there probably isn't time to test every new airgun. But these three intrigue me. Talk among yourselves and I will listen.
Ravin R29Xcrossbow
Matt Hedberg of Velocity Outdoor showed me the Ravin R29X crossbow. It's one of the slimmest crossbows on the market, at just 7-1/2- inches uncocked. This year it shoots bolts at up to 450 f.p.s. and it has earned the reputation of being one of the most accurate crossbows on the market.
What I like best is the silent windlass that's built unto the right side of the butt. You can cock it quietly while sitting in a high seat or blind.
I have no business looking at crossbows for an airgun blog, but what can I say? I am fascinated!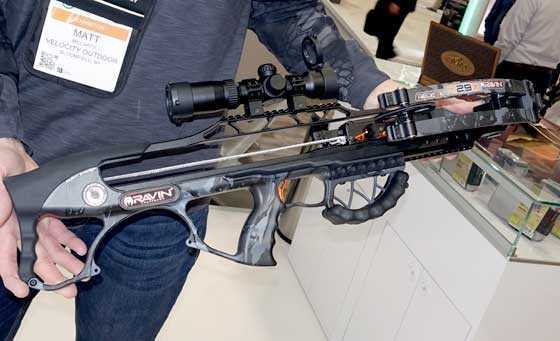 Matt holds the new Ravin R29X. The windlass connection is the circle to the left and above the name.
1077 FreeStyle
The Crosman 1077 we all know so well has been given a facelift. The new rifle is called the FreeStyle and features a three-tone color styling, a new beefy buttplate and a magazine design. Functionality remains the same as always, which is a good thing.

The Crosman 1077 FreeStyle has a new look for an old friend.
Air Arms
I enjoy visiting the Air Arms booth because they make airguns I never need to make excuses for. This year the news is big. They are finally finished with three years of testing and modifications on their new XTi-50 field target rifle that is postured for World Field Target Federation open class competition. It is bang-on, at just under 12 foot-pounds to both meet the WFTF rules and also to be legal as an unregistered air rifle in its United Kingdom homeland. When last I shot field target I shot a PCP and I can see the incredible value in this one. It would raise the score of even a duffer like me, I'm sure!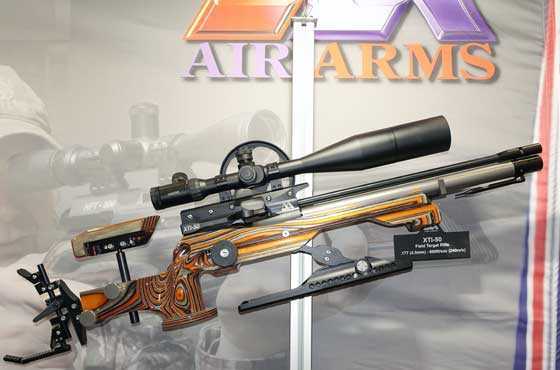 I'm sure we will hear a lot about the new Air Arms XT1-50.
All of the many adjustments have convenient locks to make them ever-so-easy to change, and when you are in a match that is a blessing. You don't have time to fiddle with Allen keys. An offhand shot follows a sitting shot by one lane and only a few minutes of time. You need to be ready.
I could spend an entire blog on this one rifle, but I'll focus on just one feature. Up front there is a built-in level that swings to the side when needed and back for storage. I don't know why it has taken this long to appear.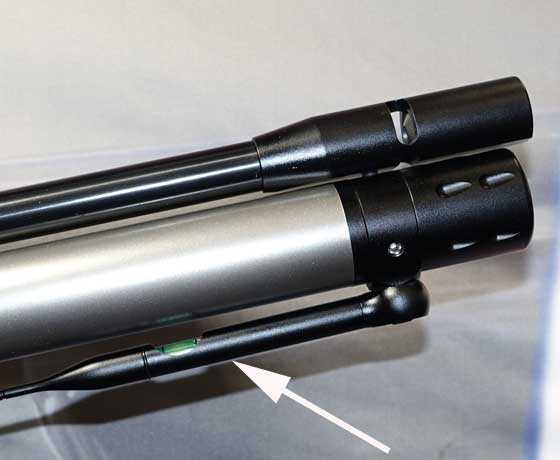 Air Arms has put a retractable level (arrow) on the XT1-50. Why doesn't every manufacturer do that?
Best of all, the retail price is slated to be just $2,500 retail. I know that is a lot of money, but for this level of quality and performance it really isn't. It's like saying that new Corvette sells for $30,000. I think the competition needs to be concerned!
Diana's modular platform
Okay, several of you (RidgeRunner) keyed in on this before I was ready to report it. Diana has redesigned their popular model 34 breakbarrel, yet again. But this time the changes were large and noticeable. They call it their Easy Modular System (EMS). I'll start with the elephant in the room — barrel alignment! Yes, sports fans, Diana has finally seen that barrel droop is not a good thing, and they give you the ability to adjust it out with shims. Please forgive the photo that follows, but they put everything inside a plexiglass case and photography is quite difficult!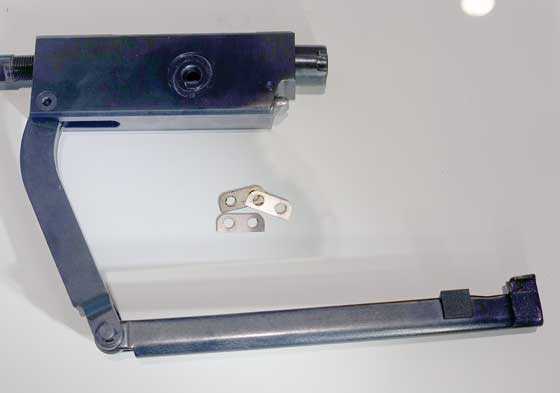 Here you can see two of the redesigned Diana 34 features. The cocking link is now articulated and Diana provides shims to adjust the barrel droop.
Besides the droop issue they have made the barrel changeable and threaded the muzzle with a silencer-friendly 1/2-inch by 20 UNF thread. The sights are also changeable. Better still, the rifle can be converted to a gas piston, if desired. Wow — it's almost as though they know what we want!
Gamo
I went to the Gamo booth twice, but this year was a repeat of all the years past, except for last year. There were Gamo reps in the booth, but they were busy in small clatches, talking to each other and showing no interest in telling me anything. Joe Syring, the VP of sales who was so helpful at last year's show, was nowhere to be seen.
I looked at all the guns on display and decided they were re-skins of their past airguns. Some, like the Swarm Bone Collector with its wood stock, were attractive, but I saw nothing that was really new. It may have been there, but I didn't see it.
New JSB Knock Out
On the last day I stopped by the Predator International booth and saw the new JSB Knock Out hollowpoint that had just arrived. It's a hollowpoint solid heavyweight lead-free pellet that's sized at 5.49mm for easier loading. It's tin, which is harder than lead, so you don't want to push it through a lot of deep rifling. It's made for very powerful air rifles like the AirForce Condor that also has a leade in the breech to allow chambering solid pellets. I want to test it for you.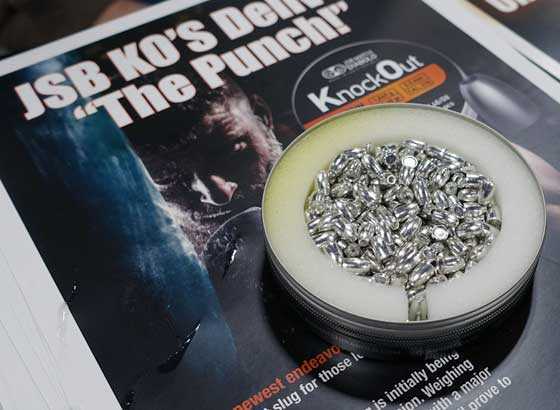 The new JSB Knock Out pellets are nice and shiny. They won't be inexpensive, but let's hope their performance is worth it.
Elsewhere at the show
Yes, there were a lot of other airguns at the show that I didn't cover. I did in years past, but I got tired of these upstart companies coming and going without ever bringing their products to market. Heck — the big guys do enough of that. We sure don't need to waste time with the wannabees! So, go ahead and get goofy over that new Russian Akula if you want; I will wait to see if it ever becomes real.
Summary
The 2020 SHOT Show is over. It was the best show, out of the 22-23 shows I have attended. What made it good were all the new products. The companies that are forging ahead are listening to their customers and applying what they hear.
The firearms side of the house can lament the "Trump slump" (a falloff in gun sales because the US social and political environments have stabilized) all they want — it hasn't crossed over into the airgun community. I did hear a lot of comments to the effect that airgun companies are "runnin' and gunnin'" just to stay abreast of the marketplace, but that's just life. Alice learned all about it from the Red Queen in Through the Looking Glass.
I am looking forward to a watershed year for airguns.