by Tom Gaylord
Writing as B.B. Pelletier
This report covers:
Semiautomatic?
Velocity
The test
Three pellets
Shot count
This is the first
Discharge sound
Trigger pull
Summary
Today we test the power of the new Sig Virtus MCX PCP air rifle. But before I do that, let's talk.
Semiautomatic?
In Part One I said the Virtus is a true semiautomatic. I said that based on shooting it on Sig day, where I paid particular attention to the function of the trigger. I felt it pull back for a short first stage and then hesitate at stage two before firing. The pull weight seemed consistent with a military rifle, which is something around 5-6 pounds.
Well, several readers got into a protracted discussion about that. Is it REALLY semiautomatic, or are the Sig engineers just fooling us? The discussion raged on for many days and I thought at one point someone was going to renounce their citizenship and move to Brazil! So I resolved to determine in this report once and for all whether the Virtus PCP is a real semiautomatic or not.
To do this I positioned the 30-round belt in the magazine so the 4 white chambers (two on either end of the belt) were just ready to get in line for the bolt to feed a pellet. The belt feeds counter-clockwise when viewed from the rear of the magazine with the access door open on your right side. Then I cocked the rifle and pulled the trigger four times without firing. Believe me — it takes the fingers of a safecracker to do that because this rifle really wants to fire! What I determined is the belt advances by one pellet chamber with each of the extremely short first-stage trigger pulls. You aren't going to be able to do what I did without a lot of practice. I tried and failed many times before success.
Because of that, what I told you in Part One is incorrect. I should have said that the Virtus trigger FEELS like a semiautomatic trigger, because at the end of the day it is really a double action trigger. That said, not one of you will be able to advance that belt without firing the rifle without practice. The Virtus trigger FEELS LIKE a semiautomatic trigger, but it really isn't. Because of that, it is not going to be restricted for importation into certain countries on the basis of being semiautomatic.
The bolt, however, does recock with each shot — semiautomatically. So there you are.
Velocity
Okay — this is what you paid for. Let's check velocity. I loaded the belt with three different types of pellets for this test. You won't believe what happened in this test because I did it and I still don't believe it!
The test
I tested three pellets, a light one, a medium-weight one and a heavyweight. For a light pellet I shot Sig's .22-caliber Crux Ballistic Alloy dome that weighs 10 grains. The medium-weight pellet was the JSB Hades hollowpoint that weighs 15.89-grains, and the 21.14-grain Beeman Kodiak was the heavyweight.
Since the belt holds 30 pellets and I had no idea of how many total shots there were on a fill to 3,000 psi, I filled the beginning of the belt with five of each kind of pellet. That's 15 of the 30 chambers filled. Then I filled the final 15 chambers in the belt with the other five of each pellet. That way we get a total of 10 shots for each pellet. And, if the air ran out in the first belt I would at least get good numbers for each pellet from the first five that were shot.

I loaded the belt with groups of five pellets. Each was seated with the Virtus pellet seating tool that pushed the pellet deep into each chamber.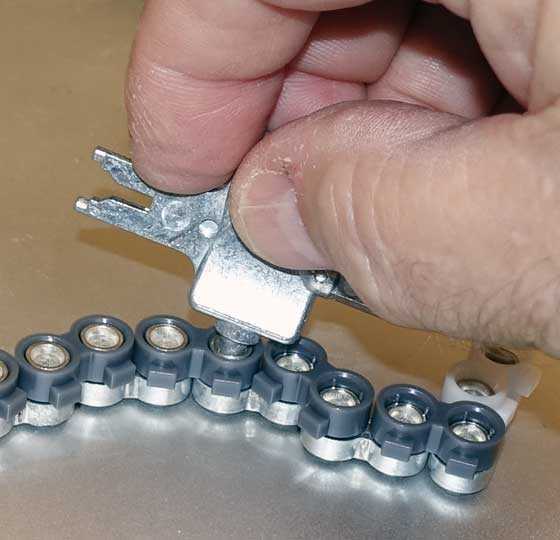 I seated each pellet with the Virtus seating tool that's stored in the grip.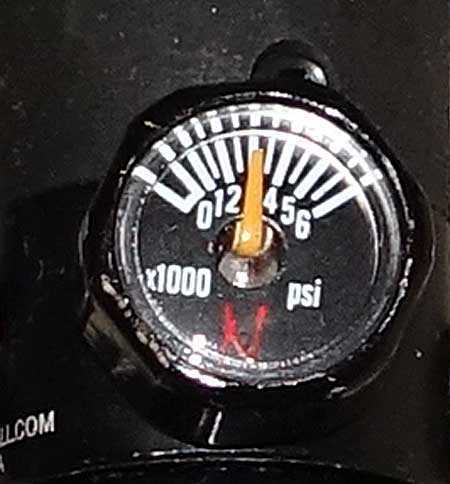 The Virtus onboard pressure gauge is smaller than a dime but very accurate! It agrees with my larger gauge on the fill tank.
I needn't have worried. I didn't get ONE belt on a fill. I got over FIVE FULL BELTS!!! Yessir — I got 152 good shots on one fill! Let me tell you the story.
The Confederate forces in the American Civil War called the 16-shot Henry rifle, "That blankety-blank Yankee rifle you load on Sunday and shoot all week!" Well, I'm calling the Virtus, "That blankety-blank Sig rifle you fill on Monday and shoot for the rest of your career!"
Three pellets
You need to see the numbers, so here we go. Here are the first 30 shots with the three different pellets.
SHOT……..Pellet……..Velocity
1…………..Crux………..745
2…………..Crux………..763
3…………..Crux………..740
4…………..Crux………..759
5…………..Crux………..730
6…………..Hades………584
7…………..Hades………566
8…………..Hades………583
9…………..Hades………586
10…………Hades………583
11…………Kodiak……..485
12…………Kodiak……..517
13…………Kodiak……..495
14…………Kodiak……..511
15…………Kodiak……..481
16…………Crux………..731
17…………Crux………..743
18…………Crux………..758
19…………Crux………..742
20…………Crux………..738
21…………Kodiak……..484
22…………Kodiak……..506
23…………Kodiak……..469
24…………Kodiak……..504
25…………Kodiak……..481
26…………Hades………586
27…………Hades………572
28…………Hades………591
29…………Hades………535
30…………Hades………578
Is that list confusing? Let me consolidate it for you. The Sig Crux Ballistic Alloy pellet averaged 745 f.p.s. The low was 730 and the high was 763, so a spread of 33 f.p.s. At the average velocity the Crux pellet generated 12.33 foot-pounds of energy at the muzzle.
The Hades pellet averaged 576 f.p.s. The spread went from 535 to 591 f.p.s. That's a difference of 56 f.p.s. At the average velocity the Hades pellet generated 11.35 foot-pounds at the muzzle.
The Kodiak pellet that weighs 21.14 grains averaged 493 f.p.s. The low was 469 and the high was 517 f.p.s., so a spread of 48 f.p.s. At the average velocity the Kodiak pellet generated 11.41 foot-pounds at the muzzle.
So the Virtus is indeed a 12 foot-pound air rifle and indeed it has a large velocity spread with all three pellets I tested. I think some of the spread could be due to the variable pressure with which the pellets are held by the individual chambers in the belt.
Shot count
At this point I loaded a second magazine with Sig Crux Ballistic Alloy pellets and commenced to see how many more shots were on the fill. Here is where I usually give you every shot and its velocity. Ain't gonna do that today. Too many shots! I shot 4 more full magazines! Gonna condense it for you.
Shot….Vel.
31…….745
41…….729
51…….746
61…….741
71…….734
81…….746
91…….736
101……735
111……752
121……737
131……729
141……750
151……731
152……748
At this point the rifle fell off the reg (I think). But even then it fought to keep its velocity up!
Shot….Vel.
153……710
154……738
155……714
156……726
157……701
158……731
159……713
160……714
161……689
162……709
163……693
164……690
165……680
I called it at this point. After 90 minutes of shooting, loading and writing down the numbers I was tired!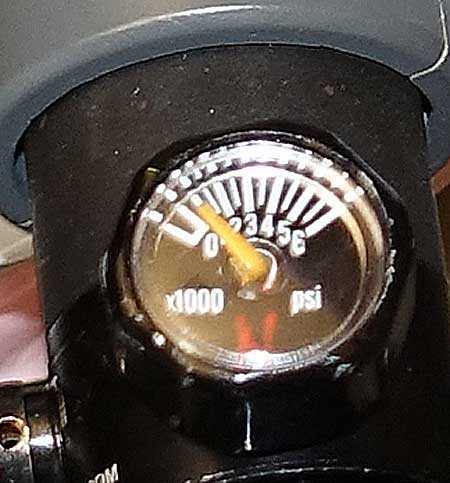 This is the onboard gauge after the last shot. Sorry for the blurry image!
In the first 150 shots — that's 5 full magazines of 30 shots each — the low recorded for Crux Alloy pellets was 718 f.p.s. on shot 65 and the high was 763 f.p.s. on shot number 2 That is a difference of 45 f.p.s. I know that spread is large, but I do think some of it is the belt and as it wears in I believe the variation will get smaller.
This is the first
I think this is the first time the Virtus has been tested this way. So these numbers are how the gun performed in BB Pelletier's prone-to-reveal-everything-that-is-wrong-and-watch-as-it-now-breaks-in-his-hands! I'm so glad I got to do it because I would not have believed anyone else reporting number like these.
Discharge sound
I am still wearing those state-of-the-art hearing aids and the Virtus is not a 4 on the 5-point noise scale. It's about a 3.5-3.7.
Trigger pull
One final bit of data for you— the trigger pull. I guessed 3 lbs. for stage 1 and 6 lbs. for stage 2. I was wrong.
"Take me home, mother, and put me to bed! I have seen enough to know that I have seen too much!"
The first stage trigger pull in the test rifle is 6 lbs. 5 oz. and stage two breaks at 8 lbs. 8 oz. I tested the trigger over ten pulls with an electronic gauge and averaged the numbers for you. I guess I have strong fingers?
Summary
Are you interested? I know I am! What other wonderful surprises lurk within the shell of the amazing Virtus PCP?