Tom Gaylord
Writing as B.B. Pelletier


1896 New King single shot BB gun.
This report covers:
How this happened
Detailed history
Pop quiz
BB shot and air rifle shot sizes
Getting ready
Good news!
Summary
Sometimes we get the rare opportunity to examine something that's really from the past. Today is such a time. We will begin looking at a New King single shot BB gun from Markham. It is the 1896 model that was made from 1896 until 1905. Mine was made in either 1900 or 1901, as I will explain.
How this happened
Periodically I look at eBay to see what sort of antique airguns they have and a couple weeks ago I saw this listing. So I went to the Blue Book (the new edition of which should be available by this Christmas) and saw that in 95 percent condition this was a $1,950 BB gun. In 20 percent condition it is a $400 gun. This one is 10 percent at best, which meant that the opening bid of $150 was reasonable. But oddly there were no bidders. So I bid on it and won it without opposition. The listing said that it works, which is far more important to me, and I took a chance that it did. So far — it does!
If you have never seen a BB gun from this era the size might surprise you. It's very small! The stock is pushed down to cock a mainspring that is surprisingly light. I know it must have lost some force over the century-plus it's been in existence, but it seems obvious that this BB gun was purposely made for a very young boy or girl. It's 30.5-inches long and weighs just 1 pound 11.5 ounces.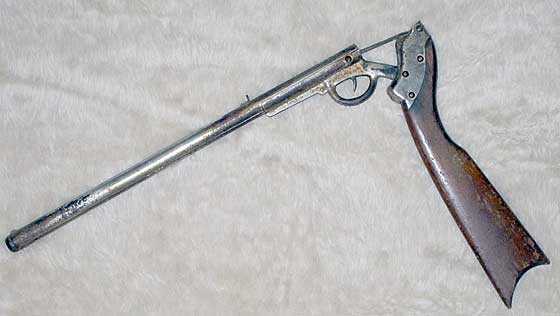 This is how the gun cocks. It's very easy!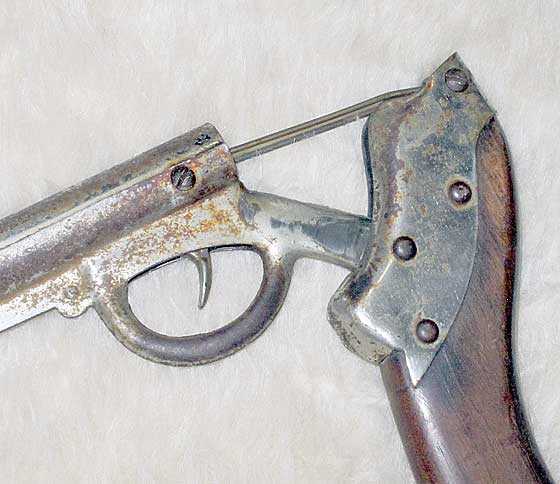 And here is a detail shot of the gun broken open.
Detailed history
Markham was a BB-gun maker in Plymouth, Michigan, just across the railroad tracks from Daisy. They could very well be the first maker of BB guns.
The Blue Book does not give a lot of history on this model, but I found a website that does. Just prior to my 4th variant gun, the 1896 had a button on top that had to be pressed to release the barrel for cocking. My gun was the first one that used a friction release to keep the barrel closed. It was made in either 1900 or 1901. My buttstock is rounded on its edges (everyone calls it the oval style), where later buttstocks are slab-sided. Also the muzzle of my gun is rounded, where later muzzles are flat. And my rear sight is pressed into a sheet metal slot and then crimped, where the next version has the rear sight soldered to the gun. It's not that often that we can pin down a production date this close on a century-old BB gun, but this time we can, because of small variations and lots of good documentation.
No one had solved the problem of welding a thin sheet metal tube together so it was airttight when this gun was made, so the underside of the gun has a soldered patch that runs the full length of the "barrel" (the outer tube that encloses the shot tube, which is the real barrel) to seal the compression chamber against air loss.
The front sight is an extremely small blade and the rear sight is a crude notch. The trigger is a fat cast iron blade that is tilted too far forward and larger hands will find the trigger guard too small. But as I mentioned — this gun was made for children.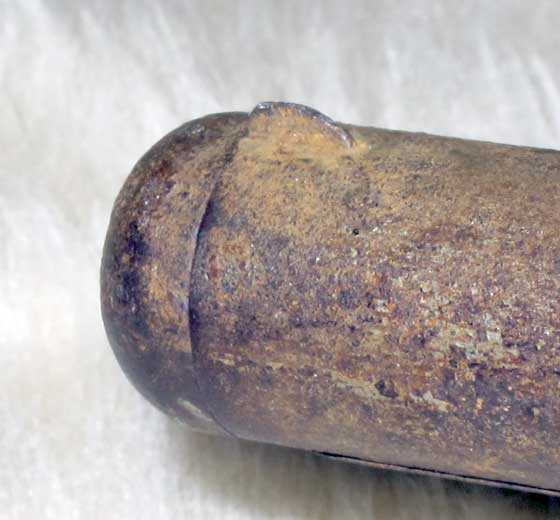 The front sight is very small, but visible in the rear notch.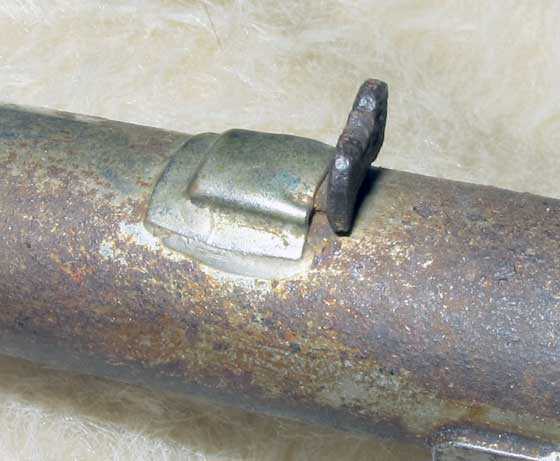 The rear sight slips into a base that's soldered onto the spring tube, and then it's crimped in place.
Pop quiz
If you have been reading this blog for awhile you should know the answer to what I am about to ask. What ammunition does this BB gun shoot? If you said 0.180 lead balls, you're right! That is shotgun shot size BB — with sizes B and BBB bracketing it. It's the size shot that Clarence Hamilton used for his first BB gun that became the first model Daisy wire stock BB gun.


Daisy's first model wire stock BB gun wasn't the first BB gun ever made, but it set the standard for all those that followed. It shot BB-size shot, which is 0.180-inches in diameter.
BB shot and air rifle shot sizes
Daisy dictated the size of shot for all BB guns, by virtue of being the 500 lb. gorilla. So, from 1888 until around 1905, all BB guns shot BB-shot. In 1905 Daisy downsized the shot their guns used from 0.180-inches to 0.175 inches. They changed the name from BB-shot to Air Rifle Shot, and for the next 20 years all their BB guns were made to shoot lead air rifle shot. It shot faster and took less lead so it was less expensive to produce — an important consideration when you are making shot by the billions. In the 1920s they changed the shot again to steel balls, but that's another story.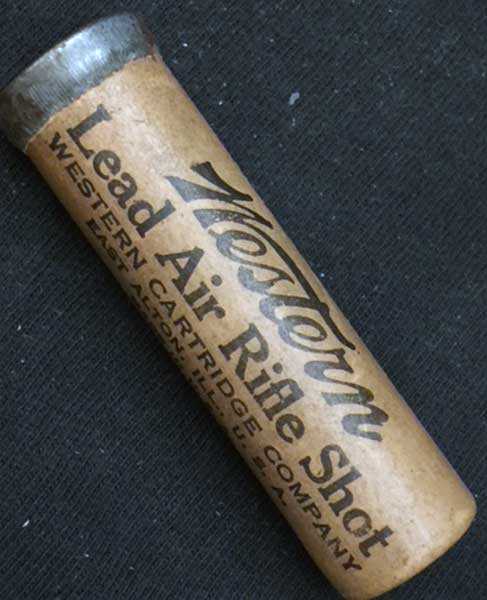 In 1905 Daisy reduced the shot size to 0.175-inches. It went faster and less expensive to produce.
So, this Markham BB gun was definitely made for BB-shot. But I don't have any 0.180-inch shot. Or, do I? If you remember the Tell BB gun test, I found that gun shot best with 4.55 MM lead balls. They measure 0.179-inches in diameter. That's pretty close so maybe they would work? Several shots demonstrate that they do work!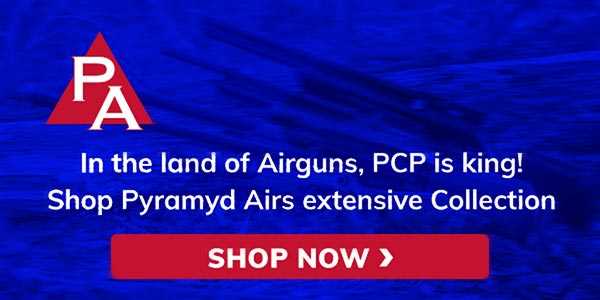 Getting ready
This BB gun is more than a century old and as you can see it has led a hard life. But a BB gun mechanism is robust and prone to last a long time. The Army shot several Daisys more than 20 million times each during their Quick Kill training at Ft. Benning. No way has this gun had even one one-hundredth as much use! It's just not been cared for.
I know without a doubt that the plunger is sealed with leather, so I dropped 10 drops of Crosman Pellgunoil down the muzzle and stood the gun on its butt overnight. And here is a tip. Some of these guns will leak oil out the back of the action when you do this, so I stood mine inside my large kitchen-type plastic wastepaper basket that's next to my desk. It held the gun muzzle-up and kept any oil off the carpet.
This is a single-shot BB gun and it's loaded from the muzzle — just like a Daisy 499. The bore is tapered in the back and the shot jams itself in when the barrel narrows.
Good news!
The really good news is that as I was reading one of my short stories in my book, BB Guns Remembered, I discovered how to get another old BB gun I have up and working again. So today's report will precede a report on one of the most beautiful BB guns ever made. But first we finish looking at this one.
Summary
This will be as complete a test as I can give, but don't look for this gun to surprise us. It represents where BB gun technology was a century ago — in the days of, "I'm just glad that it shoots!"