by Tom Gaylord
Writing as B.B. Pelletier
This report covers:
What is a lookalike?
A typical lookalike
Colt held back
They got better
Military or civilian?
I could go on
Today we begin a series on lookalike airguns. I don't know exactly how long this could be, but I suspect it could be large. I also know that this subject is a favorite for many of you.
What is a lookalike?
A lookalike airgun is one that resembles an iconic firearm. It gives the owner the chance to experience the feeling of ownership and operation while remaining in the safer, less litigious world of airguns.
A typical lookalike
In a moment I will discuss the difference between a military lookalike and a purely civilian one, but let's begin with a look at a gun that exists in both camps — the iconic Colt Single Action Army revolver! The SAA, as it is called, was brought out by Colt as the next step in revolvers from their famous black powder cap and ball handguns. While it wasn't the last in the line, the Colt 1860 Army is perhaps the best example of an evolved single-action cap and ball revolver. It certainly is the best example of a Colt revolver from that time.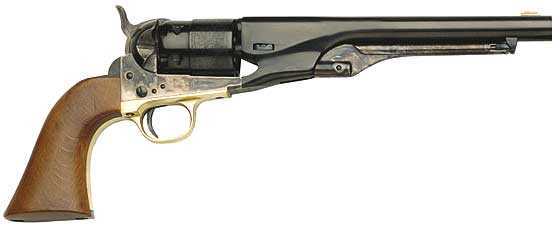 Colt's 1860 Army revolver was highly advanced for a cap and ball black powder handgun.
When Smith & Wesson patented the revolver cylinder that was through-bored (open all the way through the cylinder) in the 1850s, they allowed the use of cartridge ammunition for the first time. Their first firearm on that patent was the model 1 that was initially chambered for .22 rimfire. It came to market in 1857 — just in time for the American Civil War. The cartridge it was chambered for was just called a .22 rimfire, but as that cartridge line evolved in the latter 1800s, it became known as the .22 short.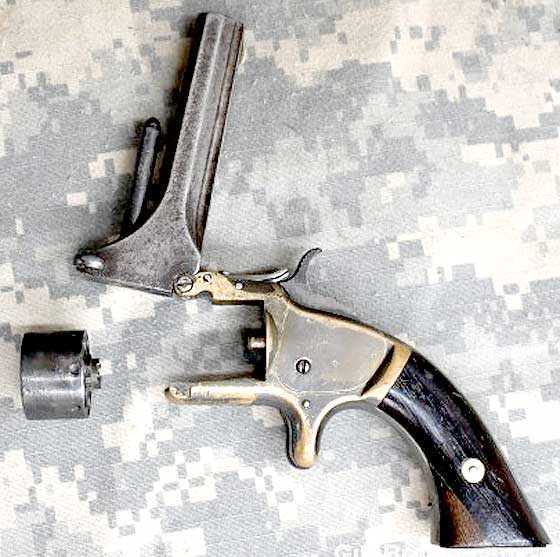 Smith & Wesson's model 1 came out in 1857 and lasted until 1882. It was chambered for what we now call the .22 short cartridge.
The model 1 was very popular as a backup gun by Northern troops in the Civil War. It didn't have much power — perhaps 25 foot-pounds or so, but it was better than nothing.
Colt held back
The bored-through cylinder was patented by a former Colt employee, Rollin White. Why he didn't try to sell the idea to Colt first we may never know, and maybe he did. Smith & Wesson pounced on it and paid White a royalty of 25 cents per gun, which was a huge sum for the day. But they also agreed he would defend the patent and doing that eventually ruined him, financially.
Colt couldn't make cartridge revolvers as a result of the S&W patent, so they made variations on their 1860 model until the patent on the bored-through cylinder ran out in 1872. Then they brought out their ubiquitous 1873 SAA that is still in production by many manufacturers today.


Colt Single Action Army. This one was a gift to BB from the readers of this blog, following his 3.5-month hospital stay in 2010. It was not made by Colt, but it is a very accurate copy of that firearm and is chambered in .45 Colt. Reader Kevin was the focal point for this gift!
If you grew up in the 1950s and the early '60s like BB, you watched westerns on television. Two of my cats were named Roy Rogers and Dale Evans, after two western stars of the time. Their real names were Leonard Franklin Slye and Frances Octavia Smith.
I idolized all things cowboy and so when Crosman brought out the .22-caliber SA-6 (single action six) pellet revolver in 1959, I bought one with my paper route money.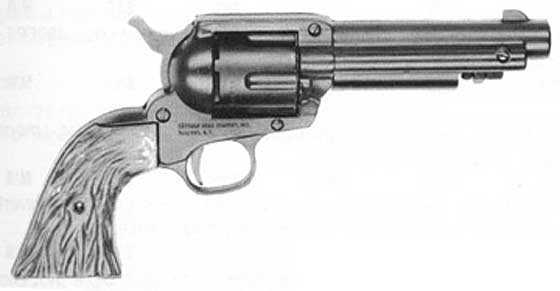 Crosman-SA-6.
I didn't have a holster for that revolver and, since holsters cost money, I carried the SA-6 in my right front pants pocket — a practice that was common in my day and also one that I do not recommend. I loved that .22 caliber pellet pistol. One day while "hunting" in the woods around the Cuyahoga River in Stow, Ohio, a rabbit jumped out of the weeds and frightened me. When my "cool" returned several seconds later I calmly drew my pellet pistol and fanned off 6 quick shots into the weeds where the rabbit had gone 5 seconds before, earning the nickname, "Fanner 50" from my friend who was with me. For readers less than 60 years old, a Fanner 50 was a very popular cap gun of the day.
They got better
So the SA-6 was an early attempt at a lookalike SAA. The CO2 cartridge hid beneath the barrel, covered by a black plastic sheath that camouflaged it very well. But things would get better.
In the late 1990s I was at the home of Wulf Pflaumer's sister in Maryland. Wulf is one of the two founders of Umarex. We were discussing the lever action rifle he was about to bring out and I told him that a realistic SAA would also be a hit. He told me they wanted to make one but the revolver's grip frame was too short to allow a 12-gram CO2 cartridge to fit inside. I told him to try the Colt 1860 Army grip frame. It is 1/2-inch longer and the outlaw, Dakota, at Frontier Village amusement park where I worked in college had put one on his SAA because the SAA grip was too short for him. The 1860 grip frame fit a 12-gram cartridge perfectly and almost no one notices the difference. The rest is history.
A couple years later Umarex brought out the Colt SAA in both pellet and BB gun versions and they have now produced almost every variation of that firearm except for some reason the 4-3/4-inch barrel version that many shooters have asked for. Bat Masterson carried a 4-3/4-inch SAA, as did many gunfighters, because it cleared the holster quicker and was therefore faster to draw.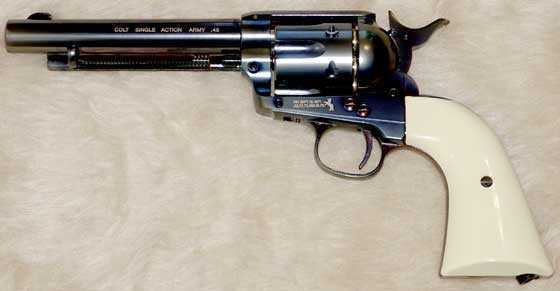 The first Umarex SAA was very realistic, as have been all that followed.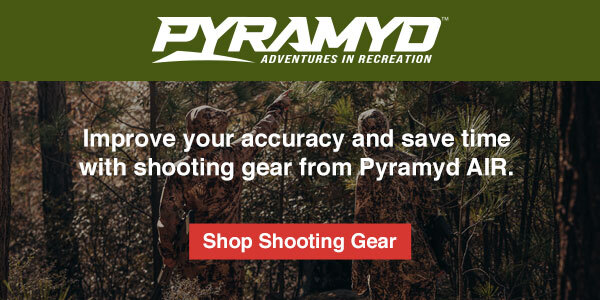 Military or civilian?
I said I would return to this topic. The Colt SAA we have been discussing is both. It was first purchased by the military, but civilian sales soon surged past what the military bought. The SAA is so ergonomic that, until the German P08 Luger pistol came around, it was the long pole in the tent. And it's still one of the most desired, and most recognized handguns of all time.
There are things about military firearms that make them attractive to shooters. Strength, design and robustness are all main factors, but history trumps everything. No one who has ever held and fired an M1 Garand would think of it as an attractive weapon, but Japan, who was an enemy of the US during WW II, thought enough of it to create 250 close copies for study. Called the Type 4 rifle (and sometimes the type 5), it was homage to the American rifle that so dominated our military campaigns in the latter half of the war.
That addresses why we have military lookalike airguns, though I probably have more than one more report to do on just them, but what about civilian firearm lookalikes? Are there any of them? There certainly are. I won't get into them deeply this late in today's report, but for starters, don't forget the Crosman 38C and 38T revolvers.
And this I will also say, though I call them civilian firearms, the military buys oneseys and twoseys of just about anything. Just because Sergeant So-And-So carried one on the flight line at Da Nang doesn't make it a military firearm. I'm talking about firearms the military officially adopted — not something Private Ryan carried in his combat boot.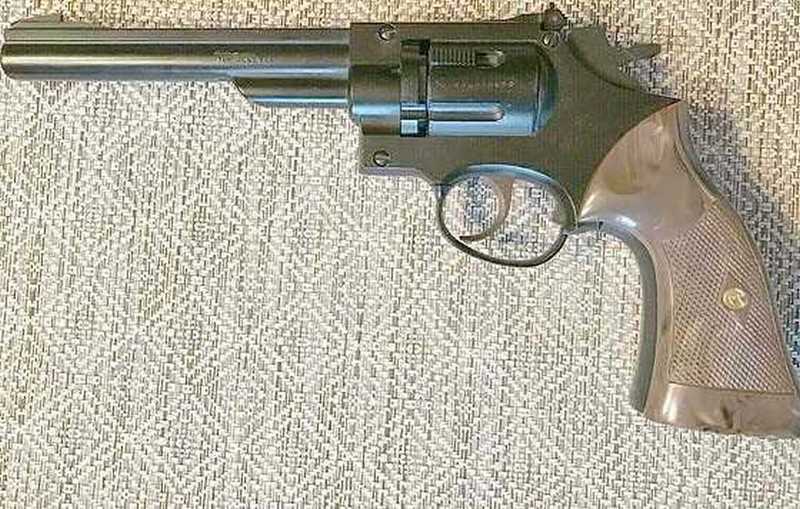 Crosman's 38-T from the 1970s was a replica of S&W's purely civilian (and law enforcement) revolvers.
I could go on
And I plan to. The world of airgun lookalike/replica guns is both a hot topic at any time and red-hot today. Even though this report is in the history section, we are still living in the heyday of lookalike airguns.