by Tom Gaylord
Writing as B.B. Pelletier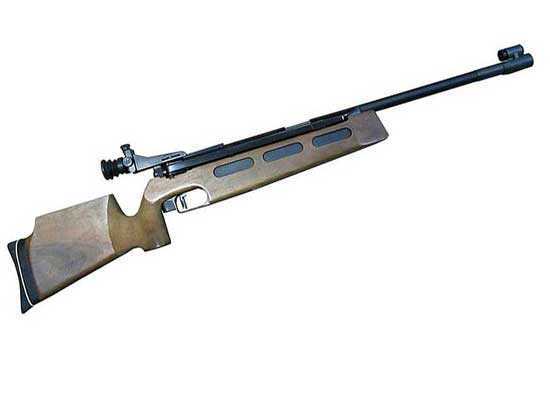 The Diana 75.
Let's make lemonade
Part 1
Part 2
Part 3
This report covers:
Three groups
Taped the targets
Hand-held
Follow-through
Glasses
First group — H&N Finale Match Light
Group two — RWS R10 Match Pistol
A secret
Head sizes and groups
Group three — Vogle Match pellets
Velocity?
Why?
Another accuracy test
Today we revisit the Diana 75/Beeman 400 for a very special reason. You readers thought the rifle didn't perform up to expectations last time in the accuracy test, and neither did I. So I took every one of your recommendations and applied them today.
Three groups
I only have three 5-shot groups to show you from today's test. I shot them with the two pellets that did the best in the last test, plus one pellet that I thought might be on the fence. I shot from 10 meters and I'll tell you the rest as we go. Much of what I will say in this report is for me, for the next time I shoot this rifle.
Taped the targets
To keep the targets from tearing I put tape on their backs. I used aluminum foil tape like Hank recommended on some of the bulls and a white form of duct tape on the rest. The aluminum tape tore the target paper around the edges of each hole and was not as clean as the white duct tape, so next time the white tape is what I'll use. Just cover the back of each bull and that's it.
Hand-held
Someone, I don't know who, recommended holding the rifle tight to the shoulder. He said the Giss contra-recoil system does not like to be rested directly on a bag. Maybe that was a comment to the Diana 10/Beeman 900 pistol that I tested awhile back. Either way, today I rested the forearm on the flat palm of my off hand that was resting on the sandbag. I did not grip the forearm with my fingers. I also pulled the butt firmly into my shoulder and my right hand gripped the pistol grip of the stock firmly.
Follow-through
Another person said my groups last time looked like I wasn't following through. I had to agree with him. I made a concerted effort to follow through on every shot this time.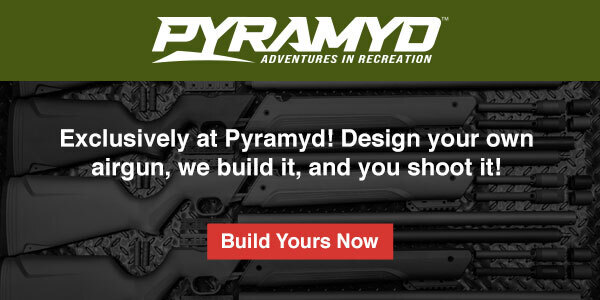 Glasses
Instead of the 1.25-diopter reading glasses that I would normally use, I wore my regular glasses today. My vision is 20-25, corrected to 20-20 by my glasses. The front sight diopter was clear and I was able to center the bull precisely.
Okay, that's a lot of stuff done differently than last time. Last time the rifle was rested directly on the sandbag, the targets were not taped, I wore the reading glasses and I held the rifle in a classic artillery hold. I also agreed that I was probably not following through on every shot last time. So all the important stuff was changed today to conform to the comments made by you readers.
First group — H&N Finale Match Light
In the last test I thought that H&N Finale Match Light pellets did the best. When I measured the groups I discovered that a different pellet beat them, but I still had a very good feeling about this pellet. The best group with Finale Match Light last time was five in 0.186-inches between centers.
Today I put five Finale Match Light pellets into 0.14-inches between centers. That is a gold dollar group, because it's smaller than 0.15-inches between centers. It's also the best group of the day — or at least the best group that I will show you.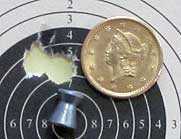 The Diana 75 put five H&N Finale Match Light pellets into a 0.14-inch group at 10 meters.
This group was high, so I adjusted the rear sight down 9 clicks. I can't hear the clicks when I adjust, but the numbers on the scale tell me what I am doing.
Group two — RWS R10 Match Pistol
The next pellet I tried was the RWS R10 Match Pistol wadcutter. In the last test this pellet did the best, putting five into 0.162-inches at 10 meters. This time it didn't group as tight, with five in 0.198-inches, but that's still good enough for the silver trime (groups that are less than 0.20-inches between centers).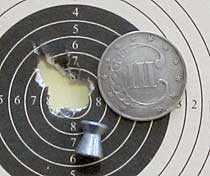 The Diana 75 put five RWS R10 Match Pistol pellets into a group that measures 0.198-inches between centers at 10 meters.
A secret
And now I'll tell you a secret. I didn't shoot just three groups this time. I shot four! The first group of R10 pellets that I haven't shown measured a tight 0.121-inches between centers — BUT, there is also a lone shot that hit about a half-inch to the left of the group. I believe on the last target that I am about to show you I might have fired one of the five shots at the wrong bull and it was the flier I just mentioned with this first R10 group. I believe that, but I'm not sure.
I looked at the small R10 group through the spotting scope after completing it and I didn't see a hole off to its left, but when I collected the target there it was. And, on the next group you are about to see, I can only see what appear to be four holes. Also, the wild shot on the R10 bull would have grouped with the rest of these other pellets, had it been shot at the correct bull.
I'm not showing you that smaller R10 group because I don't know for sure what happened. But I saw the small group clearly through the scope and I believe I would have also seen the stray hole if it had been there. Hey, guys — this is what happens in the real-world!
Head sizes and groups
Jerry Cupples and I had talked for a long time the day before about Pelletgage and I had pellet head sizes on my mind. I just bought 6,500 Vogel target pellets that came in a bulk pack. They can be any head size and I suspected this Diana 75 likes the larger sizes. So I checked the head sizes of both the Finale Match Light pellets and the R10 Match Pistol pellets. I didn't sort them by head size — I only wanted to know what their general head sizes were in the tin, since they were the two most accurate pellets in this rifle.
Finale Match Light pellets had head sizes that ranged from 4.525 to 4.53mm and R10 Match Pistol pellet heads ranged from 4.515 to 4.525mm. I'm using a special Pelletgage that Jerry produced that goes down to the thousandth of a millimeter.
Then I hand-sorted 11 Vogle pellets with head sizes greater than 4.53mm. I know that is a larger head size than the other two pellets, but at the time I thought bigger was better in this rifle.
Group three — Vogle Match pellets
This group, which may only be 4 shots (it was backed by aluminum tape), measures 0.547-inches between centers at 10 meters. Clearly, and in comparison with the other two (or possibly three) groups, the Vogle is not the right pellet for the Diana 75 — at least not Vogels with heads larger than 4.53mm!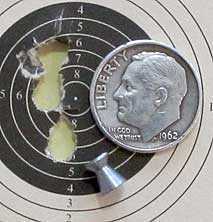 Either four or five Vogle pellets made this 0.547-inch group at 10 meters. I think the Diana 75 does not like pellets with a head size larger than 4.53mm, and it may not like Vogel pellets altogether.
Velocity?
Now I will address something several readers mentioned after they read the velocity test in Part Two. They wondered whether the new piston seal that Dave Slade installed in the rifle a few years ago was still breaking in. You may remember that the former owner of the rifle sold it to me knowing that the velocity was slow. Those readers who commented wondered whether the rifle might speed up as that new seal was used.
Well, between Parts 3 and today I have shot the rifle another 60 times since the velocity test was done. If there is some break-in happening we should start seeing it by now, I think. So I shot another string of 10 RWS R10 Match Pistol pellets for velocity.
The average for this pellet in Part 2 was 534 f.p.s. The low was 526 and the high was 543 f.p.s., so the spread was 17 f.p.s.
Today I oiled the piston seal with two drops of silicone chamber oil, then fired 9 shots to settle down the powerplant. When oil stopped spraying out on every shot, I started the chronograph. The average today was 545 f.p.s and the spread went from a low of 539 to a high of 551 f.p.s. — a difference of 12 f.p.s. After 60 shots since the last velocity test the average velocity for this pellet is up by 11 f.p.s. and the spread is down by 5 f.p.s. It's a small difference but it does appear that the new piston seal could be breaking in. I plan to watch the velocity of this rifle over time and see how it develops.
Why?
Why did I run this extra accuracy and velocity test? I did it because in the future I want to pit this rifle against my FWB 300S that is the most accurate 10-meter rifle I own. I learned a lot today, and I have explained all of it to you in this report.
This rifle came to me with a test target group that measures 0.065-inches between centers. As far as I'm concerned, we have not yet seen performance of that level from this rifle. That means one of two things, or both. Either I haven't yet found the right pellet for the rifle, or I haven't yet found the right head size. I think the ideal head size for this rifle is around 4.52mm. Based on the smallest group of R10 pellets that I didn't show you, the group that might measure 0.121-inches between centers if I'm right about the flier, the R10 may be the best pellet and 4.52mm may be the correct head size.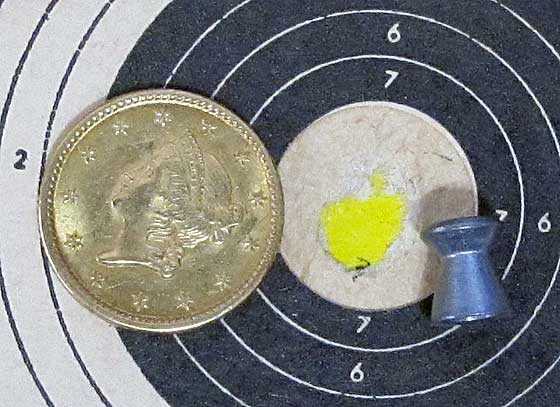 The test target that came with the Diana 75 is serial-numbered to the rifle. A group of five pellets are in 0.065-inches at 10 meters.
Another accuracy test
I see another accuracy test is in store for this rifle. I want it to do its very best when it faces my FWB 300S, because that rifle certainly will be doing the same.