by Tom Gaylord
Writing as B.B. Pelletier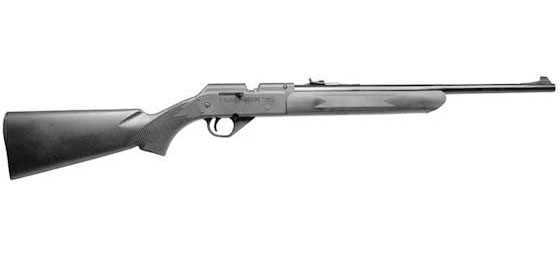 Daisy 35 multi-pump pneumatic.
This report covers:
What's different?
Smoothbore
Lightweight and easy to pump
Third time with the 35
The gun
Sights
Synthetics
Solid
Summary
Today I have a different airgun to look at — the Daisy 35. It's a .177-caliber smoothbore multi-pump pneumatic that sells at a very competitive price. It shoots both BBs and pellets and we are going to give it a thorough examination!
What's different?
The model 35 came out in 2011. It coexists with Daisy's iconic model 880. Yes, it is a few dollars cheaper, but that's not what it has going for it. Today as we look at the airgun we will examine some of the reasons the 35 exists.
Smoothbore
For starters the 35 is not rifled. This is a real BB gun — not an air rifle. Now — does the lack of rifling also mean that it's inaccurate? Not necessarily, at least not at close range. We have seen smoothbore airguns put ten pellets into very tight groups at 10 meters, and that's the distance at which this little airgun thrives. Call it 25-35 feet. The box says it's for older kids, 16 and up, but that is because of the power. The velocity puts the 35 in Daisy's Powerline range, which is a range slated for older youth. The Pyramyd AIR website says the Daisy 35 can push a 5.1-grain steel BB out at up to 625 f.p.s. but Daisy says 690 f.p.s. on the box. Naturally I will test this for you.
Lightweight and easy to pump
The reviews say it's good for younger kids, and I concur with that. The 35 weighs 2.25 lbs., according to the Pyramyd AIR description. I put the test gun on my kitchen scale and recorded 2 lbs. 7.8 oz, which is closer to 2.5 lbs. That's still light, no matter how you look at it.
The pump handle and the pump rod are the short stroke kind, unlike those same parts on the Daisy 880. Yet as short as the pump linkage is, it's also quite easy to pump. In fact that is one of the things most reviewers comment on.

The pump handle is short, but the gun pumps easily.
The 35 has a pump range of 3 to 10 strokes. Do not exceed 10 pumps as nothing is gained and parts of the pump linkage are strained by too much stress.
Naturally younger kids need adult supervision when shooting an airgun of any kind, but the Daisy 35 is one that's made for them. Yet, with a pull of 13-inches, it's not uncomfortable for an adult.
Third time with the 35
I tested the Daisy 35 back in 2011-2012, right after it first came out. I got lousy groups in that first 3-part test, but Daisy contacted me after one of our readers told them he was getting far better accuracy than I did in my test. In those days Daisy was quite proactive and I was contacted by their Vice President of marketing, Joe Murfin, who asked me to try the accuracy test again. I did test the 35 for accuracy again, in March of 2013, and I did get markedly better groups this time. I also learned what works best with the 35, and I will pass that along to you in this report.
Additionally in that second test, I learned that the 35's ultra-small loading trough often causes pellets to flip around backwards as they are rolled in. That can be a source of accuracy problems. Fortunately one of our readers recently told me about cross-locking reverse tweezers that will hold pellets in tight places, so I am set up well for testing this 35.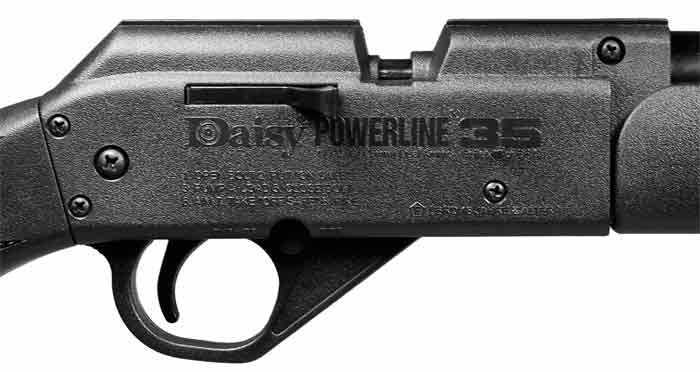 The loading trough is very small. BBs load from the magazine via a magnet on the bolt, but pellets must be loaded singly, one at a time. I will use cross-locking tweezers for this.
And finally I discovered that a Daisy 35 does best with premium pellets, just like any other airgun. I had originally tested the first 35 with cheap pellets, but in the second test I selected premium pellets that reduced the group size by more than half. Based on all of this I would say that I am fully prepared to give this Daisy 35 a fair and honest test.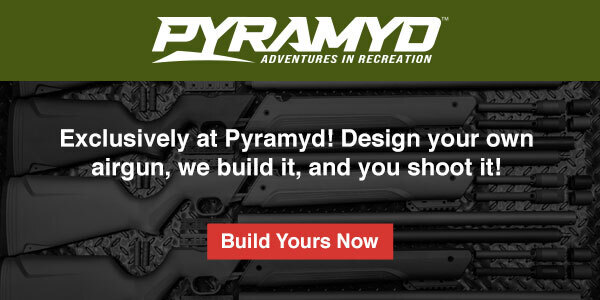 The gun
The Daisy 35 is a lightweight multi-pump pneumatic that shoots either BBs or pellets. When shooting steel BBs the 35 is a 50-shot repeater. I emphasize steel BBs because there is a magnet on the bolt tip that pulls the next BB out of the magazine and holds it on the bolt tip for loading and firing. Obviously the BB has to be ferrous for this to work. I plan to test the gun with Smart Shot, but they will have to be loaded singly like lead pellets.
Sights
There are no fiberoptics on the sights! I believe this is a cost consideration but it does make for a nicer set of open sights.
And the sights are fully adjustable within a small range. Elevation is by a stepped ramp and windage is by a sliding rear notch.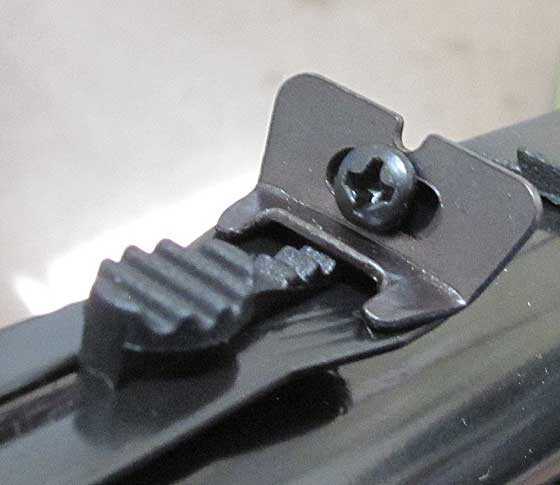 The Daisy 35 rear sight adjusts in both directions. See what a little thought can do for very little money?
Synthetics
The airgun is largely synthetic on the outside. The barrel has a tapered outer steel shell wrapped around a synthetic interior, inside of which a thin soda-straw steel barrel rests.
Solid
I was surprised to see how many reviews of the gun said it is surprisingly solid and well-made. I have to agree with that assessment. As lightweight as it is you would think that it feels like a toy, but when it fires it seems quite substantial. I know this is just Part One and there's still a lot of testing to go, but I have already pumped the gun and shot it several times.
Summary
What we have in the Daisy 35 is a solid little youth airgun that's affordable and substantial. I plan to see just how great a value this little airgun is. Stay tuned!