by Tom Gaylord
Writing as B.B. Pelletier
Today we have a guest blog by reader Cloud9. He shows us his repair of a friend's Crosman 101 last year. This was first posted on the GTA forum in April of 2020, at the start of the quarantine period.
If you'd like to write a guest post for this blog, please email me at blogger@pyramydair.com.
Over to you, Cloud9.
This report covers:
Whose 101?
No-go
Valve tool
Be careful!
Get going
My big vise
Restoration
Paint
Stock
Assembly
The result
Thanks|

Whose 101?
Last year I restored a Crosman 101 for a friend. The rifle belonged at his father and he and his brothers shot it a lot when they were kids. He contacted me about fixing it and getting looking better. I like a challenge, so I agreed.
No-go
When I got the rifle it wouldn't pump or fire. The trigger was loose and floppy. The pump arm was bent and it had a large crack in it.The metal was missing lots of black paint which is typical for these older Crosman rifles — especially when they've been well-loved and used. The steel parts had quite a bit of rust on them.
Valve tool
To remove the valve from a 101 requires a special valve tool. The valve in this one was so stubborn that I broke my tool trying to remove it! Now what?
Be careful!
When your wife asks for a new kitchen trash can you have to be careful. She wanted one that was white like the old refrigerator it stood next to, but you bought her a stainless one. That would never do!
Fortunately the fridge was old and you both knew it was on its last legs, so maybe it was time to replace it before it went out altogether. You went to the local appliance center and — WOAH! When did refrigerators start costing $2,500? You went there with $800 on the brain. But you went there to buy one and buy it you did. Installation wasn't that much more and within a week you had a gleaming new stainless steel fridge keeping your food cold. This one was wider and lower than the old unit and it highlighted a large gap between the old cabinets and the top of the refrigerator.
Back to the appliance/kitchen center you went and discovered that the custom bleached ash cabinets your wife really wanted, the ones with the glass in the doors, would cost $10,000 installed, but these would have the lights your wife always wanted, to see her work on the formica countertops.
Formica! You promised her when you bought the house 15 years ago that someday you'd get rid of those ugly countertops and install real granite. Now's the time and you have to do the island, too. It's only another $8,500 and the kitchen looks sharp — except for the floor. That green linoleum has to go! A bright hand-laid tile floor was only another $12,000 because the extra-large breakfast nook and walk-in pantry had to be done, too.
So — a new trash can for the kitchen only cost you, what — $33,360, plus about 40 meals out while the work was being done. A bargain at any price! Why do I tell you this? Just listen.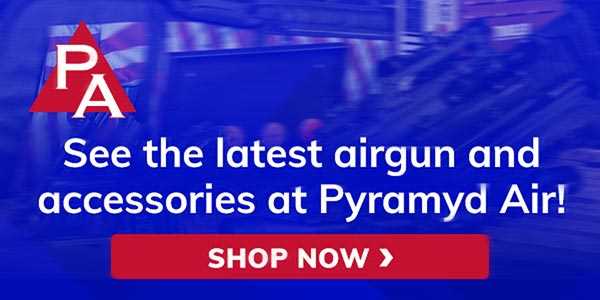 Get going
So I had to make a Crosman 101 valve tool. I first got my South Bend 10K lathe up and running. But to get it running required installing and programming a variable frequency drive (VFD) that I had purchased about a year before. And I had to level the lathe, plus clean and lubricate it. I also had to purchase a decent 3-jaw chuck, a quick change tool post and some cutting tools. Then I had to blow out all of the cobwebs from my head to remember how to use this stuff.
This all took me about 3 months to accomplish and COVID-19 gave me some spare time to tinker. I made two new Crosman valve tools out of O-1 steel — one for the small nut inside the hammer and a larger one for the big nut that retains the valve. I heat-treated both of them so they wouldn't break.
My vise
I had to put the rifle's receiver in my vise and use penetrating oil, my heat gun and a long lever arm on that new tool to get that big valve nut to break loose. And finally it did — hooray!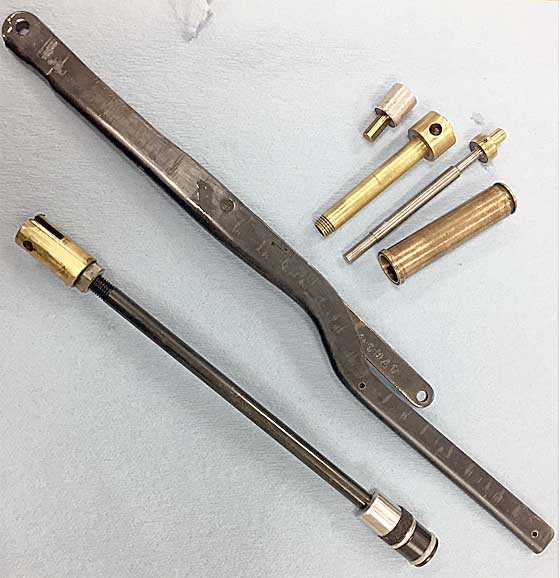 Here's the valve disassembled, the pump link and the pump rod.
Restoration
After getting the rifle apart I had to order seals. Then I started cleaning. I stripped the paint from the metal and the old varnish from the stock using aircraft stripper. I soaked the rusty metal parts and screws in rust remover, then polished them with Scotchbrite and steel wool. The metal still has some pits and dings that show it has been used but now it has a nice cold-blued finish from Brownells Oxpho-Blue to protect it going forward. A long-time member of the GTA forum sold me another 101 from which I cannibalized the pump arm.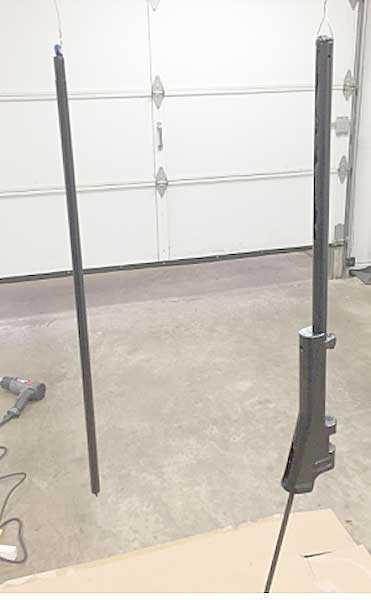 After they were stripped the large metal parts were painted.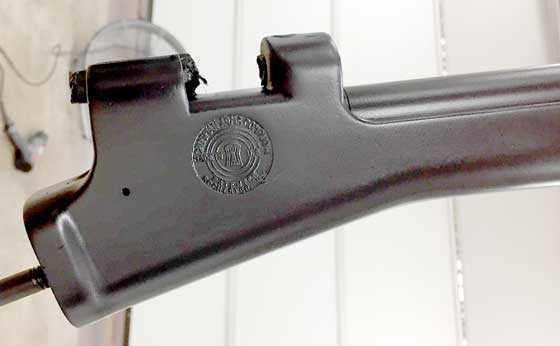 When the paint was sprayed on the cleaned metal parts, the result was smooth and even.
Paint
I used Brownells Dura-Coat two-part semi-gloss black paint. I sprayed it from a airbrush and painted the receiver, pump tube and barrel. I really like this paint because it goes on thin and dries hard, resulting in a durable top coat.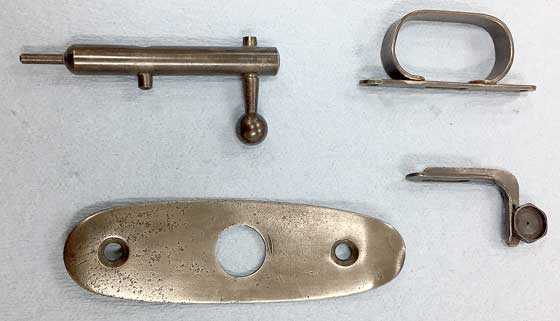 The ferrous parts were cleaned of any rust and lightly sanded or rubbed with Scotchbrite, then given a cold blue.
Stock
I gently sanded the stock and forearm with 320- and 400-grit sandpaper. Then I applied 5 coats of Tru-Oil finish. The stock retains some of the bigger scratches and dents it acquired over its long lifetime, but the finish is much smoother and better-looking than it was.
Assembly
After all the pieces were refinished the next step was assembly. Fortunately I had new tools for this task!
The result
I must say, this rifle came out really nice. It now pumps and holds two pumps of air for two weeks. And of course it fires.
I chronographed the rifle to ensure it really was healthy. Then I zeroed it at 20 yards. Finally I boxed it up for shipment back to its happy owner, who plans to share it with his brothers. Sometimes staying home in quarantine isn't such a bad thing!
Thanks
I ran this report from Cloud9 today because I had difficulty replacing the parts in my Walther LP53 pistol. I have fitted a new Teflon piston seal, but some of the parts in the cocking mechanism that had to be removed to get the piston out are fighting me to go back in. That took up the morning of Friday, so I set that work aside and put wooden handles on the bullet mold for my rimfire cartridge reloading series in the afternoon. Now that I know how to prime the rimfire cartridge cases, that report can advance again.
I also wanted to run this report because reader RidgeRunner is in the middle of a 101 repair. I thought reading this might encourage him a little. Maybe some of the rest of you are in the same boat?
So, thanks, Cloud9 for saving the day! Oh, and I'm starting to think of things I need your fancy lathe to do!